Monster Truck Madness – All The Small And Big Things
Hello gang and Happy Thursday to ya's!
Well, it's sure been a furious week of releases, hasn't it? Let's tackle 'em here, along with some notes about what's coming in this space over the next couple of weeks.
First up, the big announcement of a small truck. After weeks of teasing, the FMS Max Smasher 1/24 Monster Truck was officially unveiled. There was a full-on social blitz to coincide with the release, and we released our video which you can watch right here.
I've actually not gotten to wheel the truck yet, but I've currently got a blue one on the way. I'm shocked it's taken this long for a 1/24 scale monster truck to hit the mass market, and FMS finally did it. You can look for me to write-up some extremely detailed impressions once I have some time to wheel the mini-monster. I can say that initial buzz is quite good though! Very excited to wheel it!
On the complete opposite end of the size spectrum, the Traxxas 1/6 XRT 8S RTR Monster Truck was made official and set the internet alight. This is a MASSIVE rig.
The XRT looks to be the more performance oriented brother to the vaunted X-Maxx. To over-simplify it, it's like the truggy version of the big X. That stance is wiiiiiiiide. Lotta engineering and some trick chassis configuration on this big fella.
Brian and the Chicago Squid-crew have had wheel time with it and love it. It appears that Traxxas has another big hit on there hands.
The large scale bashing monster truck space seems to now have a few contenders for the crown? Be fun to see a shoot-out soon wouldn't it, eh? Maybe an Arrma Kraton vs XRT heavyweight championship bout? Be a lotta fun, I'll tell you that. Both trucks are about as serious a bashing vehicle as you can get.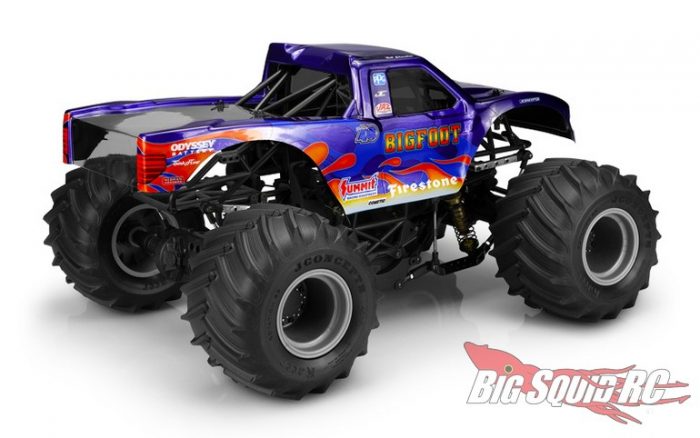 Rounding out what I've got going on as of late, earlier this week a big box of JConcepts stuff showed up, including several sets of Firestorm Runner tires, Slam-Tech inserts, and Tribute Wheels to use with my Losi LMT. I'm going to be converting it to a 12mm hex to fit 'em.
Look for a detailed write-up on those soon, once I have time to install them and give them a whirl in competition.
Oh, and for one last thing…..I'm about to pull the trigger on a Tamiya Semi Truck for a winter build.
Look for a lot of long-winded write-ups in this space, coming soon!
Until next week, keep it on all 4's!