Monster Truck Madness – American Iron Boggin'
We are in the golden era of scale r/c so it takes a lot to wow me these days, but my jaw dropped when seeing the new Traxxas TRX-4 High Trail Edition.
Good freakin' grief, that square body Chevy body is GORGEOUS. All that chrome!
Yes, the purist in me sees the portal axles under that classic GM iron and says HMMM, but the High Trail edition is still extremely sweet for this mud truck lover.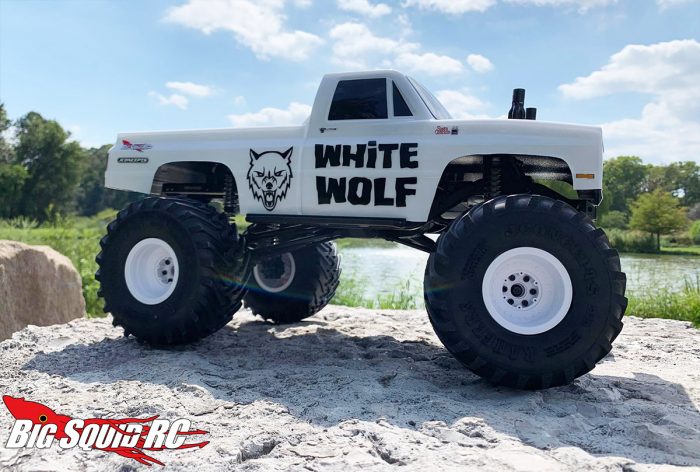 A couple years ago I built a TRX-4 Sport into a similarly styled mud truck (White Wolf, seen above and below), by way of adding the Traxxas Lift Kit. It was a really fun truck, and this is Traxxas making something similar to it right out of the box….AND you get a 2 speed transmission and unlockable diffs to boot.
I wanted to build my truck with the mechanical simplicity of the Sport model and its lack of selectable diffs/transmission speeds. While those things are fun to have, I had found over the years of being out on the trail that in a crawler, they weren't really necessary.
Well, I went on to find out that a mud truck is not the same as a crawler. Yes, they are similar. Same platform even. But application….no.
I found out that with a lifted mud truck, having the ability to lock or unlock your diffs is actually a big plus. You need the lockers when you hit the pit or the rocks, but they aren't the most optimal thing to have when you are bombing around on flat ground. They make an already wobbly truck difficult to control as the front end wants to dive and bend over itself.
On the subject of the transmission, I figured a single speed was fine because I'd use a sensored brushless system and wouldn't need one. Well, that also wound up not really being the case. Even a waterproofed sensored system still had issues when routinely subjected to the bog. That lead me to put back in the brushed system….and then having the single speed was too slow.
This lead to a less than optimal experience. The High Country version of the truck here that Traxxas has made is the exact layout of TRX-4 that I'd want, given my previous experience.
The one thing I'd probably add should I purchase one of these would be a sway bar setup. Yes, not exactly ideal for crawling and I'd maybe just run the rear bars, but I think this would drastically help the performance of its intended purpose and get rid of a lot of the shakes.
I'd also swap the tires out for JConcepts Rangers or some other kind of 2.2 size monster truck / agricultural style rubber, but I AM a monster truck dude after all!
I think this truck is going to be a huge hit for Traxxas. Everyone LOVES classic American iron pickup truck bodies, and this one looks very good. Having the lift kit pre-installed makes it a unique offering to boot.
I really want one! Here's to hoping Traxxas makes a classic Ford pickup version for you blue oval lovers out there 🙂