Monster Truck Madness – An Avalanche of News!
Hey everyone, happy Thursday! After several months of relative quietness on the r/c monster truck front, a slew of new products has been or is in the process of being announced!
Last weekend in Virginia, the Solid Axle Showdown was held. This is one of the big events on the annual monster truck calendar, and JConcepts was on hand showing off all sorts of stuff.
The Wildfoot-inspired replica at the top of this article is sporting two of said new-releases.
The tire on the front is the new Firestorm Racer, which is designed to look like a full-sized Firestone monster truck tire that's been buffed and smoothed for weight relief.
The Firestorm Runner, featured on the back of the truck, is a new tire that replicates a full sized Firestone monster truck tire that's been given an aggressive tread cut for maximum forward bite.
I cannot wait to get these in my hands and on some of my trucks! I'm very curious to see how the gnarly looking Firestorm Racer compares with the proven Renegade tire.
You can't see it in the pics, but those pieces of rubber have new Slam-Tech closed cell foams inside of them. If you've ever driven a solid axle monster truck with closed cells in them, you know how big of a deal this is.
1:10 scale rubber wasn't the only thing being shown off though. As further proof that 1:24 monster trucking is going to be sticking around, 1:24 scale Renegade and Golden Year tires were announced, along with a mini Tribute wheel to mount them on. I've been told that these little tires are the same compound as their bigger brothers. This will be a gigantic increase in performance versus the plastic AMT tires that have been used up to now as the standard!
The JConcepts crew also announced some fun cosmetic stuff. New light buckets, flag mounts, poles, colored bump stops and more that you can read about in this post.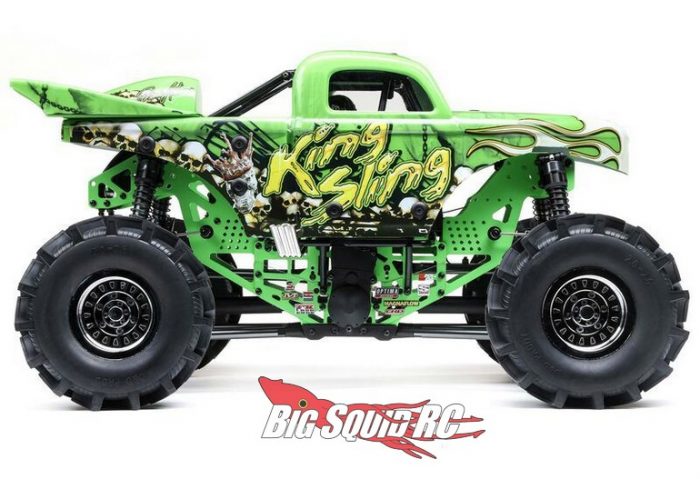 That's a lot! And then, this morning happened. Losi announced the new King Sling / Bog Hog Mega Trucks. I'll be discussing those in length soon here, but the short is they look great and feature several tweaks from the previous Grave Digger / Sonuva Digger monster truck release of the LMT including a powder coated chassis that's been slightly shortened, a longer wheelbase and a different motor.
Looks like checkbook pages are about to start flying!
Until next time, keep it on all 4's.