Monster Truck Madness – An Incredible Replica
Greetings, everyone! This week I'm bringing you an amazing build. Mike Bufka recently brought his incredible BIGFOOT #18 inspired "Mr. Bill" r/c monster truck to a Trigger King event, and I had to show ya'll.
The world of scale r/c and solid axle monster trucks are constantly blending together which results in some truly righteous projects. This is one of them.
Mike actually had this to say about the build –
My dad (Bill Bufka) worked in the shop at BIGFOOT as a machinist/fabricator from 92-97. He helped build BIGFOOT #'s 11, 12, 14, & 15. He started bringing me around when I was 5 years old. I fell in love with monster trucks instantly and never ever stopped. I just think they're the coolest thing in the world.

I built this as Bigfoot 18 replica. I spent quite a bit of time studying the real truck and talking with Bryan Bertoletti (then, the chief fabricator at BIGFOOT) about the design and geometry of the real truck.

My goal was to make it as close to a 1:10 scale Franklin Mint style-truck as I could while still making it drivable in r/c form.

The truck runs a Freestyle RC transmission and axles, Holmes Hobbies 4100kv kv Puller Pro with a Castle Monster X ESC, NSDRC Scaleparts servos front and rear, and JConcepts body, Tribute Wheels wheels, and Firestorm tires (please sponsor me, haha).

The chassis itself is made out of 3/16" 0.035" wall steel dom tube.

The 7075 aluminum sway bars and 4 links were made by Mr. Bill's Machine Works and all of the 3D printed accessories were made by Brass Ring Fab.

The truck rides on 160mm hpi shocks with 80mm bump stops.

All brackets and tabs are cad designed and laser cut and the whole chassis is tig welded in the Brass Ring Fab headquarters in Cobra Creek, Colorado.

Thanks for featuring the truck!
Folks, these pictures do not do this truck justice. It's a work of art.
And what makes it cooler is that the art isn't static. Mike drove this rig HARD in competition and even made a full on Freestyle run!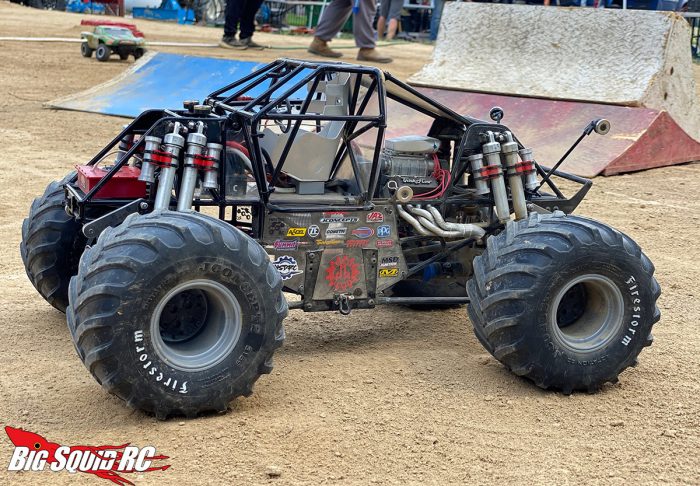 Thanks for showing this truck off, Mike. Word on the street is he has a few more replicas cooking in his shop, and when finished I'll be sure to post 'em here.
Until next time, keep it on all 4's!