Monster Truck Madness – An Intimidating Pulling Sled
We aren't even out of January yet and RC4WD has already put out what will probably be the most interesting product release of the year for me, the RC4WD Intimidator Pulling Sled.
It's been 30 years since the legendary Hobbico MaxTrax Eliminator Pulling Sled was released and FINALLY r/c truck and tractor pullers have an option for getting into this niche of the hobby that doesn't involve expensive custom builds or getting lucky on eBay or a buy/sell message board.
Before discussing the Intimidator, several years ago I did two articles detailing the history of the Eliminator Pulling Sled as well as my restoration of one. My fully restored and customized "Busch Beer" Eliminator is the crown jewel of my radio control collection. Here are links to both articles, as well as a picture of the finished project behind my buddy Travis Sutton's Bad Attitude modified 4×4.
RESTORING A HOBBICO MAXTRAX ELIMINATOR PULLING SLED PT. 1
RESTORING A HOBBICO MAXTRAX ELIMINATOR PULLING SLED PT. 2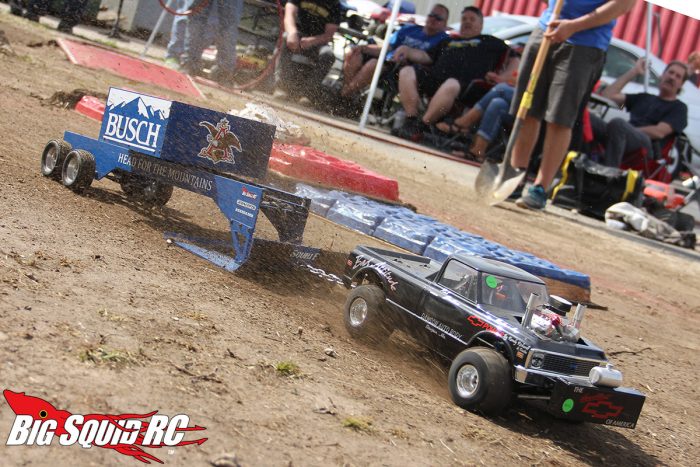 Here's a video of it and a sister sled in action during the 2018 JConcepts King of the Monster Trucks retro monster event.


Ok, enough about the old sled. Let's get on to the new one!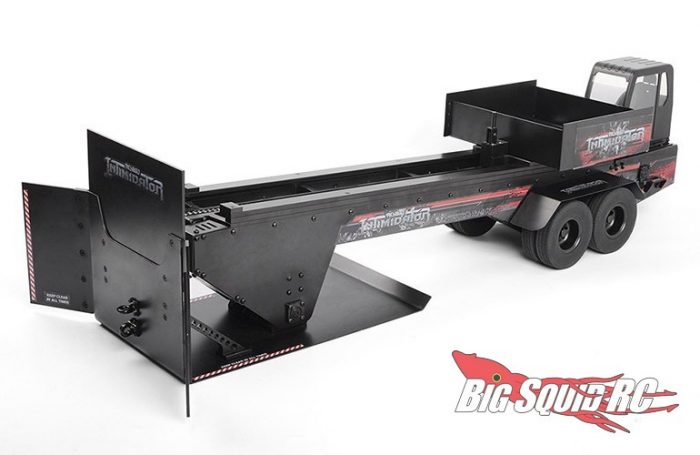 RC4WD really looks to have nailed this design. The Intimidator looks very similar to a modern day "race" style pulling sled, complete with the cab on the back. The hard rubber tires also look very much like 1:1 semi truck pieces of rubber, again in keeping with the full size theme. Here's a pic I took last year of a Bungart Motorsports Sled at a Lucas Oil Pull so you can see what I'm talking about.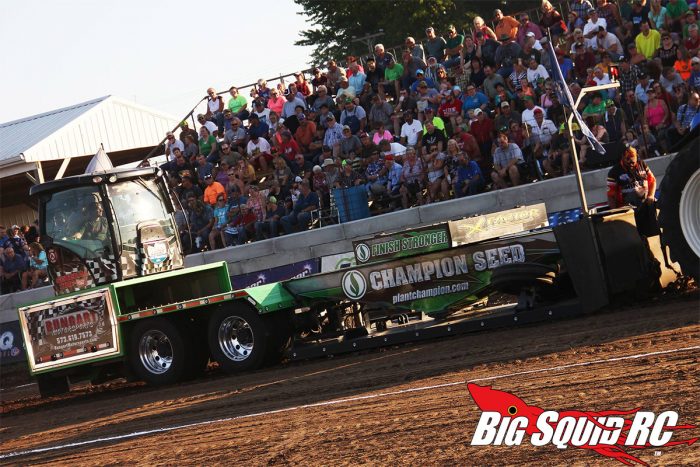 While cosmetics are definitely important in the modern scale-obsessed r/c landscape, the mechanics are critical. A sled that looks good but won't work right just makes for a $499 scale accessory. Luckily, this thing looks stout.
My Eliminator with an empty weight box comes in right at around 12 lbs. The Intimidator specs out right at 20. That's a big chunk of billet aluminum, folks. That, with the aforementioned solid tires and aluminum wheels should hold a massive amount of weight.
Driving the box forward looks to be a chain system very similar to the Eliminator. The box tops out around 20 feet before locking the axles, which is also very similar to the MaxTrax get-up. A full scale pulling track is typically 300 feet with the box topping out between 200-250 feet, so again, the Intimidator is doing it up right at 1/10 scale.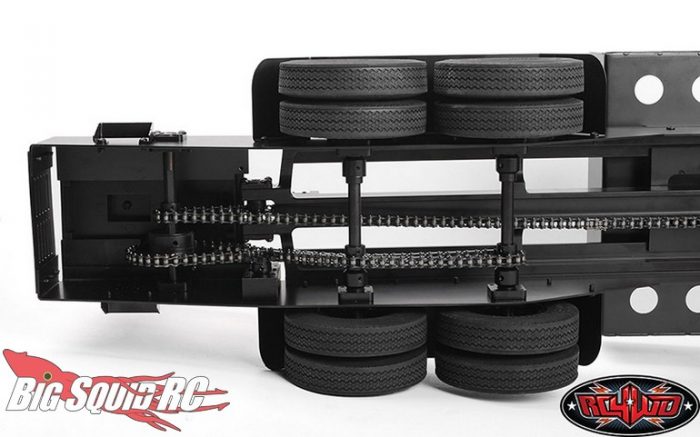 Ok, so up to this point in the discussion it sounds like RC4WD has taken the classic Eliminator sled design and just updated the cosmetics to look modern. (Not that there would be anything wrong with that, mind you!) Well, there are 3 small details on this sled that look like big quality-of-life improvements over the old schooler.
The first is that it comes with debris shields to keep all that dirt in FRONT of the skid. Trust me, pulling trucks and tractors roost a crazy amount of dirt back onto sled. Getting the drive system gunked up results in on-site cleaning being needed between pulls, lest you risk getting locked up. Don't believe me? Here's a shot of my sled with a mod truck covering it in dirt!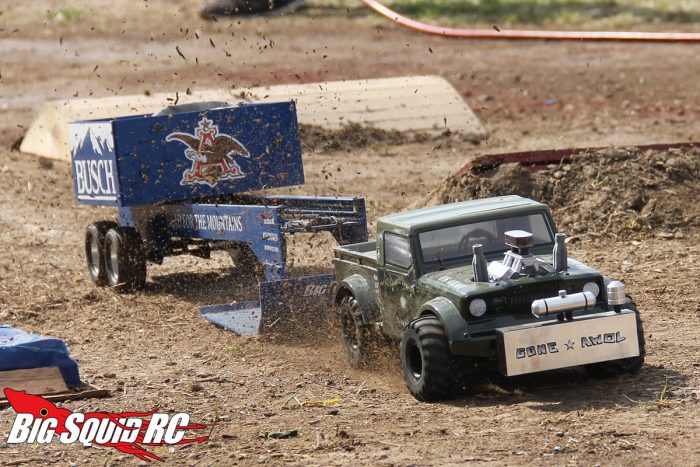 The second is that it has two chain connectors on the front of the skid which allows you to choose a height to help make it easier or harder to pull depending on what class of vehicle you are hooking. The old Eliminator and several other small-batch builder sleds only came with one.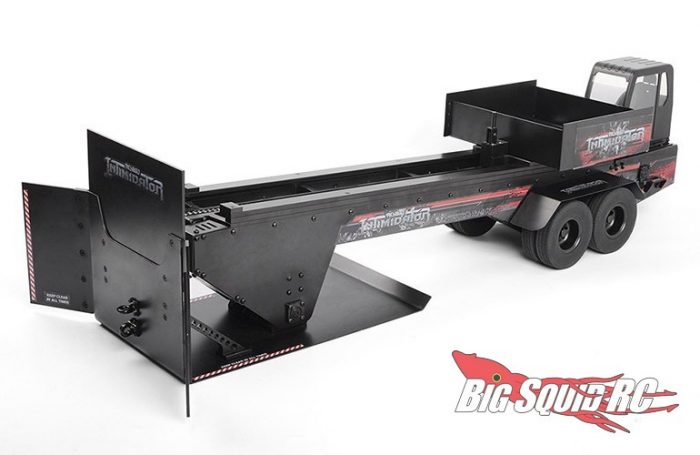 The last improvement and the one that tells me the RC4WD engineers really knew what they were doing when designing it is that the weight box features a latch to disengage it from the chain so you can free-wheel the sled back to the starting line. Guys, as someone who has had to push back various fully-weighted r/c sleds to the track start, this is a freakin' life (and back!) saver.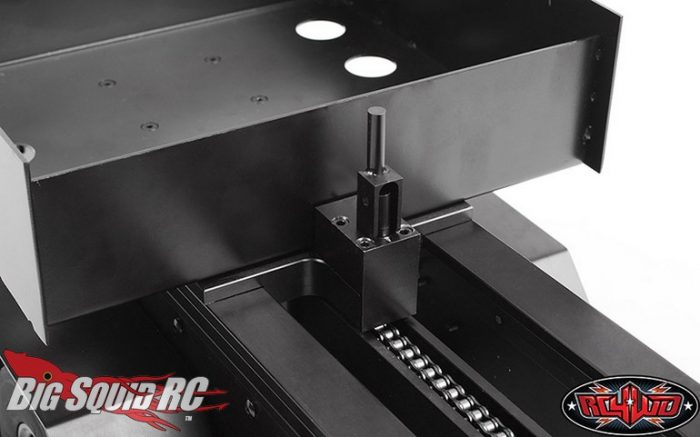 It's not just that it will take less energy from your, uh, designated sled pusher-backer guy, it's that it also saves wear and tear on the equipment. SO MANY TIMES have I been pushing an engaged Eliminator back to the starting line only to have the box slam into the rear of the sled, locking up the axles and creating a nasty shock on the parts.

If you couldn't tell, I'm quite excited to get an Intimidator in my hands. And when I do, expect a very thorough analysis. Until then though, check out a quick promo video RC4WD put together.

For more info on the sled, check it out here on the RC4WD website!