Monster Truck Madness – Big Ol' Bodies
Hey gang and Happy Thursday to ya'll out there!
Today was a big (no pun intended) news day for large scale truckers out there! Pro-Line announced a Ford body for the X-Maxx, and a Chevy body for the SCX6 (plus a bunch of other stuff for various other scales).
The 1956 Ford F-100 for the X-Maxx looks siiiiick with those new belted Menace 5.7 tires. I dig the second cab on the F-100. As someone who has done probably 90% of my X-Maxx bashing on pavement (and melting tread on stock tires) I approve this. Now THAT is one hot alternate body/wheel/tire combo that will make your truck really stand-out from the normies.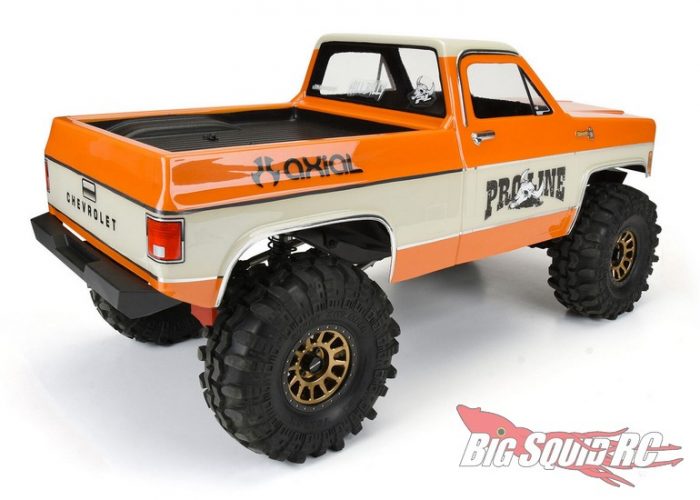 On the scaler side of things, they also announced some American iron-themed lexan for your Axial SCX6- the 1978 Chevy K-10 body. It looks sharp with their 1/6 scale Super Swamper tires! (P.S. how sweet would this cab look with the new Honcho cage, if they were to release it as such? Chomp!)
Nice to see two new body releases for these popular big trucks as they help to add some much needed variety to the large scale scene, especially two vintage style bodies which are always a hit!
With the exception of the obvious (the price), I think that the lack of cosmetic options is one of the biggest hindrances to bigger scale off-road trucks becoming more popular. You can find almost anything you'd ever want at the 1/10 scale – heck, micro scale too with the way it's exploded recently AND how you can pillage existing static model kits for bodies – but large scale is still relatively limited comparatively.
So yes, it's great to see Pro-Line staying committed to the big boys. If someone is going to take the plunge and nab one of these machines with the higher cost of entry, it makes it much easier to do so knowing that one of the most well known aftermarket companies out there is continuing to stand behind them, offering the good stuff!
Until next week, keep it on all 4's!