Monster Truck Madness – BIGFOOT Open House 2022 Ruled!
Hey everyone and Happy Thursday!

This past weekend, on Saturday September 10th, BIGFOOT 4×4 held their annual Open House and this one was one of the best yet!

The full sized monster trucks put on a show, complete with some old school car crushing (you can see a highlight video I threw together below), and the RC portion of the event featured some great competition and exciting runs.

The day started off with a BIGFOOT Show-N-Shine competition and there were some beautiful rigs, as always! The winner was Mike Bufka with his amazing welded steel tubing and fully functional replica BIGFOOT race truck (seen at the top of this page and below). The body on this truck was even sectioned like the real fiberglass on a 1:1. Incredible stuff.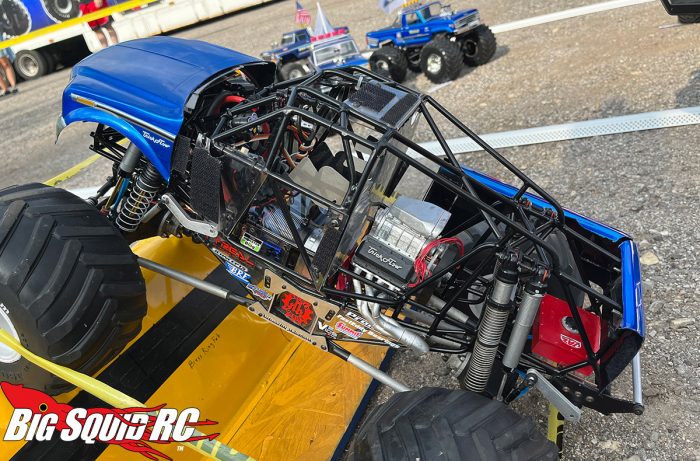 There were some awesome runners-up two with two friends of Big Squid placing high- Adam Rogers and his gorgeous BIGFOOT Rangers and Jeff Mackovitch with 1/10 and 1/24 versions of BIGFOOT #1 from back in its shop truck days. Nice job all!
It was then time to race, and it was close all day across all three classes! That video above with the full size monsters has a clip of the RC Retro Monster Truck finals featuring Josh Rhodes in Grave Digger II vs. Tad Goad in Ecology Eliminator.
The winners of each class-
Retro – Josh Rhodes (Grave Digger II)
Sport Modified – Doug Welker (Rotten Apple II)
Pro Modified – Chris Tolbert (Snake Bite)
Freestyle – Josh Rhodes (Grave Digger)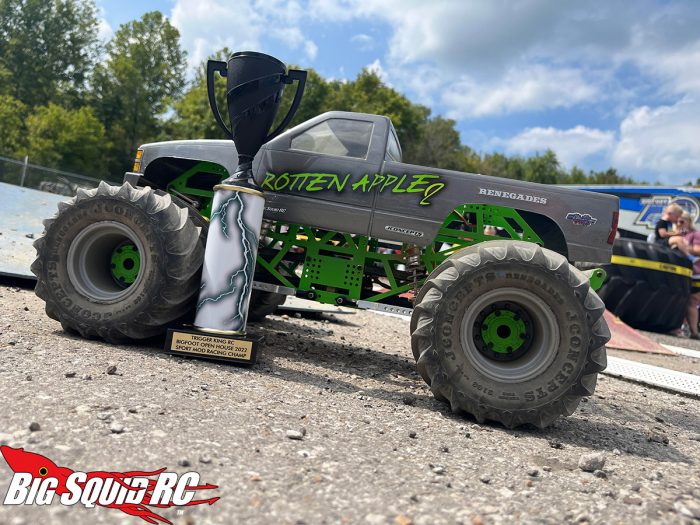 And yes, that's my name on the list. I FINALLY got a win at Open House! Rotten Apple 2 was running great! I was unsure of what tires to use on loose asphalt but went with blue compound JConcepts Renegades and those seemed to be the ticket.
Thanks to the Trigger King RC crew for helping to put the race on and all competitors for joining us. Thanks to the team at BIGFOOT 4×4 for having us and putting on a fantastic event! I hope to see you there in 2023!