Monster Truck Madness – BIGFOOT Open House 2023 was awesome
Hey guys and Happy Thursday!
Last weekend the BIGFOOT 4×4 monster truck team held their annual Open House at their home base in Pacific, MO, and it was a freakin' blast!
First off, longtime friend of Big Squid RC, Adam Rogers, put on his second annual RC Bash the night before the Open House. Held at a hotel near the BIGFOOT shop, this was geared towards showing off replica r/c rigs and scale models. They had around 70 r/c vehicles on display. Here's a cool shot featuring Adam's trucks from the get-together.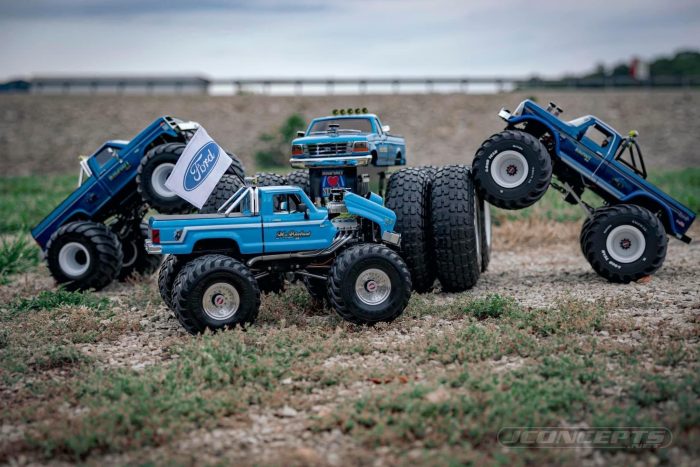 Saturday was the big show, and upon pulling up to the facility bright and early to unload my gear, I was greeted by the sight of the freshly restored BIGFOOT #4 (pic at the top of the page). Current owner of the truck Fred Reep (Fred is very tight with the JConcepts crew and has been responsible for a lot of product development on their solid axle MT line over the last few years) put together a killer crew of industry veterans and great fab guys for the restoration, and it looks amazing.
This is a personal shot that I have of BIGFOOT #4 sporting this same paint scheme, circa 1990 at the St. Louis arena.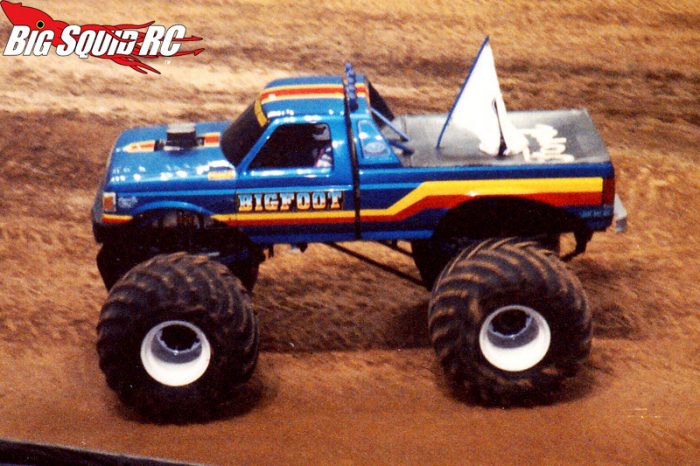 This is another one from the same event, with ol' #4 putting in the work!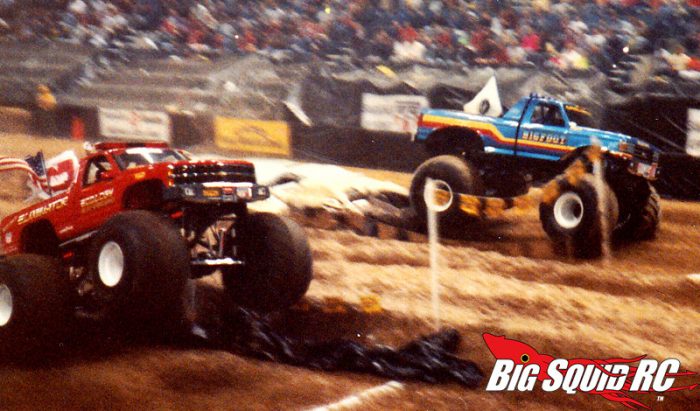 I was with the BIGFOOT team the day that #4 was sold back in 2007, and I vividly remember it on the flatbed as it drove away, sporting a modern Ford Super Duty body with the name scrubbed off the side. Seeing it here, back in all it's early 90's glory, was pretty amazing. So happy it found that it eventually found it's way to Fred. Great job by everyone involved!
While various old school monster trucks and modern BIGFOOT trucks were crushing cars all day, the Trigger King RC crew was racing solid axle monster trucks all morning/afternoon in between full scale performances. We got to race in front of big crowds and it was a lot of fun showcasing the hobby and what these trucks can do. We received lots of questions about the trucks and the JConcepts booth, which was set up next to the track, was drawing a crowd all day as well.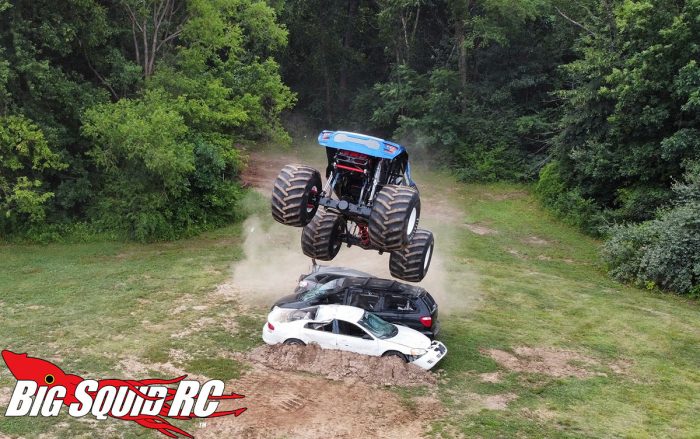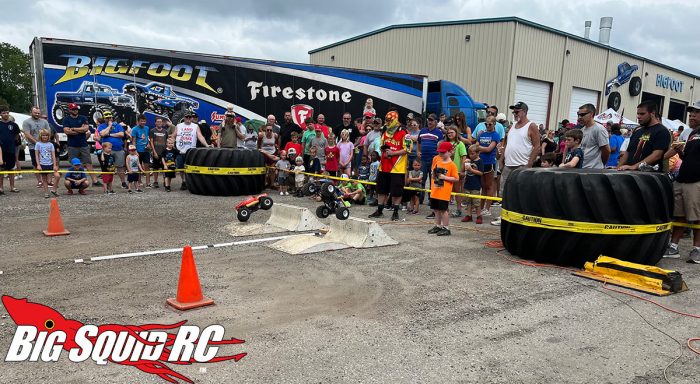 Before the r/c competition started, Mike Bufka took the Show-N-Shine win with his take on a BIGFOOT truck coming back to the shop on a Monday morning, being pushed with a loader after a hard weekend.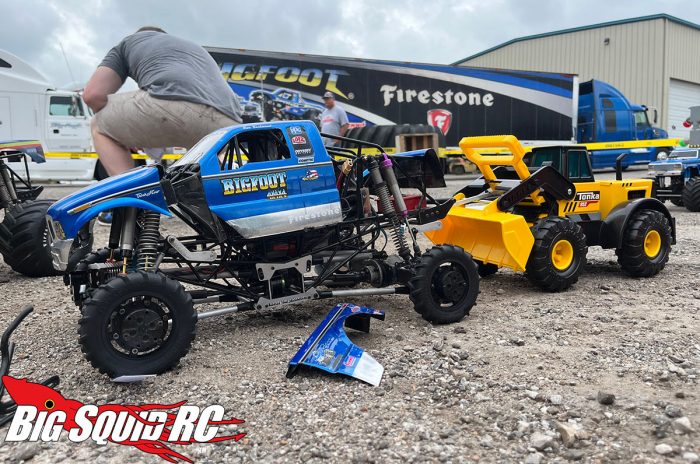 JConcepts founder (and monster truck nut) Jason Ruona took the win in Retro Clod Buster class with BIGFOOT #4 as well as the Pro Modified divison with the BIGFOOT Racer. I managed to take the Sport Modified win in Rotten Apple 2 (shout out to my racing sponsors JConcepts, Spektrum, and Losi!). The Freestyle competition ended the r/c portion of the day, and well known YouTuber/Instagrammer  LVC RC absolutely laid it down for the win.
The main and final event of the day was the "Last Ride" of Jim Kramer, where he would officially end his storied career with one last car crushing performance.
If there was a Mount Rushmore of professional monster truck drivers, Jim would unquestionably be the George Washington.
I think the easiest way to define whether or not someone is/was dominant in a specific form of competition is to think of how surprised you are if they DON'T win. That's true dominance. That was Jim during his heyday. It was a SHOCK if he wasn't the event winner.
Piloting a variety of classic BIGFOOT trucks, most notably (and aptly, given the day) BIGFOOT #4, Jim was the first true professional monster truck driver. #4 was the first true professional racing monster truck, and they made a lethal combo.
On this day, Jim was piloting one of the modern trucks- BIGFOOT #21 specifically. The crowd on-hand for Jim's last performance was massive. Check out this aerial shot I got from my drone.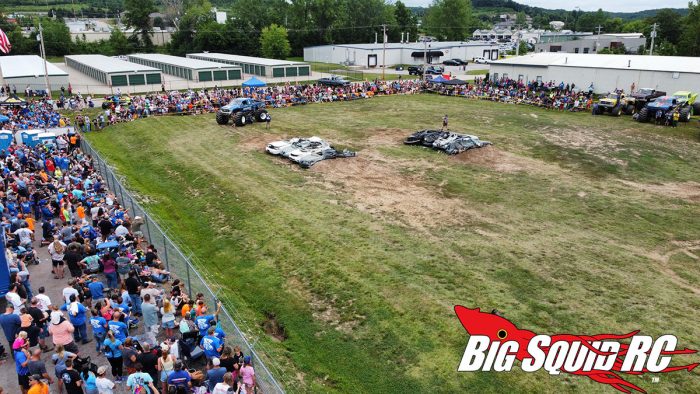 He put on a great show and at the age of 72 years young was wheeling like he'd not been out of the seat for any time at all. There were a lot of misty eyes in the audience. Not everyone gets to go out on their terms, but Jim did. Congrats to Jim, Julie and the entire Kramer family.
I've been fortunate enough to attend the majority of Open Houses since they started in 2007, and I believe this one was my favorite. From reading event coverage the last few days, I think many share the opinion that I do – this was the best Open House that the BIGFOOT team has ever put on. Hats off to everyone for helping to make it happen!
For video of Jim Kramer's Last Ride, check out the video that BIGFOOT 4×4 released here. The Monster Blog put out a great video as well that you can watch here. For some amazing photos, check out the gallery that JConcepts released.
Until next time, keep it on all 4's!