Monster Truck Madness – BIGFOOT Open House was a Blast
Whew, what a time! Last weekend was the annual BIGFOOT 4×4 Open House in Pacific, MO and it was an absolute blast. Here's some odds and ends on the weekend that was.
The weather was amazing. Right around 80 degrees with complete sunshine. Open House is usually rainy or scorching hot, so this was perfect.
There was A  LOT of BIGFOOT iron on the grounds. BIGFOOT #1, the newly restored (and gorgeous) #8, the gigantic #5, the classic Ranger (currently being restored by a fan) and then various race trucks. It was fun see everything in one place.
Various old-school style monsters were on hand, as were rock crawlers and all sorts of unique stuff. Just walking around was a good time.
Oh, but there was more to do than walk around. The monster trucks had several car crushing performances. The modern race trucks flew through the air, but it was the old school monsters that I really enjoyed watching strut their stuff. I love a leafer bouncing over cars and hearing the crunch when they land on top of 'em. So much fun.
Oh yeah, and there was a big r/c race! The Trigger King R/C crew held a five class event on a J-drag style track, followed up by a Freestyle competition.
Racing was tight all day and big crowds were on hand to watch the little monsters do their thing in between the big boys. Before the racing there was a BIGFOOT Show N' Shine…and man, there were some beauties. There were two clear trucks that got the lionshare of votes.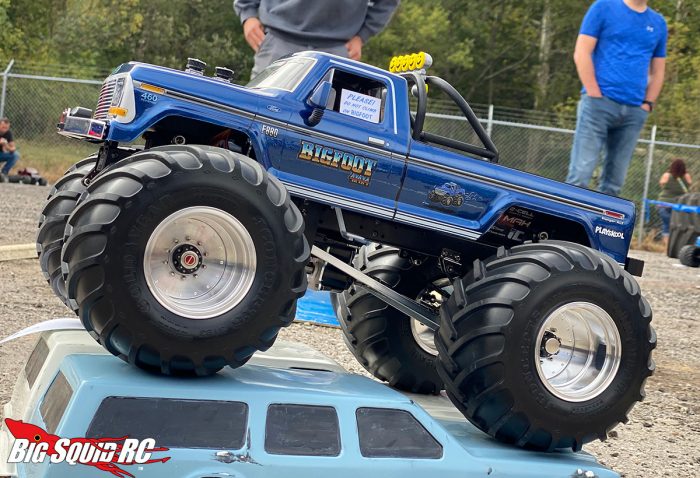 Runner-up was Adam Rogers and his beautiful classic BIGFOOT replica. He even had crush cars to display it on top of! Adam is a longtime reader and supporter of Big Squid, so a hearty congrats to him on the runner-up. He would also go on to snag some awesome giveaways, courtesy of JConcepts, 1up Racing, JB Scale Graphics.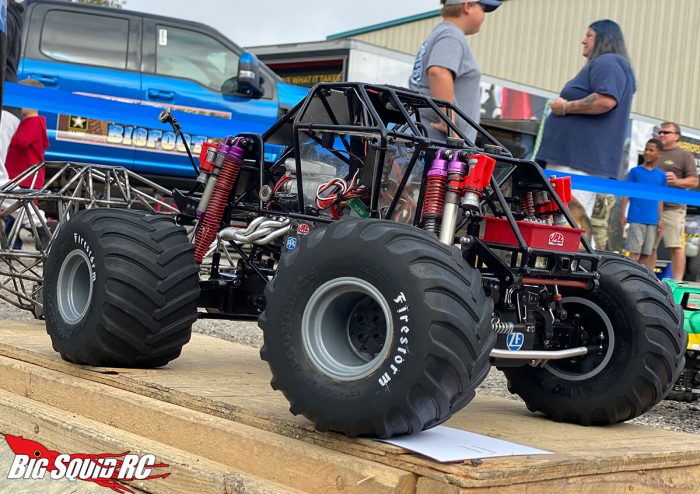 The winner of the concourse event was Mike Bufka and his beautiful modern BIGFOOT replica build. Mike builds these insanely detailed chassis just like the full size trucks- lots of metal and welding. This one in particular is a real show-piece!
The winners of the racing classes were –
Outlaw Retro – Josh Rhodes
Sport Modified – Ross Hinshaw
Pro Modified – Bob C. Chandler
Losi LMT – Josh Rhodes
Open Solid Axle Monster Truck – Mark Gerkin
After racing, there was a full-on judged freestyle competition. It's always fun doing this kind of thing in front of a large crowd. So many in the general public are surprised to see what kind of insane stuff these little monsters can do! When the dust settled, it was Christopher Layne in his Stomper Losi LMT that wound up winning.
Another BIGFOOT Open House in the books. Hope to see you all there next year. Every hardcore monster truck fan should attend this event at least once in their lives!