Monster Truck Madness – Building a 1/24 Mini-Monster Truck
Hello everyone! Maybe you've heard about how folks are building 1/24 scale mini solid axle monster trucks by combining Axial SCX24 running gear with a purpose built chassis and model tires? Well, I've got one built, I've got a FULL parts list, and I've run it. If you're wondering whether you should build one or not, have a read!
I want to get something out of the way- this project doesn't have a body yet. I attempted to use a Hot Wheels monster truck getup but the scale wasn't quite right. I'm going to be using an Axial 1/24 Chevy truck body. It isn't done but it doesn't affect anything mechanically, so I want to do the write-up here without it for the sake of getting this out there before Christmas.
I've discussed the build in other articles, you can find some of them here. This is going to focus on the actual running part. But, before that, here's a full parts list of what I used-
– Axial SCX24 RTR 2019 Jeep Wrangler (you need to use the Jeep version because it has the proper length links)
– Southwest Monster Shop Tiny Titan Chassis Kit
– Southwest Monster Shop Tiny Titan Wheel Set (Wide)
– AMT Ertl Monster Truck Tire Parts Pack
– FURITEK LIZARD 20A/40A Brushed/Brushless Esc for AXIAL SCX24 with Bluetooth – #FUK-2022
– Surpass Hobby 1220 45T 8300KV Brushless Motor – #SP-012200-01
– EMAX ES08MAII 12g Analog Metal Gear Servo – #EMX-SV-0275
– Hot Racing Axial SCX24 0.5M Spur Gear Conversion – #HRASXTF328M05
– Hot Racing Axial SCX24 Aluminum Threaded Telescopic Shock – #HRASXTF485TR04
– Samix SCX24 Aluminum Servo Mount (Black) (EcoPower/Emax) – #SAMSCX24-6068E-BK
– Traxxas part# 6643 1.6x5mm BCS Hex Alias Screws (use for motor mount hardware)
– Spektrum SR215 Receiver and Rugged Radio
Your life will be made considerably easier by having a quality .050 and 1.5mm wrench, a 2mm nut driver, and a small set of needle nose pliers. Like, MUCH easier. You also need a good amount of patience. This isn't a hard build, but it can be a bit tricky just due to the size of hardware used.
Something to note here is that for my truck, I went brushless. If you don't want to do that, you can use the stock Axial ESC/RX/Radio and motor. Just know that it's not nearly as quick (or fun, IMO).
Ok, so, how does this thing drive? Pretty good!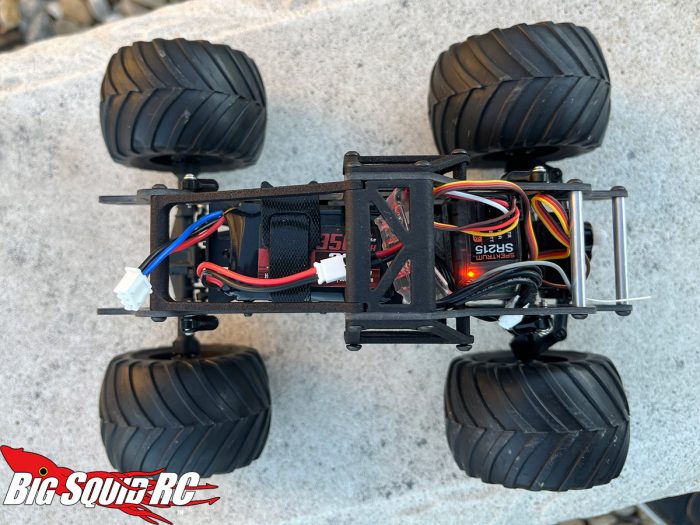 I used a carbon fiber Tiny Titan chassis, which is a very well designed piece. Quality hardware and engineering, and it looks sharp! (Note that I've also driven mini-monsters using the ECB 3D Printed Chassis, also a good piece from what I've experienced).
Ok, so here are some scattered impressions, having been wheeling the truck for a couple weeks.
– You would think that model tires would be super hard and not provide any grip, but they aren't that bad! The truck has traction.
– I am using four shocks, but you can use eight. I found the suspension felt pretty good. The dampers are friction and don't have oil, but due to the weight of the vehicle (or lack thereof), it's not a big deal.
– The upgraded servo is an absolute necessity IMO. The stock one is weak and when you put the bigger wheels and tires on the rig, it doesn't want to turn well. With the higher torque unit, turning is a breeze and the truck always goes where you want it.
– I wanted to talk about jumping performance….but the truck really doesn't jump. It's just not really fast enough. I'll talk more about this in the conclusion.
– The brushless system drains the stock SCX24 battery relatively quick, as you might expect. For full throttle runs when you are running as hard as you can, you are talking somewhere in the 5-7 minute range.
– I didn't run in to any axle issues despite using the stock units. I've heard some have problems on brushless. So far, so good.
– On a slick surface, this truck can do cyclone donuts like the full size rigs!
As someone who's been building 1/24 scale monster truck models since the 90's, I can't understate how cool it is to now seemingly have one that's come to life. It's a very fun project and an awesome novelty.
However, here's where I'm going to be critical. If you are building one of these hoping to have a full-on monster truck experience at 1/24 scale, you may be disappointed. Even with a brushless set-up, a nice chassis, etc….you still feel like you are driving a crawler somewhat. A quicker crawler mind you, but a crawler nonetheless. The worm drive axle setup and low gearing make it so this truck really isn't going to be jumping and doing monster truck stuff. Even if you build a ramp, it kind of just falls off of it.
For these reasons, I think there is ample opportunity for a company to build a "from-the-ground-up" 1/24 solid axle monster truck. Hope that doesn't dissuade you too much though, as this is a cool project and is still a good deal of fun!
You'll be seeing more of this monster soon. Hope you all enjoyed the write-up. This is a fun winter project!
EDIT – sorry for the glitchiness in the beginning of the video clip- there's a frame rate corruption in the main part of the file that I can't fix!