Monster Truck Madness – Car Crushing with a Traxxas K10 TRX-4 High Trail Edition
Hey gang and Happy Friday to you. Apologies for the weekly MTM blog running a day behind, but I've been moving this week. I got a new house and with that is going to come a new workshop! Yeah buddy!
So today I wanted to give my impressions of the Traxxas TRX-4 K10 High Trail Edition….that's been slightly monster-ized with JConcepts Midwest Wheels and blue compound Ranger tires.
I purchased this rig a couple weeks ago and have spent some time with it and while there are plenty of TRX-4 impressions out there, I figured some of you would appreciate a monster truck guy's thoughts on the new lifted rig.
As an FYI, I've had 3 TRX-4's before. A launch Defender version, the military style Tactical kit and a TRX-4 Sport that I modified into an old school monster a few years ago similar to this one.
The big selling point on this release of the TRX-4 is that it's equipped out of the box with the Traxxas factory lift kit and has mega ground clearance for 2.2 sized wheels/tires.
For those that are curious about the lift kit itself, it's a very well engineered unit with longer shock and a servo relocation bracket so suspension geometry isn't goofy. I really like it. A lot of scaler lift kits out there just lift the body and/or shocks up and create a bunch of wonkiness but the Traxxas minimizes that as best it can. It's good stuff.
The lift kit, along with that gorgeous Chevy square body (OK, that is another big selling point!) make for a truck begging to get the early 80's monster truck treatment.
See, the earliest monster trucks (BIGFOOT #1, the Beast, USA-1, King Kong, etc) were basically huge modified specialty rigs that spent their time in local off-road parks, river bottoms, sand pits….you know, the activities that r/c trail trucks replicate. So I figured this would be perfect to get the vibe of one of those classics.
Those classic trucks didn't immediately roll on big 66″ tires, either. They would eventually work their way up to it, but many of them used agricultural tires that hovered around 50″ inches. This is what the JConcepts Rangers aim to recreate.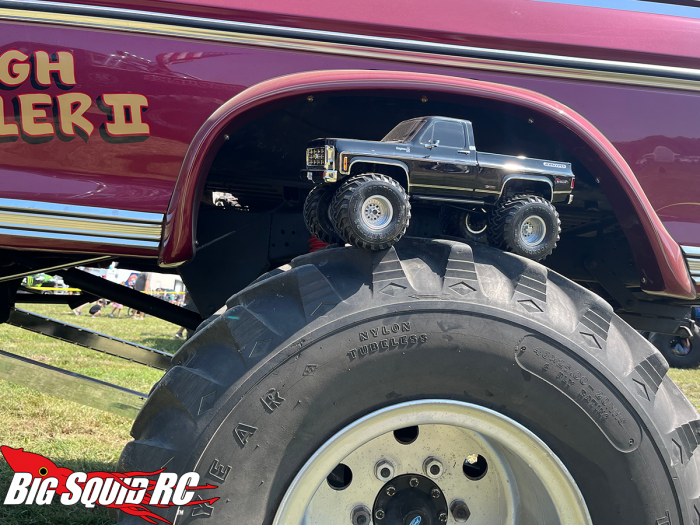 As it turns out, the High Trail is an excellent platform to create this kind of classic monster vibe with relatively little hassle.
The Rangers bolt up easy enough, though yes, you will get some rubbing under heavy turning/articulation. I cut the fenders on the body carefully right up to where the chrome trim is to get more out of it without the rub, and I've found that this works great for standard trailing. I wouldn't want to be hardcore crawling with it though, those tires would be all over the inner fenders, ha!
I'll cut to the chase here, some rubbing issues aside- this is FINALLY the release of the TRX-4 that I've wanted. The remote lockers and two speed wind up being VERY functional with a trail monster truck like this, because I find myself keeping the diffs open unless I'm hitting rough stuff. It's a lot of fun to bomb around in second gear on 3S as I can get air on some jumps/obstacles, and then put her in the plow gear when needing to lug it out over nasty terrain.
And cosmetically? Insert the chef's kiss. This body and lift were made for this look IMO. Keep those stock style 2.2 Canyons for hauler tires, ha! (They are actually pretty nice but I'm a monster truck guy, what can I say?).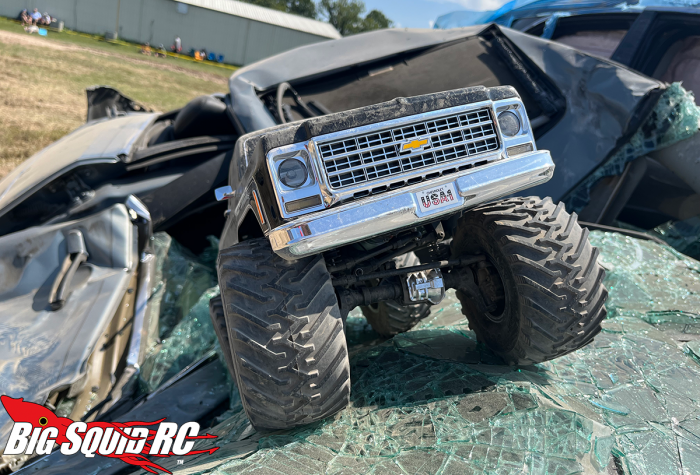 When I attended the BIGFOOT 4×4 Open House a couple weeks ago, I took this with me to do some crawling on the crush cars that the full sized old and new school monster trucks were running over. It was a blast.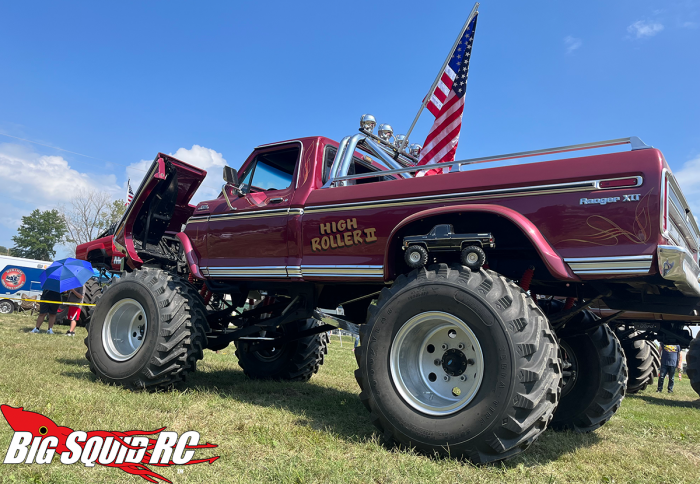 You can see a pic of the High Trail sitting on High Roller II, which is sporting a set of the Good Year tires that the Rangers are replicating.
I can't wait for Traxxas to release this body in clear so I can't paint one up. I'm also looking forward to adding fender flares to it so I can trim the fenders even more to alleviate the rubbing as best I can. I'd imagine it's a blast to put mega truck tires on it as well like Fling Kings or the new Losi Paddys. I'll talk about these things when I inevitably start doing them!
In the meantime, I'm really enjoying my High Trail. It's a really fun trail monster! Looking around online it seems that many other folks are using this platform for this kinda build. Nice job, Traxxas. This is the good kind of simple platform refresh/re-branding IMO.
Until next time, keep it on all 4's!