Monster Truck Madness – Come out on September 11th to the BIGFOOT Open House!
Hey guys, as September kicks off today we are now in BIGFOOT Open House month! This annual Fall tradition is taking place on September 10th at 10AM in Pacific, MO- a suburb outside the city of St. Louis!
There will be car crushes with BIGFOOT and Snake-Bite monster trucks, old school monster trucks doing crushes (not sure on the truck line-up for that), the Predator ride monster truck, and various other activities including meeting team BIGFOOT drivers and crew!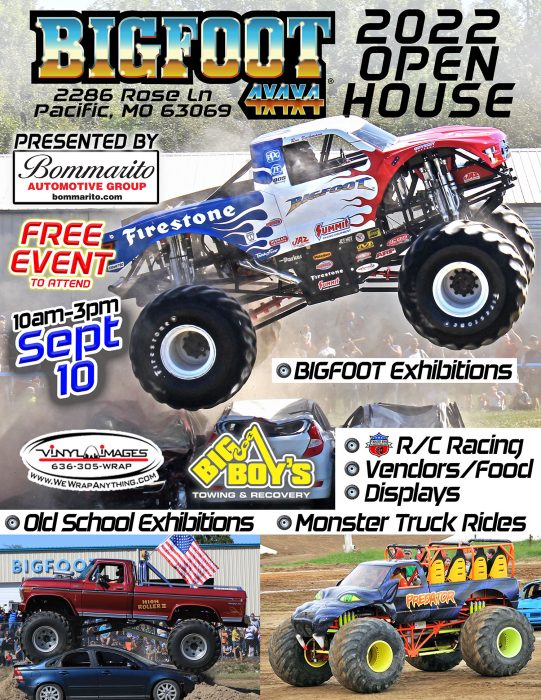 The most important aspect of this event for me is the r/c monster truck race. The club I'm involved in, Trigger King, is holding the solid axle race and here are the details-
BIGFOOT Open House R/C Monster Truck Race Information-
• Arrive early, in the 7:45-8:00 range. Any time after that, I cannot guarantee that you will be able to drive your vehicle down to the RC area to drop off your gear. Once you drop your gear off, you will have to park somewhere else … you are on your own in that regard.
• Keep your support gear to a minimum! We do not have a lot of space, so the less you bring, the better!
• Allowed 1 entry per class (Outlaw Retro, Sport Mod, Pro Mod and Freestyle).
• We are qualifying and racing 1 bracket each class. Qualifying will start at 9:00, and possibly a bit earlier if things are lined up.
• Registration: register as early as you can, but will go up until about 8:30.
• BIGFOOT-only Show N Shine (Snake Bite is OK too) will be judged by all paid participants and will take place about 8:30. No scale models will be allowed, all entries must be radio controlled.
• $10 for each truck that you enter, with a max of $30. Show N Shine trucks do not need to pay.
• Rules: https://triggerkingrc.com/trigger-king-r-c-rules/
Any questions feel free to shoot 'em to me, doug at bigsquidrc.com! I hope to see you there! This is an event that any monster truck fan should attend at least once!
Until next week, keep it on all 4's.