Monster Truck Madness – Detailed JConcepts Fling King Tire and Dragon Wheels Impressions
Hey gang, today we are going to tackle a subject that I've been meaning to discuss since last Spring- my impressions of the mega truck styled JConcepts Fling King Tires and Dragon Wheels.
A little bit of background before I get into this- last summer my monster truck club raced mega trucks for the entire season. We raced them in mud (duh!), loose dirt, asphalt and even smooth concrete. I feel that between myself and my racin' buddies, we have done about all someone could want to do with these pieces of rubber. Oh, and both blue and gold compounds have been used. So with that said, let's talk about them.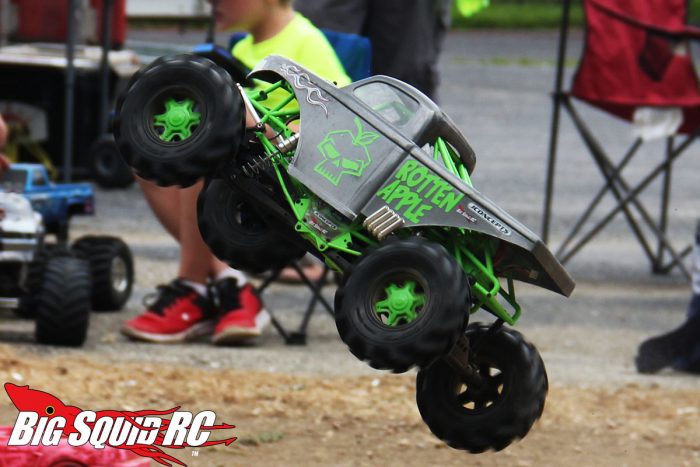 The Fling Kings mount up easily to the Dragon Wheels and you'll for sure want to glue them. They also come with a little lexan insert that you can paint for some additional flashiness. You get four different choices of offset adapters in the bag, 11mm, 18mm, 24mm and 32mm.
Offset is a good place to start. On my Axial SMT10 I mainly have used the 11mm adapters as this makes the vehicle most realistic to me and allows it to handle well. Depending on what kind of vehicle you have, though, that may make the choice for you. These can be used on other kinds of rigs that aren't solid axle, like a Traxxas Stampede for instance, and you'll want to make sure you are using a width that will allow for full turning radius. Just know that the further out you go, the more sensitive you are going to make the handling.
These things feel VERY different when you put them on a truck that usually takes Clod Buster sized monster truck tires. The truck will feel a lot more nimble and lighter. Jumping can take some time to get used to without those big, heavy gyros on all 4 corners! It really does make your truck feel more like a mega truck.
So, let's talk mud first. These things absolutely RIP, just like you think they should. You will get supreme forward bite and throw some big roosts. They are a ton of fun, and if it's the muddy mega truck experience you want, these will deliver in spades.
They work fine on dirt, grass and pavement as well, just know that more power you have in your truck, the flightier they will feel due to the lack of weight compared to a full size monster tire.
As for compound, JConcepts offers them in soft blue compound and medium gold. I prefer the gold compound on these because I feel the slightly stiffer tread better supports the weight of the vehicle. I think the compound difference is VERY noticeable when heading into a high bite cornering situation (like mud), as the blue tire tread has a small propensity to want to roll over on itself, while the golds don't. I should say that this is just my personal preference though, as some of my fellow racers stand by the blue. If you plan to run your truck primarily on concrete (whether rough or smooth), you absolutely should get the Golds, though. That's what the compound is made for.
Durability on the wheels is top notch. Most of us are running high-zoot brushless systems and I haven't seen any stripping or chipping.
We've gotten to the end here without mentioning the cosmetics. These things look astounding when you mount them up. They are very authentic to full size agricultural rice and cane tires that you'd find on a full size mega truck, complete with the hand carved look. They can really change the attitude of a vehicle.
I give these wheels and tires a hearty two-thumbs up!