Monster Truck Madness – Down on the River
After several weeks of gloomy skies, wet weather and cold temperatures, the midwestern early-winter broke for a fantastic Sunday afternoon. The weather was so nice that I did something that I haven't for quite a while- went on a Missouri River trail run. My "White Wolf" Traxxas TRX-4 Sport was just dying to hit a mud hole, and that would finally happen on this glorious weekend!
I feel like I can finally talk about how a big tire/ lift kit-equipped TRX-4 handles with some level of authority now.
I have run all manner of monster trucks over the years, and while scalers always look cool with monster truck tires, the performance leaves a lot to be desired. They are usually torque twisting machines that look better in pics but that aren't worth a crap in real world conditions. The center of gravity is too high, driveshaft angles are atrocious, yadda yadda.
Folks, my lifted TRX-4 Sport, equipped with the JConcepts Krimson Dually Wheels / Fling King Tires is a friggin' beast. Despite being a tall truck, the good suspension geometry coupled with the extra wide stance and weight of the tires keeps it absolutely planted, even in steep climbing conditions. And the ground clearance…ha, yeah. It takes something very big to stop the truck.
You would perhaps think the Fling King tires wouldn't do so hot in scaling conditions, but that soft blue compound grips rock, wet wood and any other slick surface very well. The big chevron lugs are flexible and cling to whatever obstacle you have in front of them. It also helps to have double the surface grip of a regular tire, by way of the dually setup!
It should go without saying that forward grip on a muddy surface is insane. I mean, check this out. Goose the throttle in the mud and you'll get it up!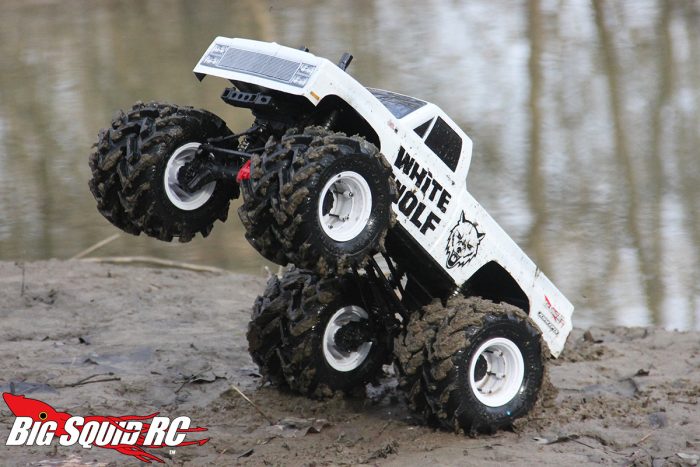 Probably the thing that helps running a large monster truck style tire set-up the most here is the portal axles. That gear reduction at the wheel really helps to get rid of torque twist and make for a smooth ride when the juice is applied. They act very much like a planetary on a full size monster truck axle.
I know that monster truck scalers are sort of a gimmick, and ultimately the look is usually the most important part. And hey, the look IS the best part of this truck. I mean come on, look at it! Every time I walk by my work bench I smile when seeing this thing looking back at me. It just totally nails the vibe of classic 1980's square body mud/monster truck.
That said though, this truck isn't a gimmick. While it's not as nimble as a standard 2.2 tired scaler and wouldn't be the best application if rock crawling was your main thing, this load-out is absolutely viable to make a killer trail truck. The mud hole or creek won't stand a chance!
If you've been thinking about lifting your TRX-4 and putting a set of agricultural style tires underneath it, have at it. It's a lot of fun and can perform well. I've come to terms with the fact that as much as I love scaling, DOT-style tired rigs just don't get my blood pumping the way something ripped out of a classic monster truck VHS does. I can have it both ways, and so can you!
But wait, that's not all! My TRX-4 has a friend! I picked up a set of the new smaller JConcepts Fling Kings designed for short course trucks, said to hell with the intended application and mounted them on an Axial 6×6. Given it was an experiment, I only had 4 of them so I put them on the rear. They rip out on the trail! I already have a set for the steer axles on the way as well as a new body. Look for more on this truck in the near future 🙂