Monster Truck Madness – Great to get back at it
Hello gang, happy Thursday!
Last weekend I took part in my first solid axle monster truck race in four months- an eternity for me! I went racing at the Childress RC Racing event in Sullivan, MO.
The racing surface was both on carpet and a relatively slick indoor tile floor. You'd go from 100% grip on carpet to the, well, less than 100% grip on the flooring. Had a little bit of a rally racing vibe going from tarmac to slick stuff, or something like that.
We were allowed to race 3 vehicles per class, so in the Pro Mod category I got to do something very interesting- I competed with an Axial based shaft truck, a Losi LMT, and a modified Clod Buster. These are the 3 most popular types of platforms in the world of r/c solid axle monster truck racing, and it was telling driving them all back-to-back-to-back.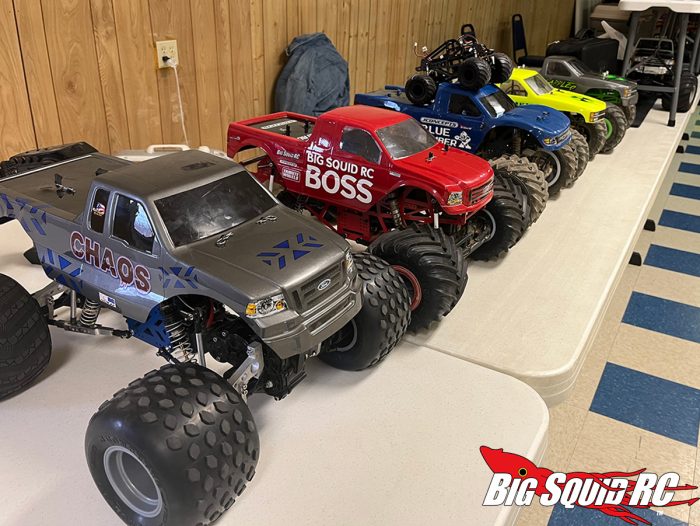 The lighter Axial setup felt very nimble in comparison to the beefy LMT and Clod. In a lower traction setup, i quite preferred it. On carpet though, I really liked the mega power and slot-car like tendencies of the mod Clod. The LMT fell somewhere in the middle. During the outdoor season I will be competing with all three of them in dirt conditions, and I will write about that.
I got to try out the new JConcepts Launch and Knobs tires and man, they are THE setup on carpet. I would imagine that those of you who like to run on carpet or something else very high bite like a blue groove or blacktop will adore them. They provide juuuuust enough give as to not have too much traction and I felt they were aces on that surface.
I think the big takeaway from the event was that my close-to-stock Losi LMT needs some work to be prepared to do battle this Summer. I've already begun ordering parts.
A new servo. New wheelie bar. New electronics (I plan to upgrade to sensored). New tires and wheels. And, if the parts fairy is good to me, a whole slew of machined Treal parts. Yeah, i've long lusted after folks who have machined axles on their monsters and I'm tired of letting them have all the fun.
Look for some detailed impressions on Losi aftermarket goodies as I get 'er up to snuff for Trigger King 2022! See ya next week!