Monster Truck Madness- Green, All the Way Down
Well, thar she blows, folks. My first ever airbrushed body. My Losi LMT is sporting this freshly painted JConcepts '89 Ford.
I think I went a tad dark on the shading and the letters didn't quite come out perfect, but hey for a first time I'm pretty happy. And besides, if it turned out perfect I'd probably be sad about the flogging the truck is going to get this Summer, and now I'm not.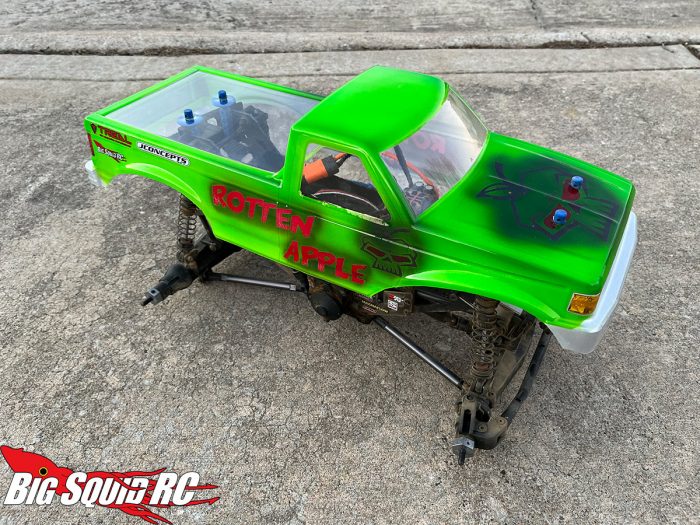 I also have a set of JConcepts Aggressor Wheels and Renegade tires for it. I've not painted the planetary covers for it yet, but here it is mocked up.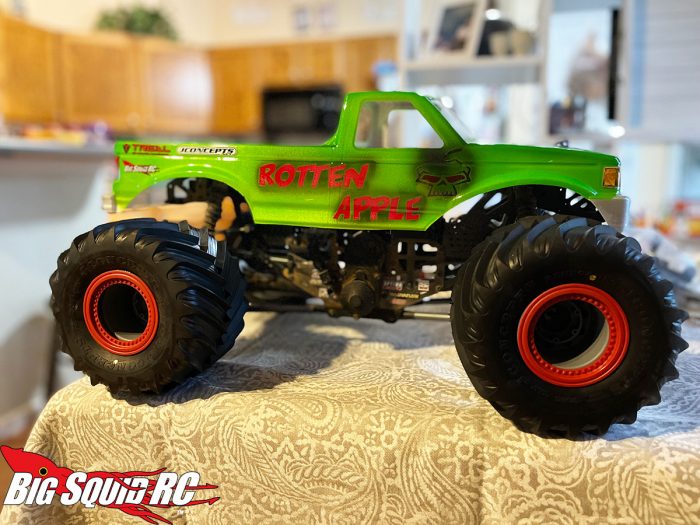 Ok, now the really good stuff. I mentioned that my LMT was going to be flogged this Summer- it's going to be my entry into the Trigger King Losi LMT racing class, as well as pro-mod Freestyle. This means the rig is gonna both race and crash hard. Soo, I figured I'm going alllll in.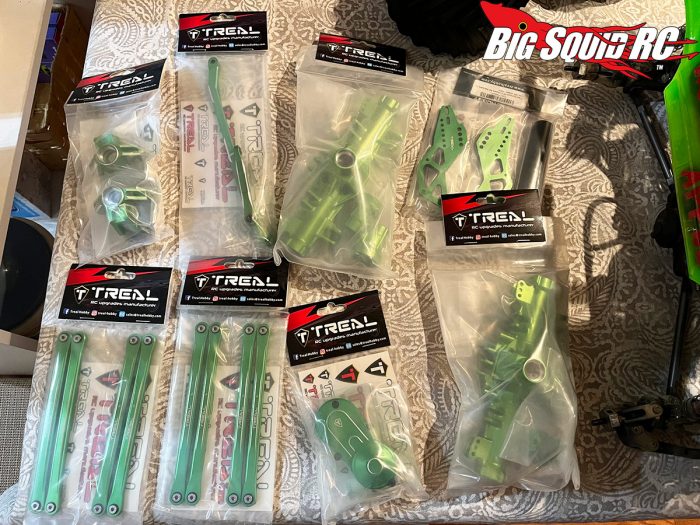 Oh yes, look at all that glorious Treal machined (green) aluminum. The full list –
– Treal LMT Outer Gearbox-Green
– Treal LMT Wheelie Bar-Green
– Treal LMT Steering Linkage-Green
– Treal LMT Front Knuckles-Green
– Treal LMT Front Axle-Green
– Treal LMT Rear Axle-Green
– Treal LMT Upper Links-Green
– Treal LMT Lower Links-Green
So despite racing r/c monster trucks seriously for 8 years now, I've not had a rig that was seriously kitted out in machined goodies. As you can see, that fittin' to change.
I am usually someone that rolls with a more lowkey black finish, but this Losi LMT is gonna be wild so I went with the green to really fill out the Rotten Apple theme.
Given that I painted the body before receiving my shipment of parts, I was gambling the greens would be close.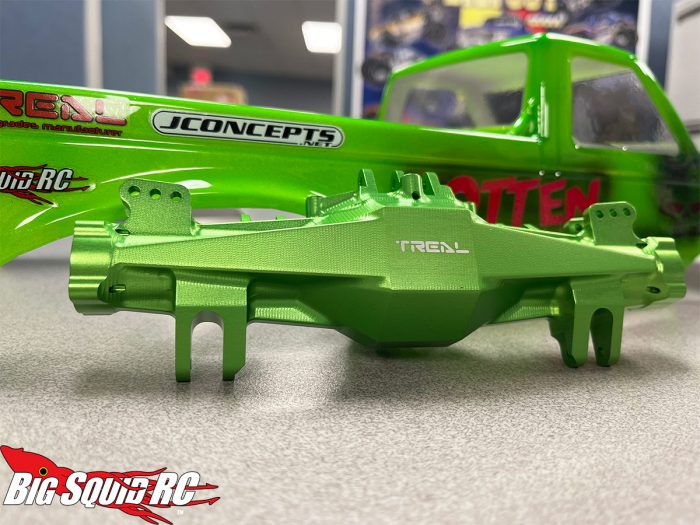 As you can see, pretty dang close!
I've got some racing buddies who have been really impressed with Treal stuff, and my initial impression is that the workmanship is quality. The axle housings are extremely trick. Great machine work on 'em.
Oh, and while I'm tearing this truck a part, ill also be installing BowHouse RC Low CG Battery Tray.
Alright folks, time for the surgery to commence. Detailed impressions on all of these upgrades coming soon!