Monster Truck Madness – Heavy Truckin'
Hello everyone, happy Thursday to yas!
Two weeks ago, after being frustrated by yet another rain shower keeping me indoors, I started playing Snowrunner on my new Xbox. Let me be a bit clearer- started playing it AGAIN. I was huge into the game when the pandemic hit but hadn't touched it since the end of 2020. Many updates have been added (new trucks and maps) in that time, so I wanted to give it another try. I'm hooked again.
For those unaware, Snowrunner is a game about driving big trucks (monster trucks are in the game too but only via mods!) fording rivers, plowing through the mud and drudging through the snow hauling heavy loads. It's an awesome off-road simulator, and you spend time in various licensed trucks and in settings ranging from Russia to Wisconsin. It's a massive load of fun.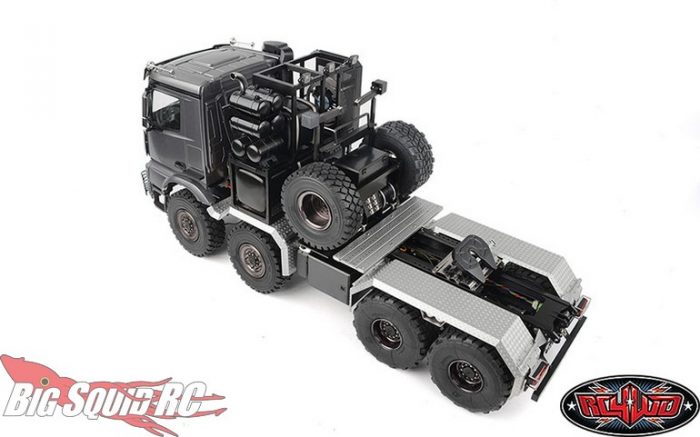 I bring this up because I am REALLY wanting to get my off-road hauling fix in r/c form, and RC4WD's recent announcement of their heavy off-road rigs kicked that desire into overdrive. Those things are wicked!
Now, what to get!?
If only someone made a scale Pacific P16! Those rigs are sweet.
I have always wanted to build a Tamiya semi-truck. They look incredible in person. Our own Jeremy loves his. Only issue I see is that they don't offer a locked differential equipped off-road type truck as I think I'd want.
So, what's a guy to do? Build a Tamiya and lock the diff (Note that I am aware of the Volvo cab-over logging truck, but that's not really my style)? Go with a more military style Cross R/C? Save up those pennies and nab one of the big RC4WD monsters?
There's where I'm gonna turn to you all. What would be a good rig to base a heavy log hauling semi off of? Shoot me your suggestions to doug@bigsquidrc.com.
I know I'm not the only one wanting to live out their Snowrunner fantasy in r/c form, so if I get enough good suggestions from you scale big rig fans, I'll happily make a dedicated post sharing them.
Help ya boy out!
Until next time, keep it on all 4's!