Monster Truck Madness – High Horse is Alive!
Last week I started the transformation of a Traxxas TRX-4 Sport to an old school monster truck. (P.S. if you missed my post last week, now would be a good time to check it out). In that post I never actually mentioned what body I was going to use, but if you took a hint from the title of the post, Building High Horse, you probably could make an educated guess that I was going to go with a Ford Bronco.
The funny thing is that when coming up with the idea for this build, I wasn't really planning on a Bronco. I was going to use a Pro-Line Power Wagon. The reason I swapped to a Bronco is because the Power Wagon needs a bit of modification to work and really, the Bronco just fit what I wanted to do perfectly. I love old Fords.
As you can see in the pic above, with the Long Arm Lift Kit and new body mounts on the rear installed, the Traxxas Bronco body fits the JConcepts Ranger Tires and Midwest Wheels perfectly. Man, it's REALLY nice when things just work on a build, right?
After seeing the body lay on the jacked up chassis with those tires, there have been few times when I've been more excited to get a body into paint.
I love blue Broncos with white tops, so that's what I went with. I used Duratrax Brilliant Blue for the body, with Tamiya White for the top, backed in Tamiya Gloss Black. All rattle can, baby. That's how I roll!
Ya know, as much as I really like what Traxxas does and how easy they make stuff, I do have to take 'em to task for their body masks. Those masks, yikes. I had to do a lot of bleed fixing by way of using a q-tip with rubbing alcohol.
Anyways, after the body was painted, I then got to put all of the chrome goodies on. That really makes it.
Here's how she sits-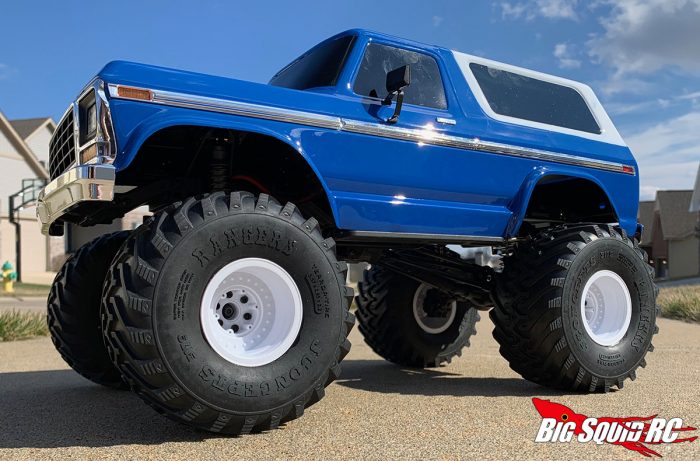 Chomp. Daddy like!
High Horse is nearly finished. It just needs the name put on the side, the wheel centers finished….and maybe some 3D printed Predator Carbs sticking out of the hood. More on this rig in the very near future!