Monster Truck Madness – High Trail
Hey all and Happy Thursday. Before getting into the matter at hand here, I hope to see some of you this Saturday at BIGFOOT Open House! You can click here for event info.
Well, I went and did it. I cut the check for a Traxxas TRX-4 High Trail. Having the lift kit pre-installed and that killer Chevy body were too enticing for this lover of big tired trucks to resist.
FYI big thank you to buddy RCJesus and his hobby shop Remote Control Hobbies in Orlando– they were great to do business with and shipped quickly!
The stock 2.2 Canyon tires look well enough, but those are "hauler" tires around these parts! I ordered JConcepts Ranger tires (blue compound) and Midwest Wheels to go for the look I wanted.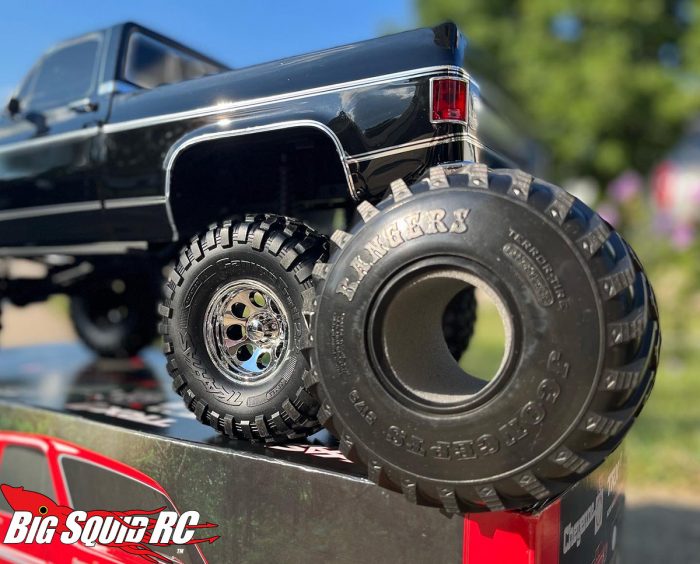 Given chrome isn't an option on the JConcepts wheels, I figured I'd try out some Krylon Chrome paint. Gotta keep the truck blingin'. And you know what? The paint worked! They turned out nice.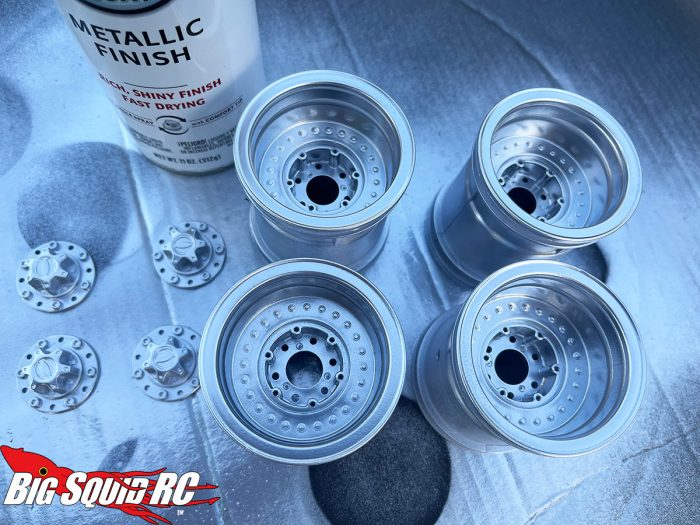 I played with different offset adapters and ultimately went with the thinnest to tuck the tires in the closest to the body. I was wanting that kind of early 80's monster truck look before a lot of guys started putting them way out there, and this accomplished that.
The lift kit takes the big tires well, but to get a decent amount of turning/flex with a minimal amount of body rub, I carefully trimmed the front of the front fenders up to the chrome stripping to give more breathing room. This works pretty well as the truck only has a lot of body rub when under heavy articulation. I'll probably trim a smidge more eventually, but this is a good starting point.
There she is. Chomp. This is some vintage monster truck-looking hotness right there, yessir.
You can see the big K10 next to my competition Retro Clod to compare their stances.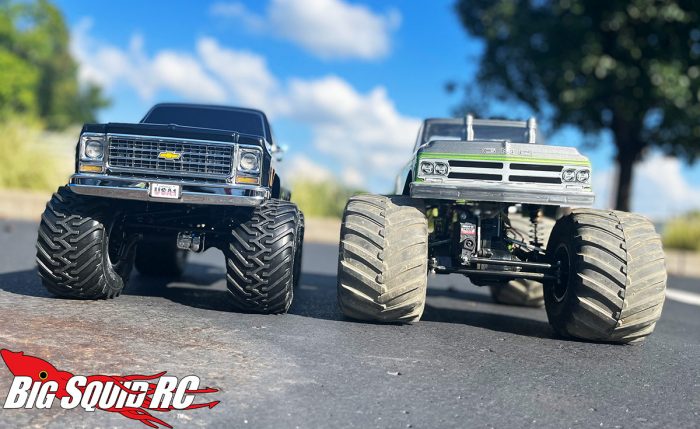 I've got some opinions on how the High Trail performs, but I'm going to withhold those until I spend more time with it. This truck is coming with me to BIGFOOT Open House to do some crawling on full size crushed cars as well as to bomb around on the scale monster truck track this weekend. All of these experiences will go into a mini-review write-up coming in the next week or two!
Until then, keep it on all 4's! Hope to see some of you this weekend at Open House!