Monster Truck Madness: I Finally Got a Blackfoot
If you enjoy bashing your r/c monster truck, regardless of what brand it is, you should have at least a little respect for the Tamiya Blackfoot. When it released in 1986, it took the r/c world by storm. Or so I've been told; hey, I was only 2 back then!
Being a monster truck fan, the Blackfoot is a truck that I always wanted to build, but never seemed to be able to. When the re-release was announced in 2016, I put it on my list.
After years of procrastination, I finally have one! This isn't going to be a full review, mind you, but I do want to share some brief impressions!
Tamiya kits are always an easy build, and the Blackfoot is no different. I got it together in two evenings, and that was at a VERY lax pace. Super easy and fun. The smell of a Tamiya kit box puts me in a happy place!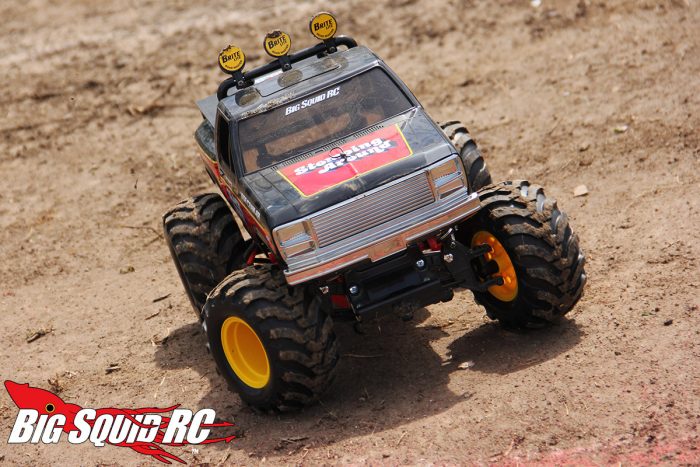 Many longtime Blackfoot fans will be happy to know that this updated version comes with updated rear dogbones versus the legendarily-awful hex design of yesteryear. One of my best friends got into r/c in the mid 80's when the OG truck came out, and he and his friends ran it hard. Those old hex shafts were the weak spot by far, at least according to the old timers. That has been fixed!
I will always be a huge sucker for these ABS plastic bodies. They have so much detail and look awesome when finished! The updated Blackfoot no longer carries the official Ford Ranger licensing, but it's still the classic Ranger look.
After finishing up the body, removing the front bumper (I hate the toy look it gives off) and changing the ESC plug to Deans, it was time to let this classic monster loose on a modern r/c monster truck track.
In short, it was a blast. This truck is plenty peppy with the included 27t motor and a 2S Lipo battery. Don't get me wrong, it feels like an old-style r/c, but that's the charm here, right?
I was pleased to see that the Blackfoot came with oil shocks, which is a rarity for many of these classic kits. Because of that, it had no problem bombing over the jumps. These aren't exactly race tuned dampers, but they still do a good job allowing the rig to do its thing. Had it had the normal friction dampers, it wouldn't of been nearly as much fun.
The truck actually jumps pretty well given how the battery is mounted low and to the rear. It does want to wheelie in the air, but it didn't feel overwhelming. It definitely skews more towards stadium truck than it does Lunchbox.
The truck did go over a few times after particularly aggressive jumps, but it held together. I did physcially wince when scratching the body, though!
I'm really happy that I finally bought one of these things. While it's primary purpose in my fleet is to sit on my bench and look cool, this old girl is still a lot of fun to run. If you have any interest in one of these historic kits, I strongly recommend you pick it up! They are fun little basher trucks that help you re-live how it used to be, albeit with a few necessary modern amenities added.
Long live the Blackfoot!