Monster Truck Madness – I Got It Covered
Greetings all, welcome to another edition of Monster Truck Madness.
I'll be racing for the first time in 2019 next weekend, and the track will be on hard cement. My Blue Bomber truck has been rocking a set of blue compound super soft JConcepts Renegades, which are good for dirt but not so hot for the hard shop floor that the competition will be taking place on.
The good news is that I have a set of shaved gold compound Renegades that work fantastic on the surface. The bad news is that they were previously mounted on a truck with a neon green paint job. They were also getting REALLY beat up, from years of use. So not only do the wheels not match the color scheme of the Bomber, but the paint is flaking as well.
You can see what it looks like with them mounted in the pic above. Fugly, right?
I may be switching all of my trucks to the new JCT tire for concrete, but before doing that I wanted to see how these felt in comparison. So for this event, I decided to do up a set of makeshift wheel covers like certain monsters used back in the early 90's. Here's an example below: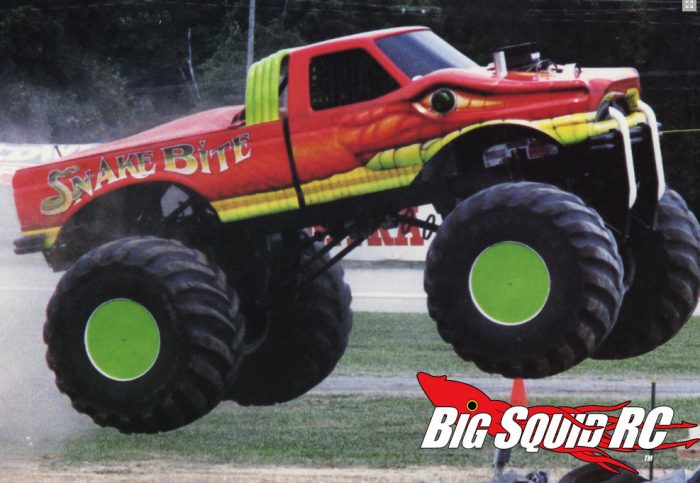 Given that these will most likely just be used for one event only, I wanted to do this as cheap as possible. Our next event is in February, and by then I'll either have new tires/wheels or will make more durable covers out of lexan. So yeah, I'm using some thick card stock that I had laying around. Hey, I told you I was going cheap, didn't I?
I measured the width of the Tribute Wheels and after messing around with a few different test sizes, I printed out some 2.80″ discs and got to cutting.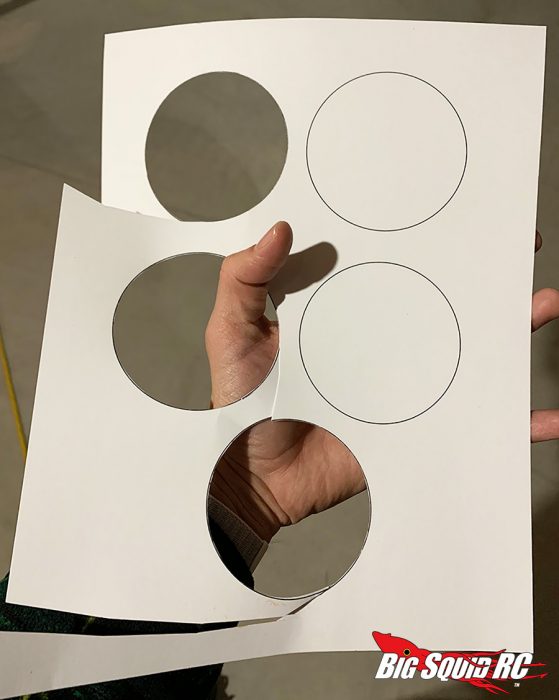 To mount them on the wheels, I used several strips of very strong double-sided servo tape.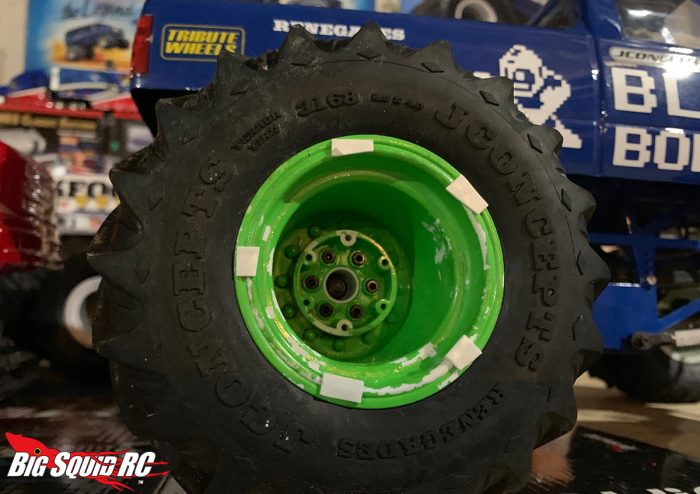 After pressing them on, viola! They are on there firmly and give me those appropriate 90's feels, all the while doing a serviceable job of hiding the neon green. It's jerry-rigged as all get-out, but hey, that's monster truckin'!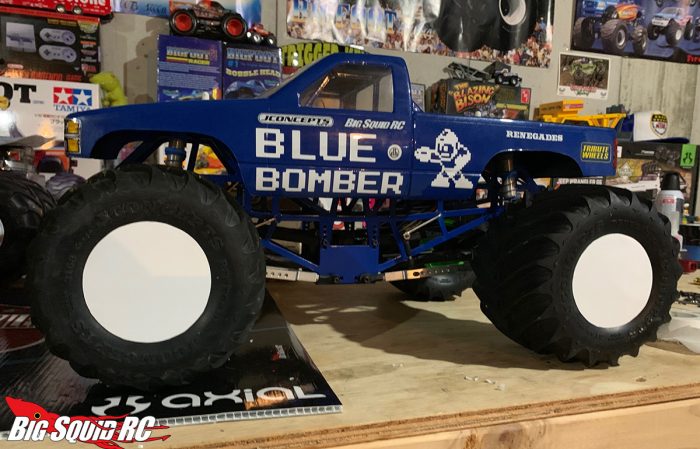 For the low cost of $0, I think these will do just fine!