Monster Truck Madness – I Got the Blues
I got the blues. The JConcepts Renegade blues, that is. Or to be even more specific, blue compound JConcepts Renegades.
Yes, after nearly a year of racing on cement due to not having a location suitable for racing monster trucks on dirt, my rigs are finally going to get to go to battle on the stuff monsters were meant to be raced on.
One of my good friends and club members has built us a killer dirt track behind his brand new house to use as the summer home for Trigger King. We are giving it the grand opening treatment this weekend!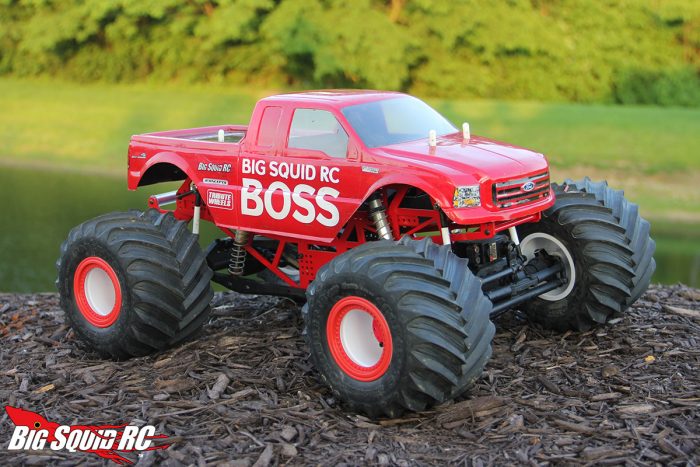 The Big Squid Boss is my Pro-Mod truck. It's been very consistent and I haven't changed it much since I originally built it during the winter of 2019. You can check out the specs here. The only difference is I'm using the aforementioned JConcepts Renegades in blue compound and I've changed from 30 wt to 40 wt shock oil. This will be my last race on the Ford body as it's definitely seen better days. I'll be updating to a JConcepts Snoop Nose Chevy, to fall in line with my other vehicles.
Nuclear Banana is the vehicle that I've had in service the longest at this point. It's a first generation Axial SMT10 that I got in February 2017 and that's about to see it's 7th racing season. The chassis and drivetrain is still in stock trim, with the exception of an added RH Designs Wheelie Bar and front axial sway bar.
This truck is a "Sport Mod" class racer, which is limited to a 17t brushed motor. It has a Hackmoto 17t but I plan to swap it out to a Reedy once my LHS gets them back in stock. The ESC is a Hobby Wing QuicRun 1080 which is a REALLY nice brushed ESC. It's fully programmable and has an internal BEC which has thus far been incredibly smooth. The tires are turned by a Savox SV-1270TV. The paint was done by good friend Travis Sutton of Sutton Motorsports. The tires/wheels are JConcepts, but this one has Crawler Innovation closed cell foams. This will be my first race on closed cells and I'm excited to report back what I think of them!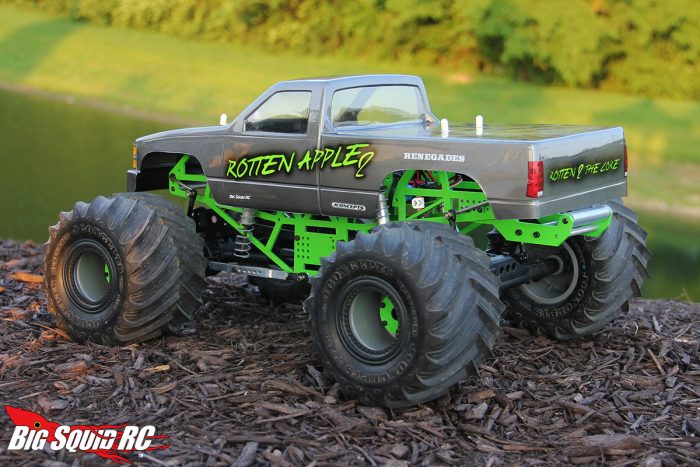 Last but certainly not least is my current favorite truck in the fleet, Rotten Apple 2. This rig handles like a dream and I have the suspension set to where it actually behaves very much like a full size monster. You can check out the full specs here.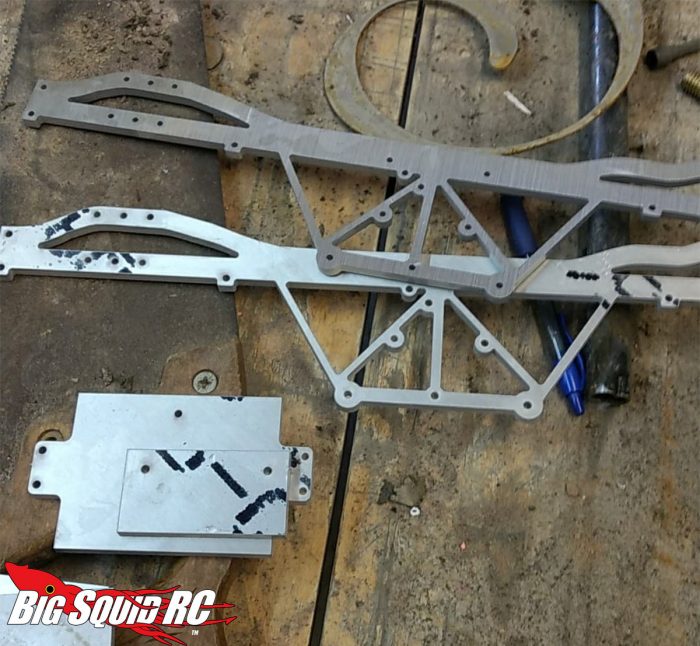 There is one more truck that will be joining my race fleet soon. My Black Edition Clod is about to get made over into a retro racer. Sutton Motorsports designed a retro chassis for it. Here's a shot of it coming out of the Waterjet, before powder coating. I will be building it this weekend and I hope for it to be racing on Sunday! I will be bringing you a detailed build article on that within a week or two.
See you all next week! Off to the races.