Monster Truck Madness – Impressions of the Updated Axial SMT10
Greetings everyone- it's ya monster truck boy, Doug! I'm fresh off an MT racing weekend where I did very little actual racing. Instead, I spent the day driving around a brand new Axial SMT10 Grave Digger, sharing the remote with as many of my MT-obsessed buddies as I could, to get some collective impressions.
The original Axial SMT10 came with a "drag brake always on" Axial AE-5 crawler ESC, a 27t motor, a weak Tactic servo and plastic geared transmission with 48p spur. It was slow and had sluggish handling. REALLY sluggish if you put bigger tires on it like many did. The transmission was also pretty easy to strip if you put any kind of power upgrade in the truck.
The 2020 version of the SMT10 has a Dynamite 60A ESC, a 12t 550 can motor, a Spektrum S614 servo and fully metal tranny mated to a 32p spur. Oh, and it retails for $100 less than the OG version!
Folks, this is a big upgrade.
I spent the day hitting large freestyle obstacles and the truck had the oomph to take them on. You won't mistake the truck for brushless, but it's still enough to have fun with right out of the box.
The servo feels better than the old stock unit and when you run bigger standard 2.6 style monster truck tires, you have a decent amount of control. Pretty good for a RTR unit.
The transmission is also now a point of strength. We were doing reverse/forward drops on pavement all day and had no issues. My truck will be receiving a power upgrade, so while I will report back on that at a later date, so far so good.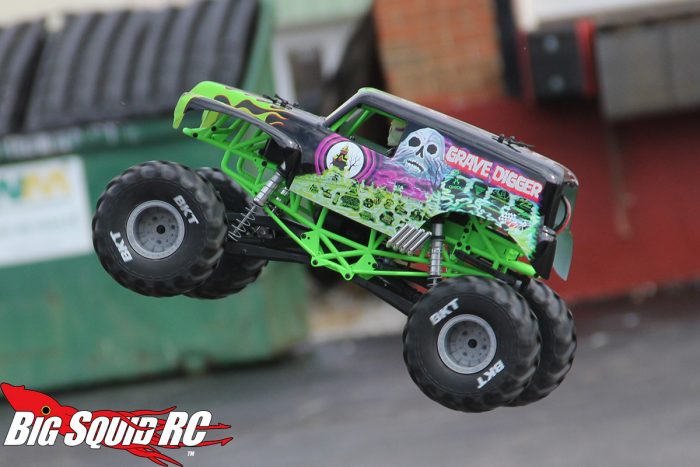 While it's sweet that the truck now comes with useful electronics, there is something that not one, not two, but three different new SMT10's we were running (hey, I told you my friends are monster truck nuts) had in common- those electronics get mighty toasty, especially the motor. This was on the stock 2.2 wheels and tires with a 14t pinion that comes installed.
When we mounted up bigger, heavier JConcepts Renegade tires, after about 10 minutes of running the motor reached "don't freakin' touch me" status, so we shut it down to let it cool and slapped on the stock tires.
One of our guys experimented with removing the stock motor and putting in a 17t brushed 540 can, and all of a sudden temps were no longer an issue. Our hypothesis is it's a motor thing, NOT esc.
Again, this wasn't really a problem with the standard wheels and tires, just know if you want to run the big pieces of rubber, you should monitor your temps closely.
Oh and yeah, the truck still needs a front sway bar. That much hasn't changed. When you start turning hard on a high bite surface, it can pretty easily go arse-over-tea kettle. You'll want to put an Axial or aftermarket sway bar on the front. That REALLY allows this machine to handle like it should.
Final thoughts
The Axial/Horizon guys did a great job in bringing the Grave Digger SMT10 back to market. They kept the bones that worked and fixed a lot of the issues with the OG RTR. At a price point of $299, this is a VERY easy recommendation. You can have a legit solid axle monster truck experience right out of the box, and if you want to do some customization, well, the sky is the limit thanks to the aftermarket!
And customize it, I shall. As of this writing, the chassis is totally stripped down so so it can be dyed black. You'll see the final result soon enough 🙂
Thank you Axial, it's truly a great time to be a solid axle monster truck fan!