Monster Truck Madness – Introducing Rotten Ol' Apple
Hey all, I'm back this week with a *gasp* finished project! Forgive me for going out of order here as this week I meant to originally discuss how to replace the stock four wheel steering system on a stock Clod Buster with something that actual works like it should, but after building Rotten Ol' Apple (the truck that was to be used in the example) I couldn't wait to show it off!
And before getting into it, next week will be the JConcepts Regulator build overview. Yes, I've got one and yes, it's sweet…but Rotten Ol' Apple was already in the build process when the Regulator showed up so I had to finish it first.
Enough preamble.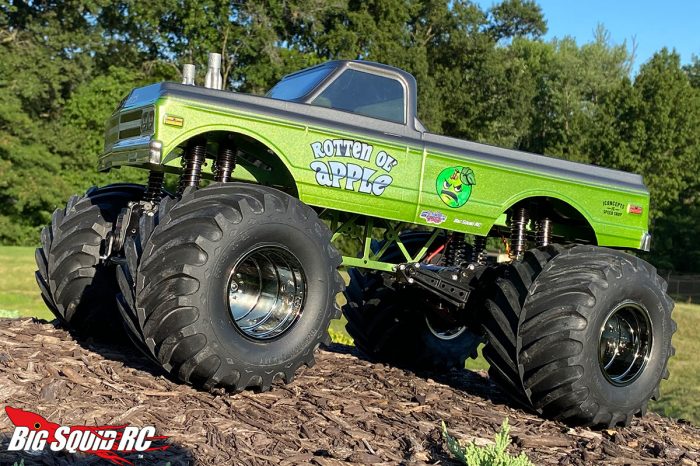 Rotten Ol' Apple has come to life by way of good buddy Travis Sutton of Sutton Motorsports and Machine. As-is always the case, it started with a conversation. "Hey Travis, that new JConcepts Chevy C10 body looks pretty cool. Was thinking of doing a competitive Retro Clod monster truck racer to get back into that class and I think my Rotten Apple theme would be pretty cool for one."
That lead to talking about chassis designs, paint schemes and set-ups and ultimately what resulted was a one off, heavy duty aluminum chassis that's inspired by both the heavy duty box style setups that late 80's stage II monsters used as well as frame rails of a classic Chevy pick-up. It was cut on a Waterjet.
My club runs a very competitive Retro Monster Truck class that on an average club race day has about 30 monsters. In trying to keep with the spirit of old school trucks, we run a minimum weight where trucks must weigh in at 9 lbs. Most stock Clods are close to heavy enough with their big gearboxes and ABS bodies, but with lexan bodies and lightweight carbon/delrin/aluminum chassis guys have to actually add a bunch of weight to make it in. Because of that, this chassis has added beef. It was cut out of 1/4″ aluminum. It tips the scales with no batteries right at 9.1 lbs. Nothing additional to add.
The paint job and powder coating was also done by Sutton Motorsports and Machine. At this point I don't really give many details to Travis when discussing paint outside of basic color- the rest is always a surprise. He killed it here. ROA's classic look could've easily been a hand painted pulling, mud or monster truck, and that's perfect. Look, modern graphics are nice but I'm a sucker for a classic simple paint job.
Here are the specs, again bare in mind I'll talk about some of the individual stuff later like how to set up and program 4 wheel steer, mount scale headers, etc.
Body: JConcepts 1970 Chevy C10 / K10 #0416 (GMC K10 decals used) w/ RH Designs 3D printed thru-hood headers
Paint: Sutton Motorsports and Machine paint job with Pactra Lime Ice as primary color
Tires: Tamiya Clod Buster
Wheels: Tamiya Clod Buster Black Edition Smoked Chrome
Chassis: Sutton Motorsports and Machine Chevy Monster Truck (powder coated Prismatic Powders "Sour Apple") at 12.3″ wheelbase
Motors: Axial Racing 27t (2) w/ stock Clod Buster pinions
ESC: Tamiya TEU106BK w/ Traxxas Connectors
Axles: Tamiya Clod Buster with Fast Eddy Bearings
Shocks: Tamiya Clod Buster, black Rit Dye
Steering: Four Wheel Steer w/ Sutton Motorsports Axle Mounted Servo Kits (2)
Servos: Hitec 645MG (2)
RX/TX: Spektrum SR315 w/ Spektrum DX5 Rugged Radio
I'm just really, really happy with how this truck turned out. Just a few weeks ago it was a stock Black Edition Clod. Several weeks later it's my favorite Clod that I've ever built. It just oozes that old school monster truck charm. Massive thanks to Travis Sutton- he does fantastic work.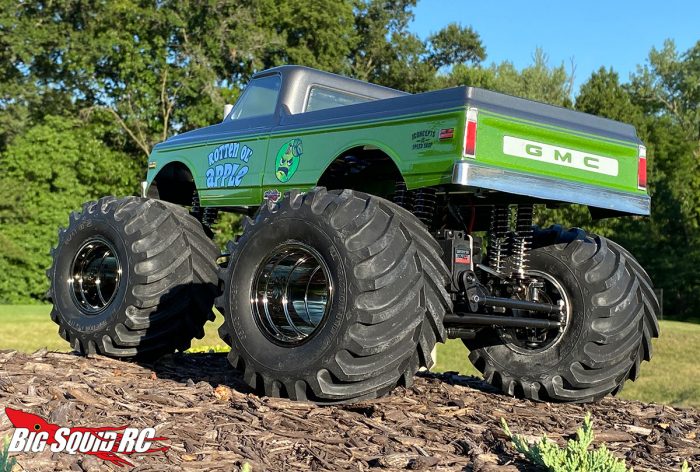 While this is a good baseline for the truck, a few things will be changing over time. I plan to add a nice roll bar on the back, some oil filled scale shocks and I'll be swapping tires between these and JConcepts Golden Years depending on the race track at hand. But for now, I'm quite happy. And yes, a full post-race report will be coming after the July Trigger King race.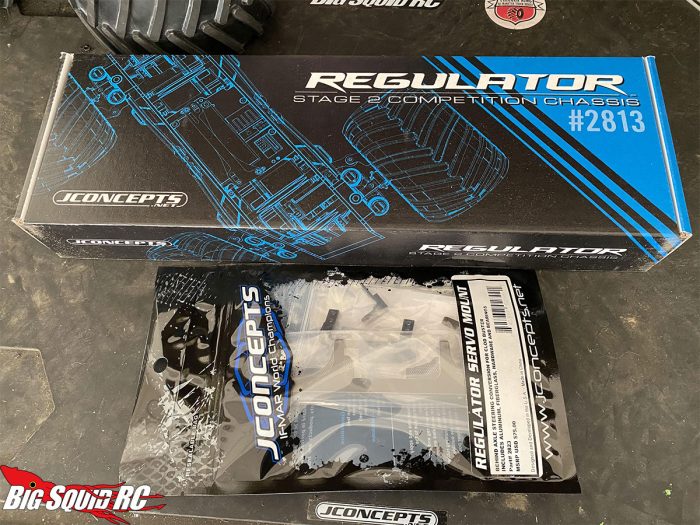 Now, back to my work bench. A JConcepts Regulator awaits as does a brand new Clod kit box. Assuming my wife doesn't file for divorce due to the abhorrent amount of money I've spent on building two top flight Retros back-to-back, I'll be here next week to discuss that build as well as some of my friends trucks that are building Regulators (and there are a lot of 'em!). See ya then.