Monster Truck Madness – JConcepts Krimson Dually Discussion
The absolute moment JConcepts announced their Krimson Dually wheels, I knew I HAD to have a set of them. Now that I've got 'em, have them mounted and have run them, let's talk!
So, the Krimson Duallys. Let's talk about the name, first. As with most of JConcepts monster truck stuff, the product names are a wink and a nod to a piece of full size monster truck history. Take the Renegade tires for example, the name "Renegade" is a reference to the first ever monster truck racing series, the Renegades TNT Monster Truck Challenge.
Back in the 80's, 66″ terra tires weren't the only kinds of rubber you'd find under a monster truck. Sometimes you'd have smaller 48″ tires, other times larger 73″'s. Heck, sometimes NO tires at all, as rigs would opt for tank treads. One specific truck went a different route, going with dual tractor tires at all four corners, similar to what you'd find on a large John Deere or International.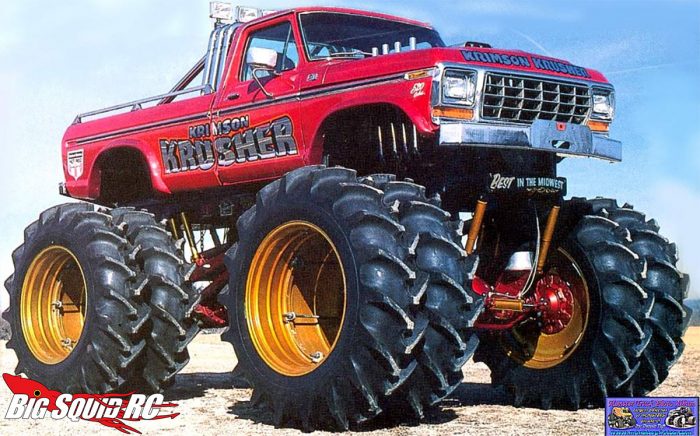 This truck was the Krimson Krusher. While the truck was never really known for being strong in competition, it looked rad as hell. The Krusher was also involved in an infamous wreck that was featured on many commercials and compilation videos back in the day. The Krimson Dually wheels are a direct nod to the classic (or should I say Klassic?) truck. You can even order them in plated gold, if you want!
The KD's are interesting in how they assemble, as they are a multi piece design that bolts together. They are made to work JConcepts Fling King Mega Truck Tires. Given that these were going on my "White Wolf" Traxxas TRX-4 mud truck, I opted for the soft blue compound.
The wheels are two main pieces, and you can bolt in your choice of offset hex adapter, much like their Tribute m/t wheels. I opted for 17mm.
Each tire is mounted to a separate wheel. Glue them up BEFORE bolting them together.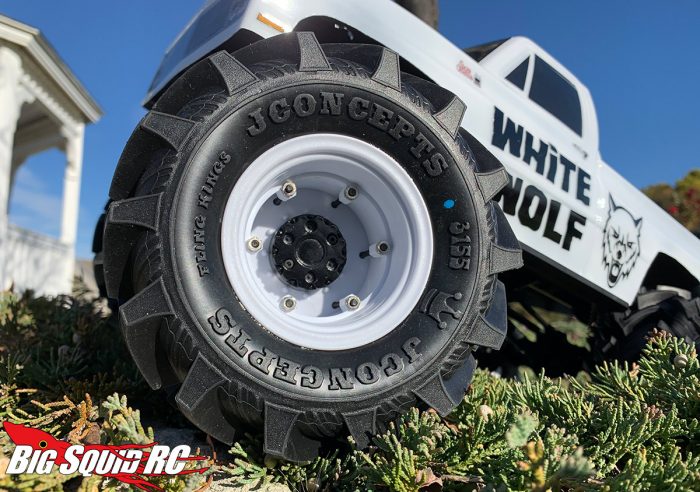 Now the "fun" part- screwing the wheels together and putting the small nut on the end. I found needle nose pliers were easiest for this given the tight fit on the side of said nut. This process can take a bit of time. When you are finished though, it's a dead ringer for the real thing!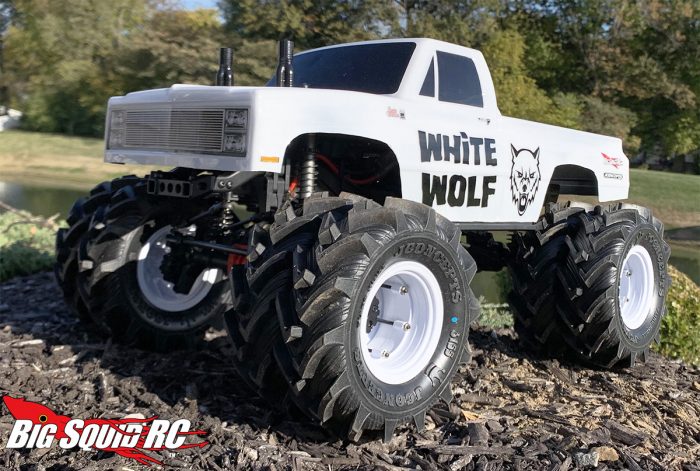 After you put in the work and glue time to get them bolted up, they look absolutely wicked. Pardon my french, but this TRX-4 now looks bad-ass. It appears to have been ripped out of an arena, circa 1987.
But how does it handle? The very soft and pliable blue compound Fling Kings actually crawl very well. Those of you wanting to slap some on your trail truck, it'll handle rock/mud/dirt just fine. The dual tire profile gives an insane amount of forward grip when off-roading! The extremely wide stance and weight of the tires/wheels also makes for a very stable crawling and climbing experience.
The shakedown run was great, but it needs a mud hole. I will be shooting a video of that after we get our next rain, and I'll be sure to share it here! Until then, keep it on all 4's!