Monster Truck Madness / Laying Rubber – Buncha new Tires
Hey all, sorry for the late column this week. Gonna be another two-fer as I combine the MTM and LR topics into one. This week I wanted to talk about tires, as there have been some big releases in both the monster truck and drag racing worlds as of late.
Let's start with drag racing.
Wide tires are coming to no prep short course cars. Both JConcepts and Pro-Line both announced SCT wide-bodied drag slicks. The Pro-Line Big Daddy and JConcepts Mamba (it's been teased on social media but no official release yet).
Both of these tires are extra wide versus the standard tall and skinny short course fare. This does the obvious of letting more rubber get to the ground and letting more traction take place (duh), but it also helps with the cosmetics big time.
In the full size world of no prep racing it's pretty common to see actual drag slicks on the back of cars. Even if they are radials versus slicks, you'll see wide proportions that give a vehicle the look of a pro-stock, pro mod or even funny car.
The r/c scene has been missing these and I cannot wait to get a set to try out. My car is just waiting on paint to be finished, and when it's done I'll make sure to nab a set of these wider tires to do a comparison.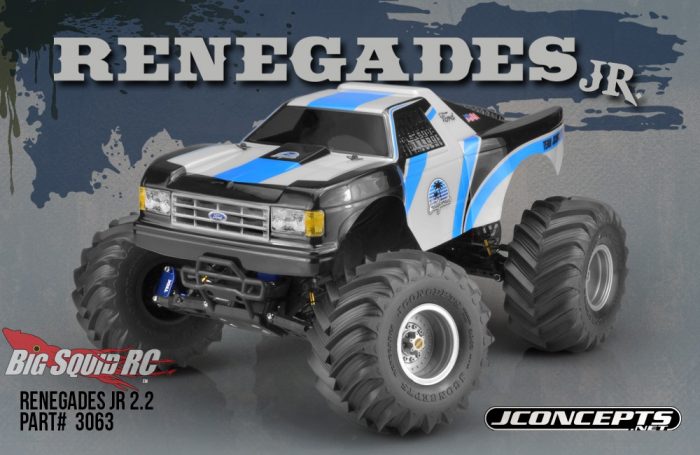 On the monster truck side, JConcepts released two brand new 2.2 sized MT tires. The Fling King Jr.'s and Renegade Jr.'s. Both are smaller 2.2 sized versions of the full sized tire of the same name.
Pretty big releases, though. The 2.2 monster truck market is and has always been hot, but there has never been a great selection of scale-ish monster truck tires. Plenty of great basher stuff, but not much in the way of chevron treads.
Now those of you with a Stampede, Granite, or other smaller monster can get more of that full size look.
As far performance goes, for my money the full-sized Renegade is the greatest solid axle monster truck tire that's ever been released. You will literally not find a more proven tire out there. Yes, there are other great ones, but across the board you will find most guys that have success have success with the Renegade. Now, they are finally available for the 2.2 class.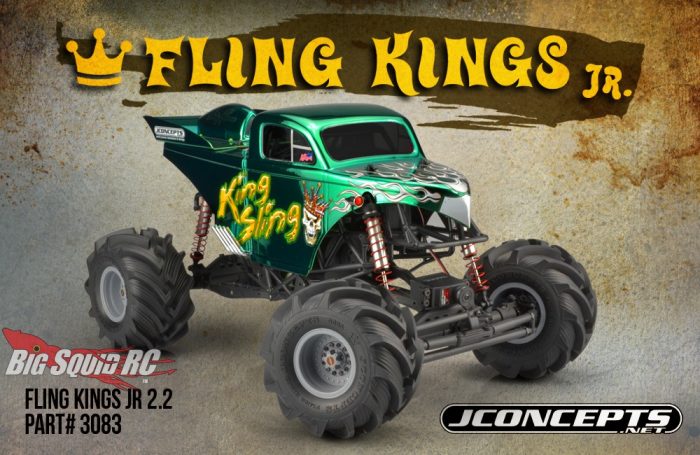 The Fling King Jr's are really interesting to me though, as while the Renegades are ultimately the same tire but just smaller, that's not the case with these. They aren't as tall but are a good bit wider than their larger brothers. It changes the attitude of the tire. Having that aggressive of an agricultural mudding tire opens up a ton of possibilities for those in the scaler crowd.
I've actually had my hands on both of these 2.2 tires and both feel fantastic. Looking forward to seeing the builds that folks use them on.
Both of these drag racing and monster truck tires releases ultimately just give more choice to two ever-expanding niches of the hobby, and that's a great thing!