Monster Truck Madness – Learning to Airbrush
Hello everyone, greetings from a snowy St. Louis, MO. As I write this, there's about 6″ on the ground and it's still coming down hard!
I suppose it's a good thing that right before the storm hit, I picked up my full airbrushing setup!
Learning to FINALLY airbrush was my New Year's Resolution, and I decided to not waste any time. I've got several monster truck bodies that need to be painted before I start the outdoor racing season in March, so gotta get at it!
After discussing things with several skilled painting buddies, I went with a Paasche Mini Air Compressor and a TG Talon Gravity Feed Double Action Airbrush set. This whole setup cost me around $250 dollars, but is extremely nice! I figure this is a tool I'll use for many years, so I eschewed the urge to try and go cheap with something from Harbor Freight.
For paint, I went with some Createx water-based 2 oz containers. This was purchased from a local hobby lobby, and it comes by way of recommendation from some painters. It doesn't need any thinning before putting in the gun, and clean-up is easy.
So before I let loose on some r/c bodies, I wanted to train myself by making a diorama of BIGFOOT #10 crushing a car. I'll talk more about this when it's done, but I chose this particular project because I had a model of BF10 built already and a crushed car, painted in a single color like you'd see at full size monster truck events, made for something easy to get acquainted with the gun and how it operates.
I'm actually shocked at how trouble-free this whole setup is in operation. I went with white to prime the car and then red on top. The compressor is very quiet and is easy to get more or less air pressure by way of a knob turn, and the gun is extremely smooth and clean in how paint flows. Simply push the button to start the air, and pull back to increase the amount of paint that comes out.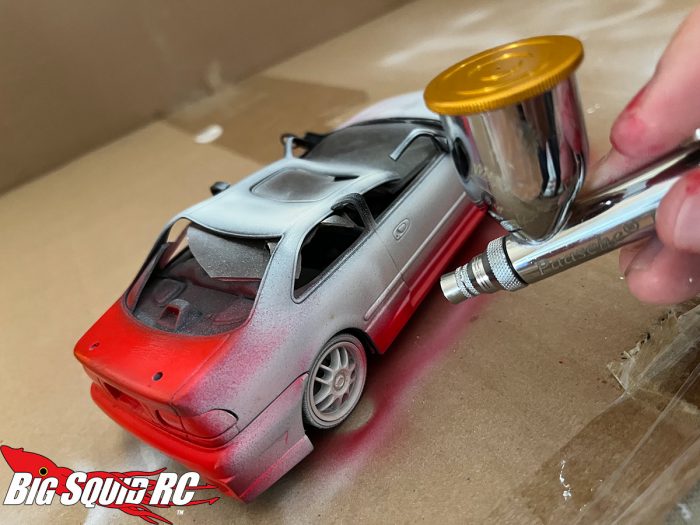 Despite being a novice, it feels almost second nature at this point! As someone who has spent the last 25 years painting via rattle can, it's incredibly precise! It's also amazing to me how efficient it is with paint. It took hardly any from the bottle to cover the car.
Clean-up was what I was dreading, but it was also very easy. Some hot water cleaned everything out in just a couple minutes.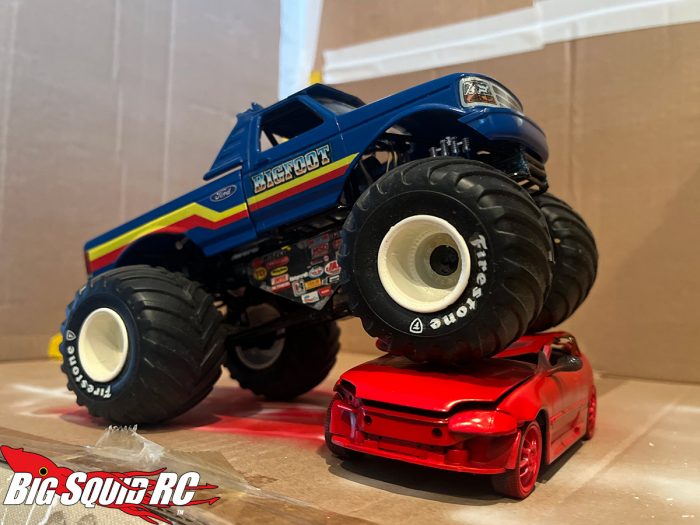 So happy I finally took the plunge! Look for me to show off this diorama soon, and then take my first crack at some lexan bodies!