Monster Truck Madness – Like a Boss
Greetings monster truck lovers, welcome to another edition of Monster Truck Madness.
I am coming off another fun-filled racing weekend and am absolutely LOVING my BigSquidRC Boss truck. (P.S. thanks to my friend Danny Maass for the sweet photo of it, seen above).
I detailed the build of it several months back, and since then I've been racing it monthly in my club races. This truck is a freakin' hoss. It's an ACRC Havoc chassis and the truck stays planted. I've yet to win an event, but I'm consistently going deep into the elimination brackets with it and having a good points year.
One of the main reasons I enjoy the truck? The shocks. What are the shocks? They are off an Axial SMT10. I know that we like to bitch and moan about the things the SMT10 got wrong, but let me give you an opinion that many monster truck racers I know share- the SMT10 shocks are freaking awesome.
They have a really long travel, which allows for them to be used on a wide variety of builds and a good amount of adjustment by way of pre-load. You can also find them really cheap, lightly used.
I've also been enjoying the JConcepts JCT tires that I've used on concrete all winter long. They are gold compound, and offer excellent grip on the smooth concrete.
Ah yes, concrete. Thanks to the never-ending rain, we have been relegated to racing indoors all year long, thus far. We hope to FINALLY get on the dirt in July, though.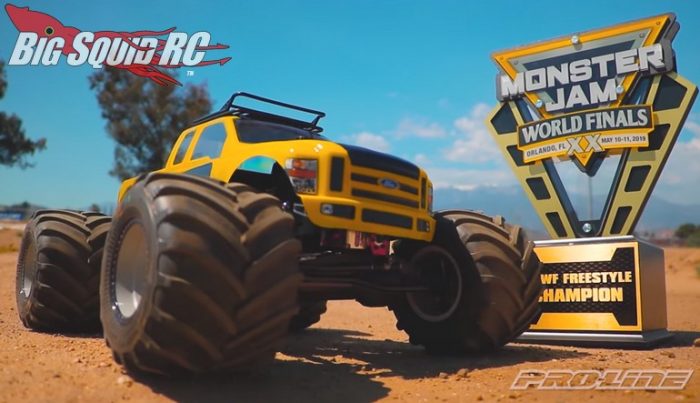 And when we do, the truck will be sporting new shoes. I have a set of Pro-Line Decimators on the way, and I plan to be carving up the dirt in them for a full review. Once I finish testing them, I plan to write up a tire guide in this very space, having had a good amount of experience with all of the major ones on the market currently. There are so many good choices, and I can't wait to see how the Decimators stack up!
Until then, I'll be at the work bench toying around with set-up ideas for next month's race. Keep it on all 4's!