Monster Truck Madness – 'Lil Boss
Lotta solid axle monster truck talk in these parts, so I wanted to give some love to my Arrma Granite 4×4 BLX 3S which is now sporting a new shell!
The JConcepts 1993 Ford F-250 Traxxas Stampede body is a direct fit for the Granite, as it's designed right at a 10.5″ wheelbase. Perfect width as well.
The only thing you may wanna do is give the lexan bumpers a hack since the actual chassis has a front brush guard and a rear wheelie bar. You don't HAVE to, it just looks weird with a truck sporting two different bumpers methinks.
My Granite is just over a year old, and it's my go-to have fun truck. The thing absolutely rips on 2S and it's fun to just blast stuff, especially a crush car stack! My solid axle race machines are all pretty meticulously set up and maintained, so it's a nice change of pace to have something that's no work and all play.
I will say, crushing cars is the one thing the Granite isn't the best at due to that low stance and flat plate chassis. Still, whether at a standstill or a 30 mph start, it gets the front end up just the same as its solid axle brethren!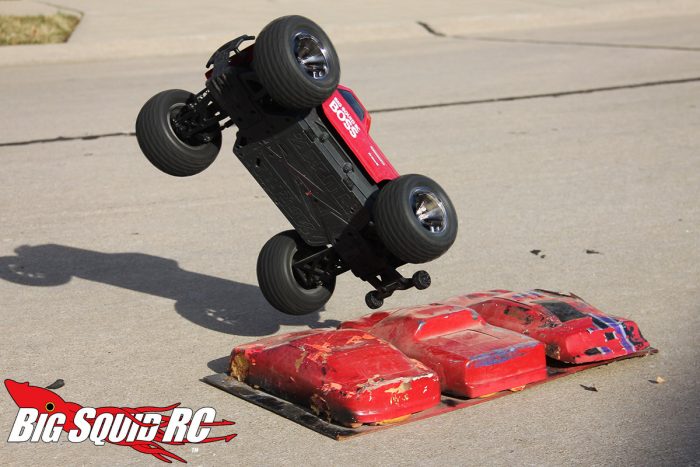 Now that it has a proper monster truck body, it needs a set of tires to go with it. The stockers are fine performance wise, but I need that classic MT dish wheel look.
I've got a set of Duratrax Munitions that I intend to try, and I'll report back as soon as I convert the truck over to a 12mm hex to accept them. FYI if you are considering doing the same thing (most 2.2 scale appearing monster truck tires use a 12mm hex, not the 14mm that the truck comes equipped with) you will want to use Duratrax part #DTXC3596. If you use standard 12mm hexes, there is good chance they wont fit. I'd know, as I've tried a bunch of them, haha.
The reason is that the Arrma axle pins are quite fat. The Duratrax's are specifically made to fit the HD pins.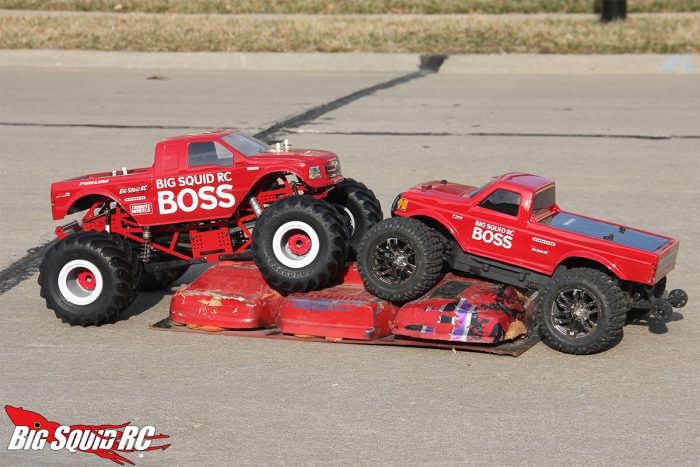 Anyways, here's a shot of the 'Lil Boss next to the big boy. People always argue what's better – solid axle or independent. If you are having that argument, you are doing it wrong. Get one of each! Well, at least one. Having a garage full is cool too.