Monster Truck Madness – Love of Beadlock Rings
Hey folks and Happy Friday!
Little bit of an expected topic this week, but with Duratrax annoucing Clip-Lock Wheel Faces for Ripper 2.8″ Wheels, I wanted to talk about my love of beadlock rings for monster trucks.
Beadlock rings, whether real or faux, are one of my favorite accessories to add to any monster truck to really help set off the look. And while yes, I'm partial to solid axle monster trucks, they look fantastic on independent suspension bashing style trucks too.
I'm a big proponent of having your wheels match your paint scheme. Before beadlock rings were really a thing, I would always paint or dye my wheels, and this could be a real pain for several reasons.
If you had unmounted wheels, it wasn't too bad I guess. But when you painted the wheels, it would lock you into a certain style of paint scheme. I.e. if they are green wheels, you probably need to have a body on it with green in the scheme or it'll look silly.
It is more troublesome if the tires are already mounted and you want to paint them, as then it can take some relatively time consuming masking before paint, and usually overspray will get on the tires unless you are really meticulous (I am not, hence my issues).
Bead lock rings have been a very easy way to get that nice customized look without having to paint wheels. These days, unless I am absolutely sure I want wheels to be a specific color for a truck that I will NEVER change body style on, I leave them a neutral color and get my customization with the rings.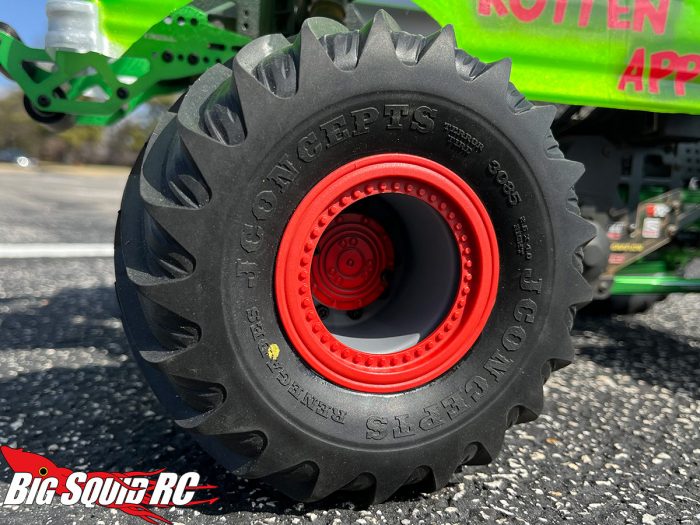 Various companies make them for various wheels (JConcepts ones are very popular with the solid axle crowd), but all are pretty easy to swap out. Some you just press on and there is enough tension to keep them there with no adhesives. Some you just need a dab of CA glue on. Some bolt on.
I recommend using CA glue for press on rings for any kind of truck that is running a brushless system, as it's very annoying to have a ring get flung off into the distance while at full throttle. If you are running in tall grass, sometimes it's hard to find them.
I know that some folks really dislike the look of bead rings, especially fake ones at that, but I love 'em. I love them on full size trucks, love them on toy trucks!
Next week I'll be back in the shop making some adjustments to my Losi LMT and old school Clod. Until then, keep it on all 4's!