Monster Truck Madness – Matchbox Super Chargers Monster Trucks
This week I am celebrating my 36th birthday, and I'm going to use that as an excuse to talk about one of my favorite birthday gifts ever, the Matchbox Super Chargers Competition Arena!
The mid-to-late 80's was a glorious time for a young monster truck fan as the big toy companies of that era started pumping out killer miniatures to take advantage of the craze! There was NEVER a cooler set of diecast monsters produced than the Matchbox Superchargers, though. Here's a TV commercial.
The Super Chargers were released in 1985 with several OG monster truck replicas- BIGFOOT, Taurus, USA-1, Rollin' Thunder – a murderer's row of all the big trucks you'd see on TV at the time. They featured detailed graphics, pulling hitches and 4 wheel swivel steer. They were also huge for a 1/64th truck!
The line would soon expand to monster mud boggers and modified pulling tractors. The first memory I have of being in a department store was the local K-Mart and a toy aisle filled to the brim with these things. Here's a medley of some of the different lines/packaging.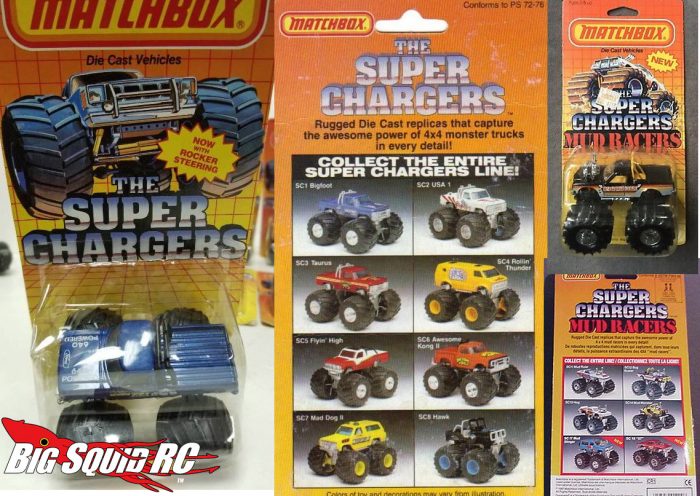 The crown jewel in the collection was the competition arena. Oh baby, what a playset! It had a pulling sled, grandstands, crush cars, an arena entrance…..the whole nine. Even some 30 years later, I think it's still the coolest monster truck toy arena ever released. Yep, better than the BIGFOOT Champions set of the early 90's and definitely better than the Monster Jam ones released today. Even better was that it didn't take batteries or have some kind of wacky gimmick, it was just a damn fine playset.
That arena was a dual gift for me. Not only was I given that for my b-day, but my parents also notified me they were taking me to the show at St. Louis Arena that year, which annually was always around late Feb. Just an amazing 1-2 punch of monster truck gifts.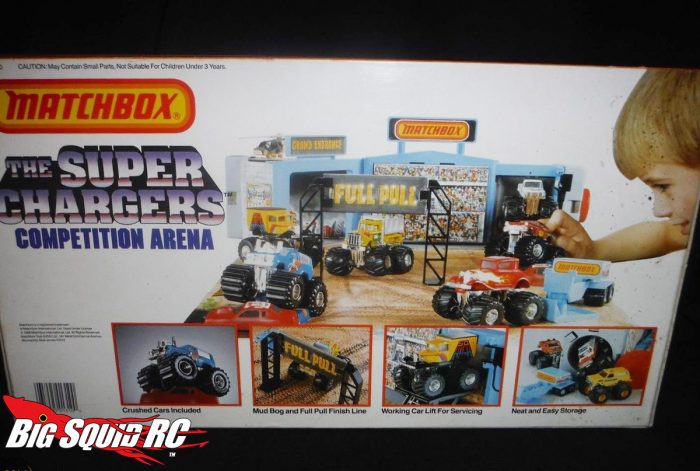 Pretty cool that all these years later I still get to play with monster truck toys. The price of the trucks that I play with these days may be just a wee bit higher than the Matchbox trucks from back in the day, but Axial and Tamiya have nothing on the Super Chargers!