Monster Truck Madness – Mini Monster Trucks and Licensed Tires
Hello Monster Truck faithful, and welcome to another Thursday thaaaang. This week I've got two non-related but also kinda-related subjects to tackle!
Guys, mini solid axle monsters are about to get VERY popular. At last week's Solid Axle Showdown event held in Virginia, several racers had their minis in attendance and apparently they went over VERY well with the crowd.
Southwest Monster Shop has been developing prototype Axial SCX24 conversion chassis, and they getting close announcing a production kit.
For those unaware, the baby Axial axles and guts mate to this chassis, and you then source a set of wheel and tires from a 1/25 scale plastic monster truck model kit. You can use either a plastic model body or a small lexan one made for the SCX24. Put 'em all together and voila- a sweet miniature r/c monster truck.
A solid axle monster of this size makes SO MUCH sense. Not only is one of these little guys cheaper than their larger 1/8 or 1/10 brethren, but they do not need as much space to set up a killer scale environment for them to run around in.
I'm absolutely going to be building one of these as soon as the retail kits are available, and you bet your butt I'm going to be building a scale stadium for it (and hopefully others) to bomb around in. Heck, with that new moldable dirt/sand available (Monster Jam has a toy stadium that comes with it), creating both the truck AND arena will probably be my big winter project!
I'd imagine the big companies are paying close attention to how these little monsters are received.
The one thing that is gonna clearly need fixed though is the tire situation. Yeah, hard plastic model tires will work while this is still a novelty, but we are gonna need 1/24 scale Renegade tires pronto!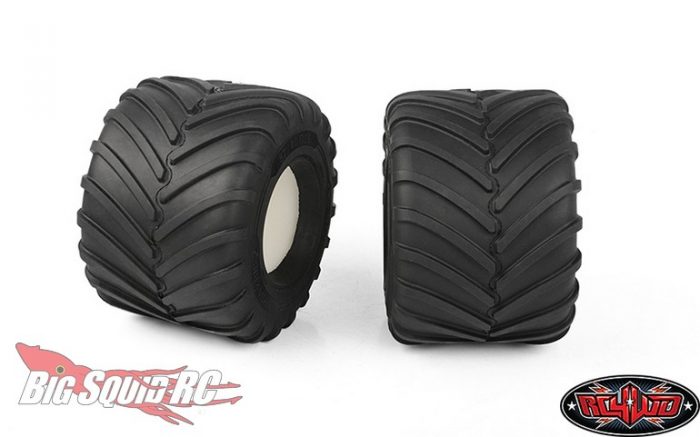 And hey, while talking tires it looks like RC4WD just announced a licensed set of Michelin MEGAXBIB agricultural tires. Several full-size teams run these tires, and it's awesome to see actual licensed MT tires!
Yes, it's very obvious to see that Golden Year and Firestorm tires are modeled after "real" brands, but it's cool to see a tire with the official badging. It looks like a nice full-cleated monster truck tire that would really work well on a retro-style rig where that tread style is the hotness.
Next week – some brief first impressions as an early look to my Arrma Outcast review! See ya then, and make sure to tune into the Thursday night Big Squid Live YouTube show!