Monster Truck Madness – My Unicorn
Ok, my post this week isn't technically a monster truck, so you'll have to bare with me. However, it IS monster truck related!
At many full size monster truck events throughout the US, you will find all sorts of side entertainment. It may be a mud bog, freestyle motocross or even a wild transforming robot. UTV racing is another one of those activities.
A few months back, my monster truck club decided that it would be fun to use the JConcepts T2 Truth UTV body on Traxxas Slash's and start our own "side-class" of UTV racing during our event days. It has become wildly popular within the club. We keep it simple- several 5 lap heats where the top vehicles are all brought back for the main. It's then a 5 lap dash to the finish. I was dying to get involved in this class, and in the last two months I finally splurged on a Slash 4×4 and Truth body to get it rolling.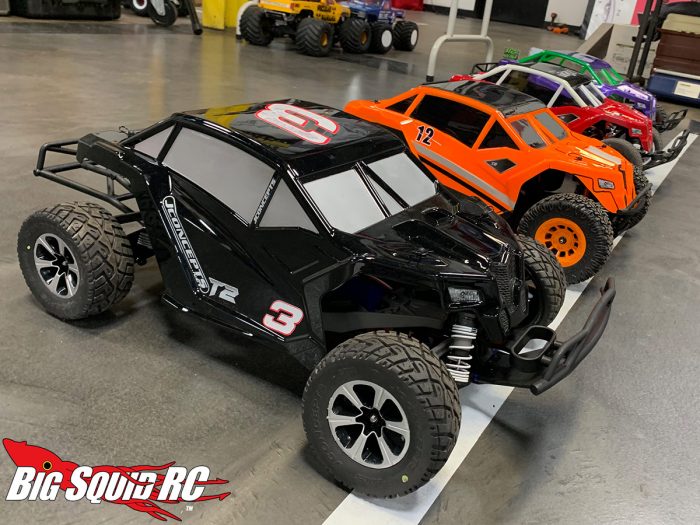 I had a pretty crazy idea though- I wanted to do a bright pink unicorn, fit with a mane, horn; the whole nine yards. I have 3 daughters that are absolutely unicorn obsessed and they loved the idea. I figured not only could I race my truck in our UTV competition, but the Slash platform would also make for a great bashing machine for them. So with that in mind, I set out to do it.
For paint, I used Tamiya PS-11 Pink with a PS-1 White backer. I then peeled the window masks off and used Tamiya PS-5 Black for the final coat. It was now ready to mount the body parts.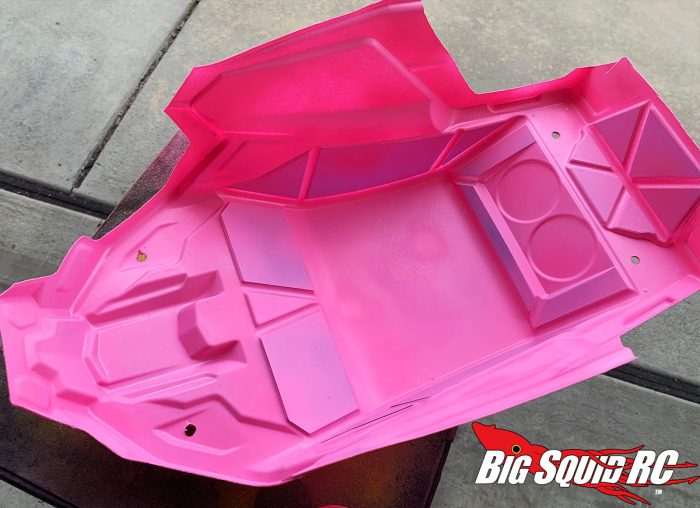 After cutting and mounting the Truth body, I "borrowed" a unicorn headband that one of my girls used to wear for ears and a horn (this pic was taken during the mock-up process, before paint). I hot glued the ears directly on to the body, above the windows. They even flap in the wind, haha.
I knew this rig was going to be upside down a lot, so for the horn I wanted a bit more stability. I used a gob of hot glue and mounted it directly onto a small lexan plate. I then mounted the plate directly to the hood by way of more hot glue. This made it remarkably sturdy.
Up next was the mane. My mom is a knitter and when she heard about the project, she wanted to contribute. She whipped up a rainbow mane. I hot glued it onto a small strip of lexan, and then, as before, glued the plate onto the body. After some final decals, bam, it was done!
Here is how it looked at the race. Despite going over on it's roof multiple times, it held together fine! It's also a massive hit with my girls.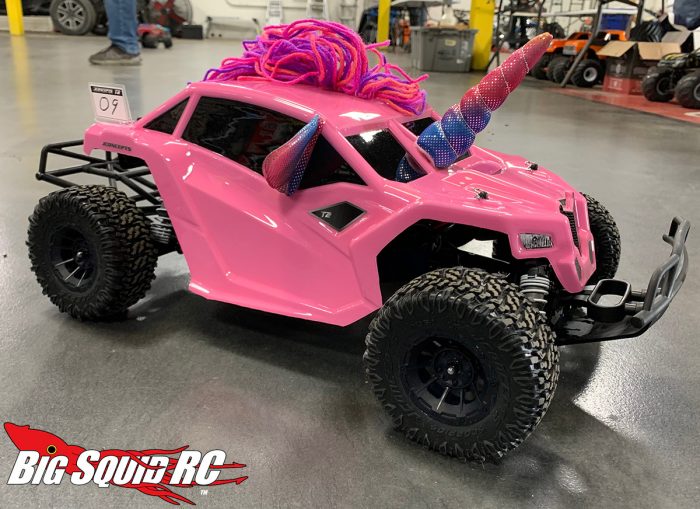 Up next- a unicorn solid axle monster truck!