Monster Truck Madness – New Duratrax Munition Monster Truck Tires
Hey guys, this week I'm gettin' to break an exclusive for ya'll- check out the new Duratrax Munition MT 2.8 Mounted Tires!
Specs:
Tire Diameter: 5.9″ (150mm)
Wheel Color: Black
Wheel Diameter: 2.2″ (56mm)
Wheel Hex Size: 12mm Hex
Wheel Width: 2.8″ (71mm)
Link: Duratrax Munition MT 2.8 Mounted Tires
These tires and wheels come pre-mounted, so no glue is needed. The wheels are a durable black plastic, and are 2.8″ wide. Not quite as wide as a Clod-sized get-up, but they stand just as tall as the Clod rubber. Here's a shot of them compared to JConcepts Renegade tires.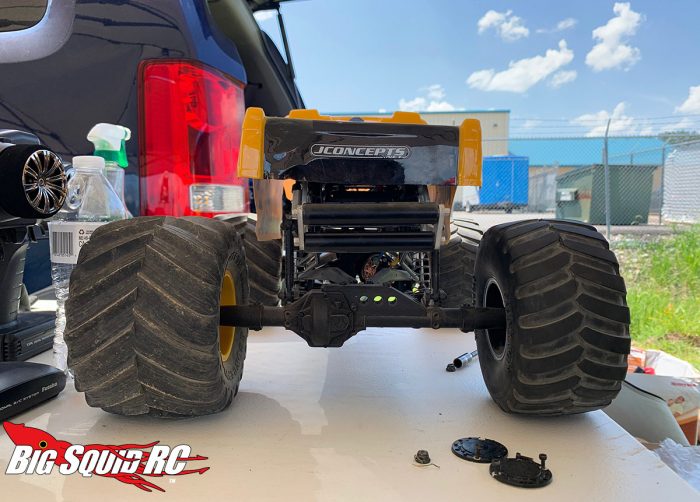 So yeah, we ran the tires over the weekend for some testing at our Trigger King R/C club race, primarily on a modified HPI Wheely King. They fit that truck PERFECT! You can see some shots below of "The Vile Red Falcon" bombing around our track, sporting the Munitions.
The tires are a good, soft compound, and a definite upgrade over the standard ready to run stuff. They are are a tad softer than JConcepts gold compound, but not as soft as JConcepts blue or Pro-Line M3 that many of the Clod sized race tires sport.
The included foams are pretty soft, which make for plush landings. They probably wouldn't work well for very heavy trucks decked out in all aluminum, but bare in mind that these are the pre-production versions which I'm told have softer foams than what the actual retail ones will employ.
These tires act as a sort of middle ground for those wanting to upgrade from a standard 2.2 RTR monster truck tire, but don't want to spring for the full-on Clod set-up. And oh yeah, they look really hot on an SMT10.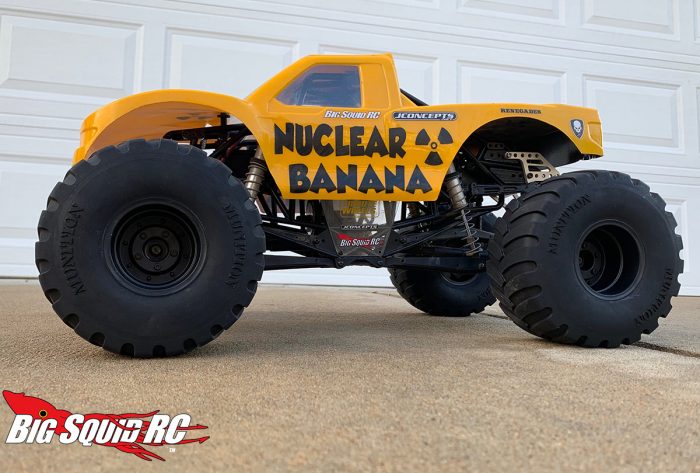 Check 'em out on my Nuclear Banana. Those are VERY nice upgrades over the smaller BKT's that the SMT10 comes with. They aren't much wider, but are a good bit taller. They are also very light and allow for an agile feel!
I think it's also pertinent to talk price here, as the Munitions are retailing for $29.99 a pair. This means that you can get a full set of them for half the price of the larger, more performance oriented Clod sized tires. A nice choice for the budget conscience monster trucker.
Duratrax Munitions will be shipping very soon, so you can look for more info right here on Big Squid RC!