Monster Truck Madness – New JConcepts Ford Body Teaser
Hey everyone, happy holidays to ya! Yeah, crazy the holidays are here already, right? In case you were wondering what's on my list, I've been extra good this year in the hopes that the big man will drop off one of those gigantic 1/5 scale Primal RC Raminators!
Hey, so I just got a mystery box from the JConcepts crew and egads man, they are putting out quality monster truck bodies quicker than I can build trucks! A quick glance at our front page today shows several press releases from the company announcing new bodies…but this one hasn't been "officially" announced yet as of this writing.
Here's a teaser of a prototype newly-redesigned early 90's Ford pickup body that's designed for long wheel base trucks. You can see the body here sitting on an ACRC Havoc shaft truck (top photo) and an ACRC Chaos Clod rig (below). Both of these are over 13″ wheelbase.
This body is fantastic news for those of us that love the early 90's Ford sheet metal, but that don't want to have to run a wheelbase that's around 12″ or shorter so as to fit the 93 Ford that JConcepts released several years back. I actually shortened my first Axial SMT10 to fit the older body.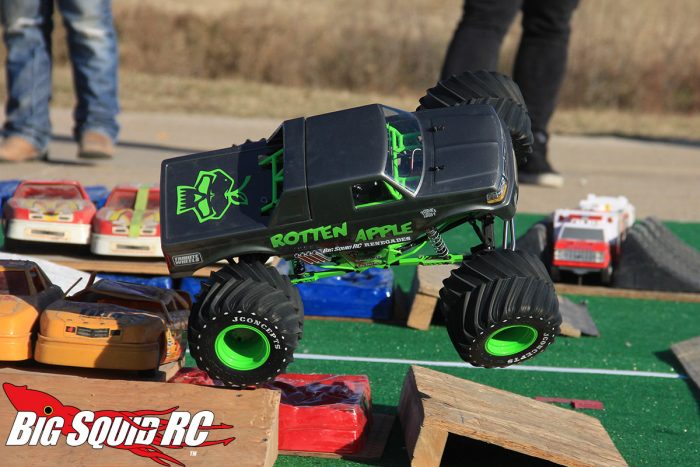 Now, it's no longer necessary and for that I am thankful. That early 90's style is my jam thanks to coming of age during that period of monster truck racing, and I think solid axle trucks are just a lot more fun to wheel at 13+ inches. They fly straighter, land better and turn smoother. Big win, here.
Look for my BigSquidRC Boss truck to get the 90's treatment just as soon as I can get some paint on it. Sadly, I don't have a paint booth and the midwestern temps have already plunged below the freezing mark, so I'm at the mercy of Mother Nature as to when I can do the job.
Paint or not though, I figured you guys would like a sneak peak at what will be available soon! Kudos to the monster-truck obsessed folks at JConcepts for continuing to release all sorts of cool stuff geared towards this segment of the industry!
Now, back to finishing up my review of the ECX Amp Crush. That should run soon! Until then, keep it on all 4's.