Monster Truck Madness – No Prep
I really, really tried to think of a dedicated monster truck topic for this week's MTM, but after two weeks of trying to hold back the drag racing talk after Team Associated announced the DR10, well, the dam's gonna break.
And hey, since I'm venturing into drag racing talk, I just realized I never posted a picture of my boss "Magnum Force" Traxxas Funny Car that I used to race with a local club a couple years ago (Travis Sutton with the great paint work, as always), so there ya go!
The fact of the matter is that while I'm a monster truck guy, drag racing is right at the top of the list of my favorite motorsports. As alluded to with the funny car, I've also been involved in scale drag racing on and off again for a number of years.
I've been monitoring the rise of the short course based no prep drag car scene for awhile now, but I've kept those urges at bay. Thanks to Associated and the DR10, I will be giving in to the dark side!

I've been out of the standard r/c off-road racing scene for some time now, what with solid axle monsters taking up the vast majority of my time and budget. However, back during the short course off-road boom in the late aughts, I was first in line at my hobby shop to purchase the first "real race truck" to go head-to-head with the Slash- the Associated SC10. I did a lot of club racing with it, and it was a favorite truck of mine.
So yeah, the SC10 chassis based DR10 being something I know certainly helps. What also helps is that the truck…er, car, is set-up from the factory for drag racing. No chassis kits, a-arm conversions or other such nonsense. Take it out of the box and let it rip.
The stock body and tires look cool enough, but the folks at JConcepts are already on the case of helping me kit out my soon-to-be-new DR10. I'll be sporting Hotties tires and, most importantly for me, a '66 Chevy C10 drag truck body.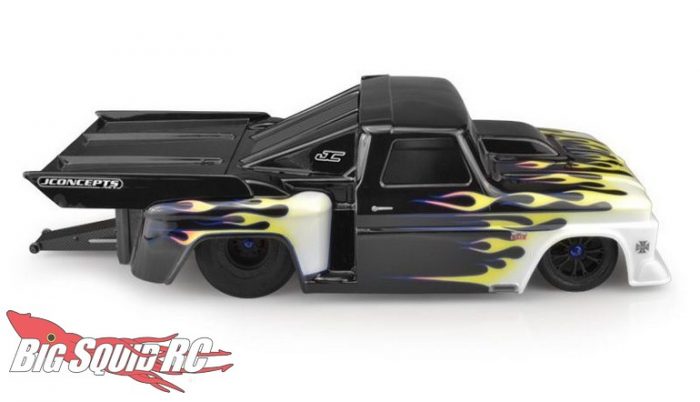 Oh mama, that is some hot looking lexan. Cars are nice and all, but I'm a truck guy.
And a monster truck guy at that, so of course it's gonna have to get a monster truck paint job to fit in with my fleet! Which one, that's TBD. I've got a couple weeks to figure that out.
It looks like DR10's will start hitting hobby shops mid-February, so look for some discussion when I get one in hand!