Monster Truck Madness – Pro-Line Demolishers for the Losi LMT
Hey gang, I'm here this week to show-off some brand new Pro-Line Demolishers, the Losi LMT-specific race tire release that's about to start hitting your local hobby shops.
I will be doing a proper review of the tires, but it's going to have to wait a minute due to single degree temperatures and the constant snow which we've been receiving here in the midwest. That kind of weather isn't fair to give both tire and truck a fair shake!
I did want to talk about them, though, so you can see what they look like on my Losi LMT.
The Demolisher tires are fit to the fit the LMT wheel, which has a short-course style difference in wheel diameter in outside vs. inside. They fit very snugly inside the stock Losi wheels and were very easy to glue up.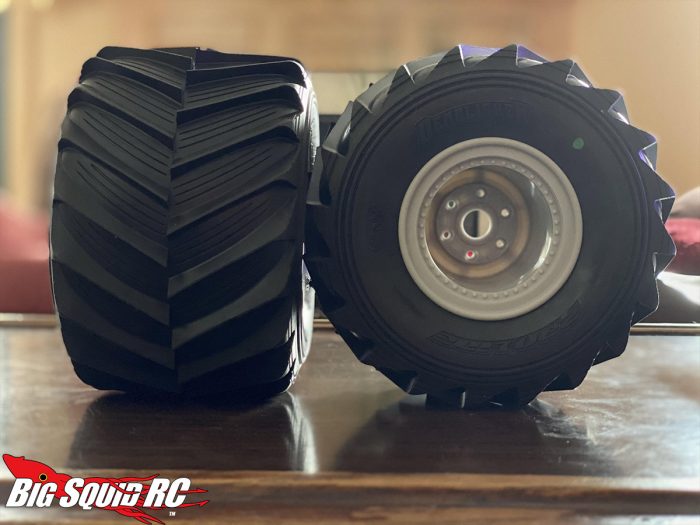 These tires are done up in Pro-Line's classic M3 racing compound, and are quite soft. They have a single stage foam as well. I don't have a scale handy, but they feel ever so slightly lighter than the stock truck's tire/wheel combo.
The story here is the tread pattern, though. This is a VERY aggressive tread which mimics a hand-carved full sized monster truck tire. The chevrons are so sharp that they remind me of a freshly cut set of pulling tractor tires. No doubt the slightly taller, slightly thinner tire also lends itself to that comparison.
For those long time r/c monster truckers, I feel the best comparison is somewhere around an RC4WD Rumble and JConcepts Renegade. I feel like on dirt, it's gonna work very well.
Here's a comparison of the Demolisher next to one of my monster trucks sporting Renegade tires and wheels, so you can see the dimensional differences.
Comparing the compound and attitude to the stock LMT tires is a night and day difference.
Here you can see the Demolisher on the left, the stocker on the right. It's maybe a hair thinner.
I can't wait to get this out on the dirt as well as a variety of other surfaces. As soon as old-man winter decides to relent enough to make it reasonably fair testing weather, you can expect a detailed write-up!
In the meantime, I hope these pics will suffice for those of you hungry to pick these up for your shiny, new Losi LMT!