Monster Truck Madness – RadioShack Rock Runner / Car-Crusher
Hello gang and happy Thursday! I bring you good tidings and a tale of a probable upcoming project!
A friend of mine that I recently met through a garden tractor pulling club heard that I was into radio control monster trucks. He notified me that he had an old RadioShack truck that was purchased new in the early 90's, but has sat around pretty much ever since. He asked if I was interested in taking it off his hands.
The pics here are what he just sent me. It's a RadioShack RockRunner / Car Crusher!
For those of you youngsters and/or newbies, in the late 80's and early 90's, RadioShack was big in the r/c car business. They sold a lot of high end toy grade cars and trucks that while they weren't quite to the level of a hobby grade, were higher quality than some of the throwaway junk you could find in department stores.
Many who are hobbyists nowadays have fond memories of those cool RadioShack vehicles, myself included.
I never had a RockRunner as a kid, but they were sweet. This "kit" came with a truck and car body, allowing you to swap at will, much like a hobby-style rig. This was amazing! See what I mean? These were toy grade, but a step up!
Soooo, yes, I agreed to purchase this this old rig from my buddy. I take ownership of it when we have a tractor event at the end of the month. What I do with it from there is the question.
I originally agreed to the purchase just to have a very cool display piece for the work bench. These old trucks have their place in history after all, maybe not to the level of Tamiya Lunchbox or Losi JRX or something, but still!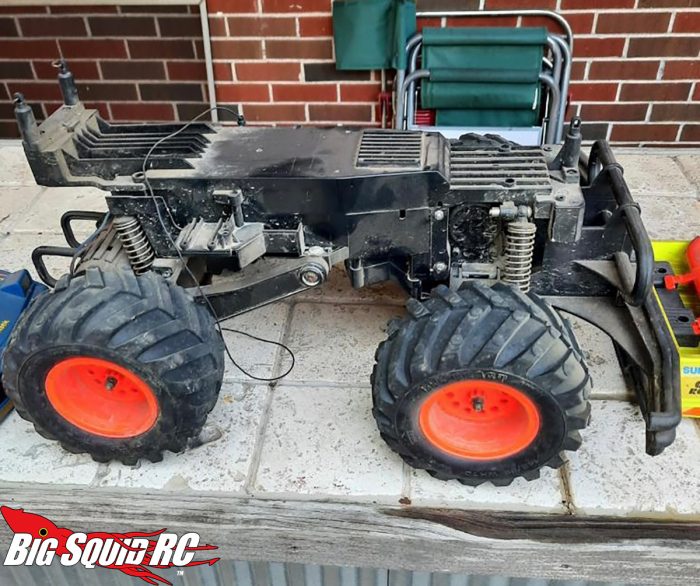 There is a growing scene for folks modifying old RadioShack / Nikko/ Tyco toy grade trucks with modern electronics, creating a sort of r/c "resto-mod" and I think that's what I'd like to do with this fella. It's still gonna be primarily for display, but it will run and perform somewhat like a modern truck.
I'll do a write-up on this eventually as the project comes together, but for now I wanted to let ya'll know that it's coming!
Oh, and at some point I'm going to do a large write-up chronicling many of the vintage killer toy-grade vehicles that used to exist. There were soooooo many of 'em.
In the meantime, if you've got a cool old toy-trade monster, please send me pics of it and let me know your story. I'd love to run some of them when I eventually do that vintage post! Doug at bigsquidrc.com.
Hope you enjoyed this quick stroll down memory lane. Until next time, keep it on all 4's!