Monster Truck Madness – RC SnowRunner
Hey gang and Happy Thursday to you!
Every now and then in this space I've discussed my love of the SnowRunner / Spintires series of video games. I recently got a Tamiya Globe Liner to build into a truck for purposes such as this (more details on the build coming soon here, as I'm already modifying it!). Well, last weekend I finally got to experience it in r/c form.
Big thanks to my friends Tim & John (who I know from racing Retro monster trucks with) for reaching out to me and inviting me down to their amazing scale SnowRunner setup that they have been building for awhile now.
They have several acres of scale trails, complete with buildings and depots, to simulate the type of stuff you would do in the SnowRunner video game. Tim even tills the trails to keep the topsoil loose! Amazing dedication and it all looks fantastic.
They have a variety of killer rigs that they use, and for the purposes of brevity I want to discuss several of the Cross RC trucks that I got to see in action.
I've long been aware of the Cross RC brand and all of the heavy military-style trucks that they offer. I had no idea they were built so heavy, though. Two trucks in particular stuck out.
Let's start with the Cross RC UC-6. That's the 6×6 you see in the pic at the top of the page and the video at the bottom. Machined parts are used throughout it, and it's a heavy truck. The load of logs we were hauling with it weighed about 25 lbs. That's a lot of load to put on a 1/12 rc truck. It handles it great, though.
The trailer it uses is a modified Hercules RC setup. You can see in the video below that when the tires got totally gunked with mud, they actually stopped rotating making the UC-6 pull a dragging weight. Seriously impressive stuff!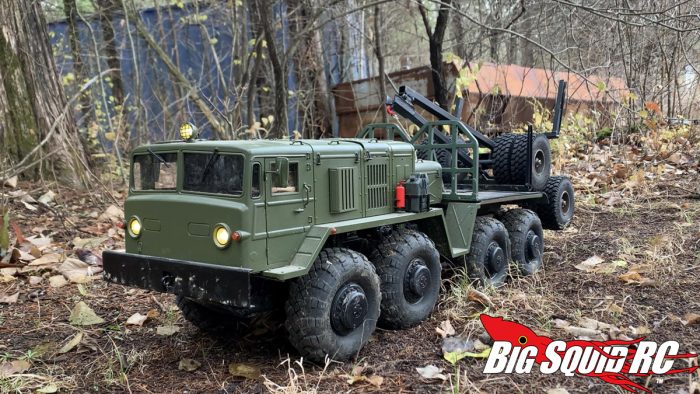 Now, the other heavy rig I got to see in action was something that has me now lusting after one – a Cross RC BC-8 Mammoth.
The BC-8 is truly a sight to behold. It's a scaled down version of the legendary Soviet-era MAZ 537 8×8 heavy tractor, one of the most gnarly off-road trucks ever built (those who play SnowRunner, the rig is labeled as the ZiKZ 605R, which is also probably the best vehicle in-game to use).
In 1/12 scale, the BC-8 is a goliath scaler. The big 8 wheel drive, 4 wheel steer truck weighs around 30 lbs. Yes, you read that right. And it can haul around 50 lbs on the back of it.
I'll talk more about the BC-8 in the future here. I want one so bad!
Here's the video we did. I actually used some sound effects from the game and re-created icons that look similar. Hope you enjoy!
Huge thanks to Tim and John and I can't wait to go back and do some more scale hauling with them!