Monster Truck Madness – Recreating Grave Digger #7
There have been over 30 Grave Digger monster trucks built since the 1980's, but few are as beloved as Grave Digger #7.
Digger #7, which made its debut in 1992, is easily identifiable within the fleet as it was a short wheelbase truck where the frame rails stuck out in front of the body. In an era where monster truck freestyle was still in its infancy, this rig was pushing the boundaries with insane runs that still hold up today. Dennis Anderson would win his first ever Monster Jam World Finals championship in the truck, at the inaugural World Finals in Las Vegas back in the year 2000. Oh, and you know that iconic Jolly Roger flag that the team is known for? That started with #7.
Digger trucks would get longer, heavier and more sophisticated; but to many monster truck fans, especially those that came of age in the 1990's, the thought of stubby looking #7 soaring through the air with the skull and crossbones hanging off the back IS Grave Digger.
My good friend and fellow monster truck racer Josh Rhodes is a Grave Digger enthusiast. There is a decent chance that if you've ever spent some time watching solid axle r/c monster truck videos on YouTube, you've probably seen Josh throwing down in one of his Diggers. He has built (and destroyed!) numerous replicas over the years, but #7 was always perpetually on the drawing board. As of last weekend, though, it's on the drawing board no more!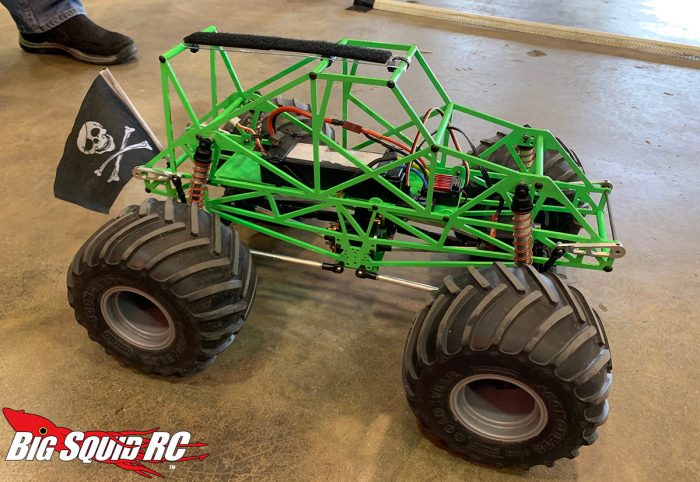 Josh's buddy Jacob Smallwood designed the replica chassis and then machined it. Josh then got ta' buildin'. The fruits of his labor hit the track at our event last weekend for a shakedown run. The tale of the tape on his Grave Digger #7:
Custom machined Grave Digger #7 chassis
JConcepts Gold Year Tires and Tribute Wheels
Axial SMT10 Shocks with JConcepts Bump Stops placed internally
RH Designs Sway Bars
Parma Grave Digger Body
Hobbywing QUICRUN 1060 ESC
Team Brood 17t brushed motor
Tekin T-300 Steering Servo
Hot Racing Axial SMT10 Transmission
Axial AR60 axles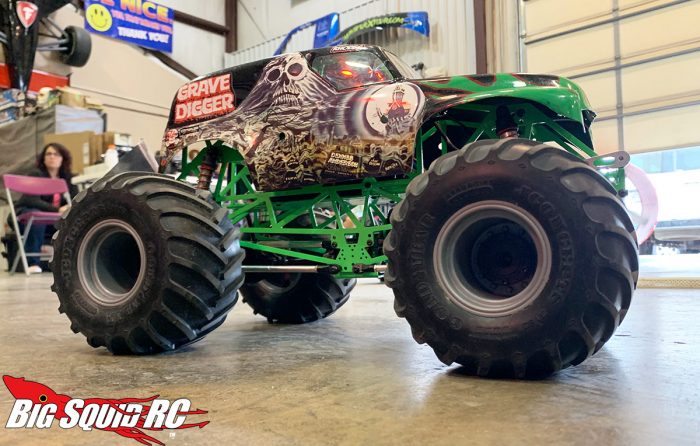 Important thing to note here and Josh wanted this made VERY clear – this ain't the final body. He is having a period appropriate paint job done up (along with red light head lamps) that will be finished soon.
Despite being on the track for the first time ever, it did wonderful; even winning several rounds of racing!
Hope you all enjoyed seeing this cool project! I'll be sure to post more about it whenever it's completely done.