Monster Truck Madness – Reenacting Road House
Road House is one of the best '80s movies. Featuring an in-his-prime Patrick Swayze as a tough bouncer, a gruff Sam Elliott as his mentor, a smokin' Kelly Lynch as the town Doctor, Ben Gazzara as the evil town business magnate, and a host of other cast members that even includes legendary pro wrestler Terry Funk, it's hard to find a more fun retro action movie. It's the ultimate cable TV flick.
Road House also features the coolest monster truck scene in movie history- a car dealership being totally demolished by a certain Big Blue Ford. The truck being used was an un-named BIGFOOT #7 driven by GOAT driver Jim Kramer. You can watch the scene here –
Adam Rogers, a longtime friend of Big Squid, has been working to put together an r/c recreation of this famous scene.
Those of you who have been around the r/c monster truck scene for a bit or have read this site for a minute are probably familiar with Adam's work. He is known for building some of the best replica BIGFOOT trucks in the business. They are stunners in pictures and even more so in person. And he's outdone himself on this project.
The car dealership measures 3′ x 9′ and was constructed completely from scratch. The ABS wagon bodies are from a UK company called Kamtek.
The replica BIGFOOT #7 is a shaft drive machine utilizing a Grund Chassis, HPI Wheely King axles and transmission, a JConcepts '89 Ford body, Golden Year Tires and Tribute Wheels.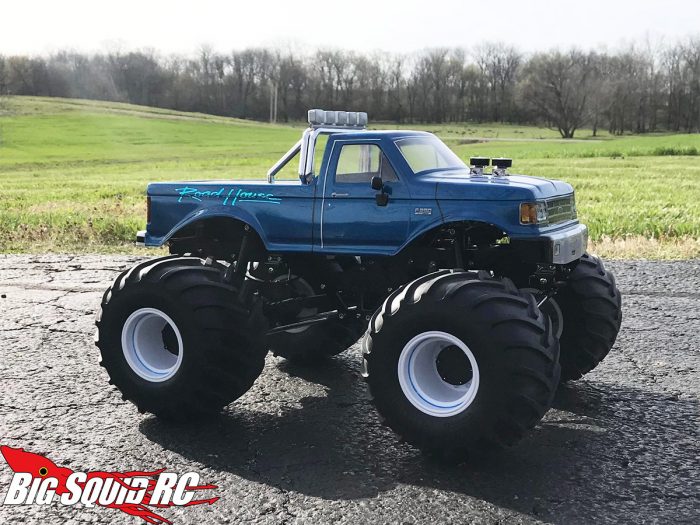 Enough yammering, check out the video-
How cool is it that Jim Kramer was gracious enough to assist with this project?! Big thanks to Julie Kramer for helping set it up!
Nice work Adam! I hope you all enjoyed this. I love being a part of this crazy community!
Until next time, keep it on all 4's!