Monster Truck Madness – Regulators, Roll Out
This is the continuation of last week's post detailing the build of my JConcepts Regulator Clod Buster. You can find that link RIGHT HERE.
With a full event day in the bag, here are some post-run impressions of the Regulator from myself as well as my buddies that also debuted their own. That would be Jeremy (Taurus), Josh (BIGFOOT #4) and Chris (Originator – Orange Ford). All of us have experience both bashing and racing Clod chassis of many types.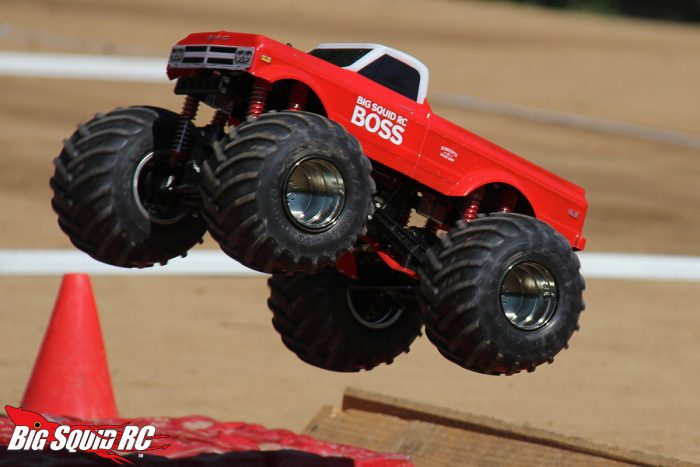 The chassis having all of the weight low in the cradle means that it feels quite a bit different than both the stocker and other aftermarket chassis. Those usually have either a high center of gravity (the stock Clod with ABS plastic body is VERY top heavy) or a COG that's manageable. The Regulator feels very racy and planted by comparison.
Assuming you are using the two wheel steering kit (more on this in a second), you can basically go WFO anytime you are on the throttle because it just sticks. It also flies extremely true.
The low COG is the main reason behind this, but the chassis is also pretty much perfectly balanced as the front/rear are the same. As long as you don't do anything goofy with battery placement, you have a great handling and jumping Clod. Josh's BIGFOOT #4 was particularly dialed and he won the first bracket of the day in dominant fashion.
Shocks also play an important role in this, and those are up to the end user as they aren't included. The chassis includes mounting for two at each axle and I have to say, I actually REALLY like the friction shocks with this setup. The reason is that the chassis remains stiff, sort of like having a sway bar. Others were using oil to good success- it's really just a personal preference. On mine I plan to go to a hybrid 1 friction damper / 1 oil damper on each wheel to hopefully get a nice mix. I'll write more about that in the future.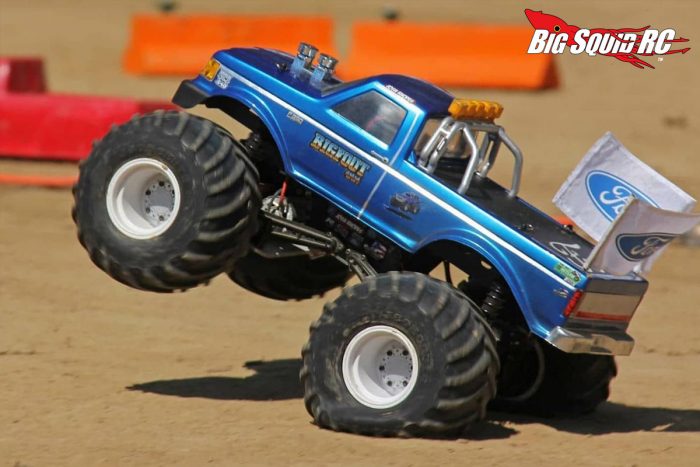 That steering kit though, man, that is a nice piece. As long as you trim your knuckles to get more steering throw out of them, you'll have a maneuverable truck that will be without the "snaking effect", which is the downside to four wheel steer.
Snaking is when the truck starts to get more and more unstable due to continued input from the rear steer. Going down a straight away and making a slight turn causes the rear to move side to side as well thanks to being a steer axle, and when someone tries to correct this they usually get more bent out of shape and it gets worse and worse. Not an issue when bashing at all, but it's typically the death of a racing round. With that steering kit you won't have that, regardless of whether you have a Regulator or not (it'll fit any Clod). The Regulator's low COG and 2WS make for one heck of a combo, though.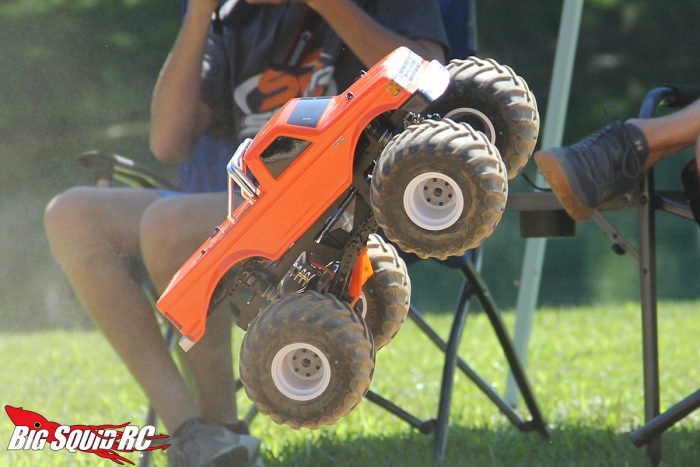 We found out that the body mounts are fairly easy to tear up, though. We also found out that Axial body posts are a direct fit should you rip one of them up.
The only real potential issue with the Regulator is the wheelbase, and that's a highly subjective thing. It sits at 11″, which is slightly longer than a stock Clod but quite a bit shorter than some of the long wheel base retro-style chassis out there that can be 12.3″ or longer. This shorter wheelbase allows the truck to retain the appearance of the stock Clod and fits the plethora of bodies available for it, but I'd think the chassis would be even more stable if it was a tad longer.
And that's really it, folks. The Regulator chassis and steering kit are pricey, but applying both to a stock Clod will leave you with a vehicle that handles light years better than it does out-of-the-box. It's also as competitive a race chassis as you'll find out there for those of you wanting to keep it old school, but not with old school handling.
I'm a big fan and look to continue refining my Regulator set-up over the coming months! As I do, I'll be sure and document that here.
Get more Monster Truck Madness right here on BigSquidRC.