Monster Truck Madness – RH Designs Wheelie Bar for the SMT10
If you have an Axial SMT10 monster truck and decide to upgrade the power plant, a wheelie bar had best be on your list as well. To be more specific, an RH Designs Wheelie Bar.
The RH Designs Wheelie Bar (retails for $45) was developed by friend and fellow monster truck racer Ross Hinshaw. He got tired of doing unnecessary rear end and body damage, and this product was the result.
I recently fell victim to this after wadding up my "Nuclear Banana" JConcepts Chevy Snoop Nose body during a freestyle competition at one of our events. I inadvertently ripped the body in half by allowing the bed to bear the brunt of numerous power wheelies and getting hung up on a backflip ramp. That's when I ordered and installed one of these Wheelie Bars.
The install is super simple. You use the included plastic mounts to fit between the existing frame rails, screw the aluminum plates and plastic rollers together via the pre-drilled holes and you are in business. As an FYI, there are multiple holes in the plates so you can move the bar more to the front or back, depending on the body you have. Once assembled, it's very stout. It also looks appropriately like a full size monster wheelie bar!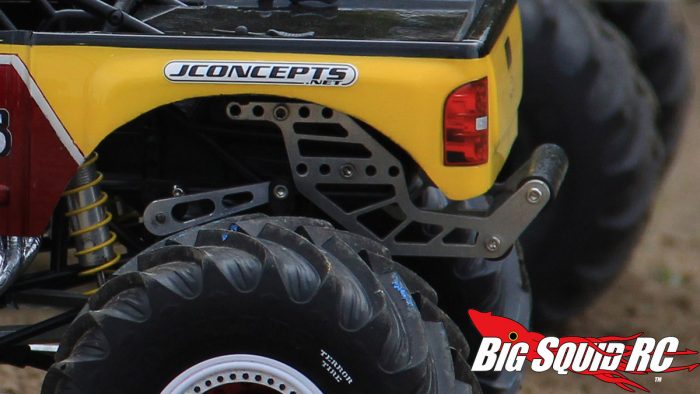 You can now ride long wheelies or pogo the truck to your hearts content, and the RH Designs unit bears the brunt of the abuse.
I've run two full events since the install, and my body has held up just fine despite being held in place by duct tape and shoe-goo! It's done a fantastic job of protection. I was really dumb to run a 6.5 motor in my truck BEFORE installing one of these. Live and learn, though.
While the wheelie bar is new to my truck, other folks have been running them in my club for over a year now, with no breakage.
As of right now, these are sold direct through either the RH Designs Facebook page or e-mailing them direct at RHdesignrc@gmail.com.
The RH Designs Wheelie Bar is, in my opinion, an essential mod to make to any Axial SMT10. It's bolt-on, well engineered and won't break the bank.