Monster Truck Madness – Rolling on 73's
Greetings all and Happy Thursday!
The International Monster Truck Museum and Hall of Fame in Butler, IN held it's annual induction ceremony over the past weekend. This is one of the most important events on the full scale monster truck calendar. JConcepts is a proud sponsor of the HOF, and they usually tease a new r/c monster truck product while in attendance, and the 2023 event was no different!
JConcepts is about to release the Golden 73 tire and Tribute 73 wheel, and several team driver rigs were on-hand at the museum sporting them.
One of those trucks was built by my longtime friend Travis Sutton of Sutton Motorsports & Machine– the JConcepts Giant. This type of build is the perfect thing to show off the new Golden 73's. Before getting to the replica, let's talk about the new tires.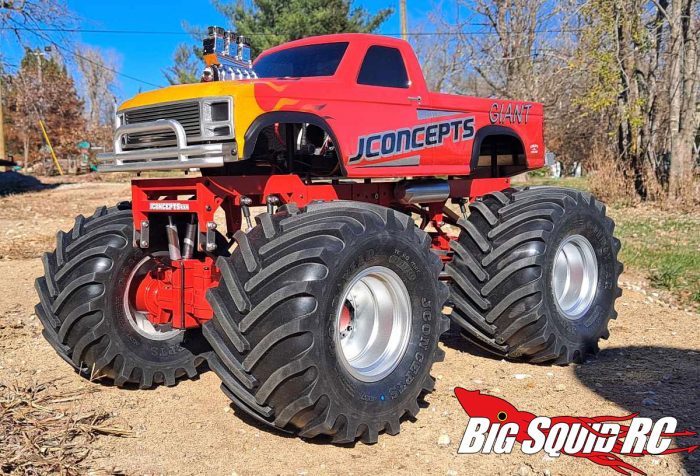 While 66″ terra tires were and are the norm for monster trucks, back in the late 80's when "show" was as important as "go", several owners decided to outfit their rigs with extra-monsterous 73″ sized flotation tires. This gave the trucks an even more outlandish and aggressive look. Some of the most famous examples of this look were Samson, Godzilla, Casper, among various others. The JConcepts 73 series wheels/tires are meant to pay tribute to this leviathan-esque look.
One of the most iconic golden age monster trucks was the Duraliner Giant. Sponsored by the Duraliner truck bedliner company, the Giant sported 73″ tires and an engine that was mounted very high, making the truck look even larger than it was.
This famous vehicle is what Travis is paying homage to in his build.
Outside of the aforementioned new JConcepts Wheels and Tires, this custom built monster truck features a Sutton Motorsports & Machine designed chassis, Tamiya TXT/Juggernaut axles, Juggernaut leafs, (Tamiya, PLEASE re-release the Juggernaut!!!!), RC4WD SCS Transfer Case, Tekin FXR ESC, Holmes 15t Motor, twin Savox 1258 servos, and a whole lotta red paint. Sitting atop the deal is a JConcepts 84″ Ford F-250 body that Travis airbrushed, along with a JConcepts scale intake kit that's been modified to accept an RPM blower.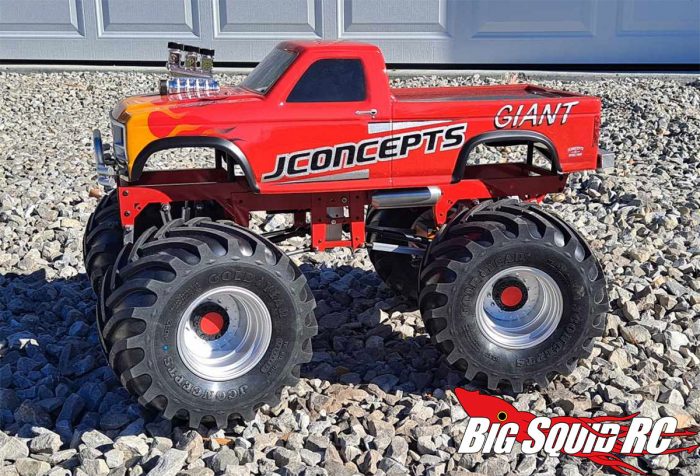 It's a real stunner. Thanks to Travis for sharing the build pics off!
The JConcepts 73's have not, as of this writing, been officially announced but that should be VERY soon.
Until next time, keep it on all 4's!