Monster Truck Madness – Rotten Apple 2
Hey gang before we get into this week's MTM, I want to give a big shout out to all the solid axle monster truckers located in the So-Cal region of the country. My friends at the So Cal RC Monster Truck Series are holding their big Winter Finals on December 7th at Hot Rod Hobbies. For more info, check 'em out here! Good folks, that crew.
For all you monster truck bashers, if you haven't already go ahead and check out our review of the massive ARRMA 1/5 Kraton 8S RTR. The rig is one bad mother. I know it would make for an excellent gift under the tree of many a reader round these parts!
Ok, so last week I discussed my updated Nuclear Banana SMT10. This week, let's talk about my newest build – Rotten Apple #2.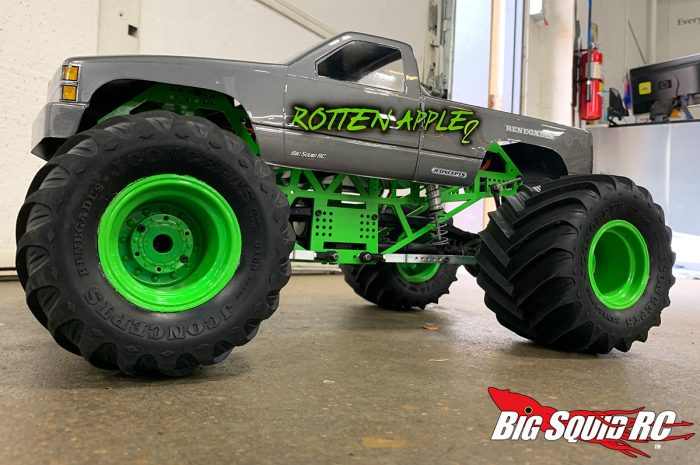 RA2 is an ACRC Havoc chassis that uses Axial SMT10 axles and transmission. It's actually using components from my original Rotten Apple, hence the name!
This is my second Havoc build, and these things drive like freakin' Caddies. I race this in our Sport Mod class, so it uses a 17t brushed motor and a Hobbywing QuicRun 1080 ESC.
It uses JConcepts gold compound Renegade Tires with Tribute Wheels, set to 23mm offset. Turning the rubber is a Savox SC-1256TG High Torque Titanium Gear Standard Digital Servo, which provides plenty of oomph. The shocks are stock SMT10 dampers with 30 wt oil.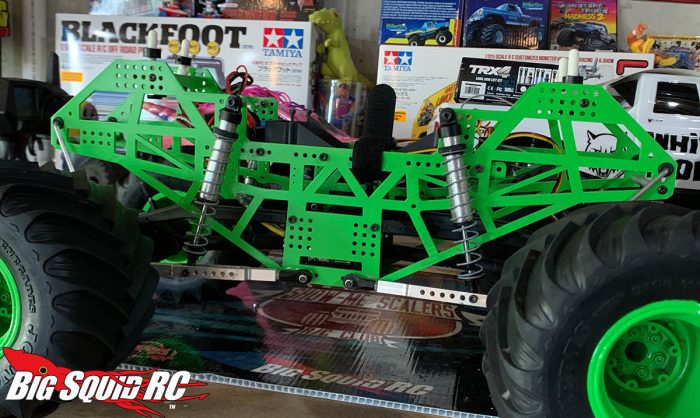 The body, done by my good friend and longtime painter Travis Sutton, is on the JConcepts Snoop Nose Chevy. I wanted a paint job that looked era appropriate to the early 90's and Travis crushed it, as usual.
He airbrushed the original Rotten Apple logo in fluorescent Spaz Stix green backed in white to pop, and the skull on the hood looks particularly sick. He also added some nice detail on the tailgate!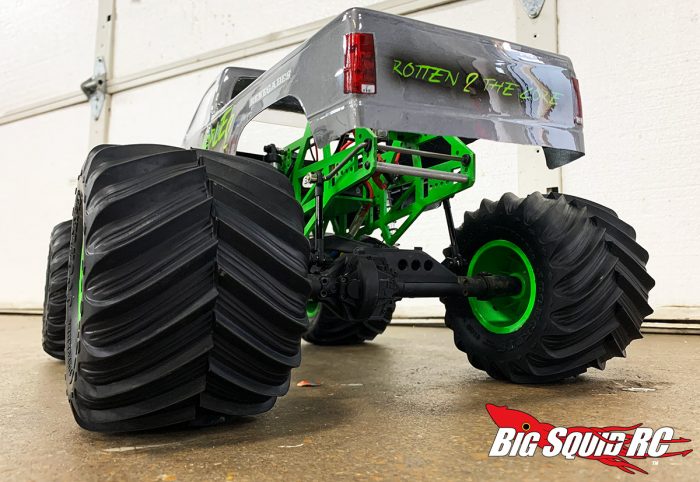 This truck handles like a champ and it made a very good showing for its first event. It's nice not having any bugs to work out on a new chassis, for once! However, I'll soon be relocating my shocks to be axle mounted versus being attached to the four link bars. For that, though, I'm gonna need some long travel shocks. I'll be talking about that in due time!
Hey, before I go I want to wish all of my American readers a very happy Thanksgiving! I hope you get to spend some time with your family and if you are out and about on Friday, make sure to support your local hobby shop!