Monster Truck Madness – Rotten Apple LMT
They say go big or go home. On my LMT which, by the way is our original review test unit, I've decided to go big. I've been talking about my LMT a lot in recent weeks, whether painting the body or getting the parts together to upgrade it. You can read some of my past write-ups here.
Alright, time to get the Treal goodies on it. Reminder- this is my first experience with the company.
The machine work on the axle housings is fantastic. If tolerances are off on machined parts, it can make installation a pain at best or impossible at worst. These were a pleasure.
I started with the front housing. You need to disassemble your stock unit to take out the diff and internals. Those slide into the new axle and the knuckles.
Outside of the fit and finish, I was most impressed by the burly carrier bearings that Treal provides. You can see the difference here from stock to Treal.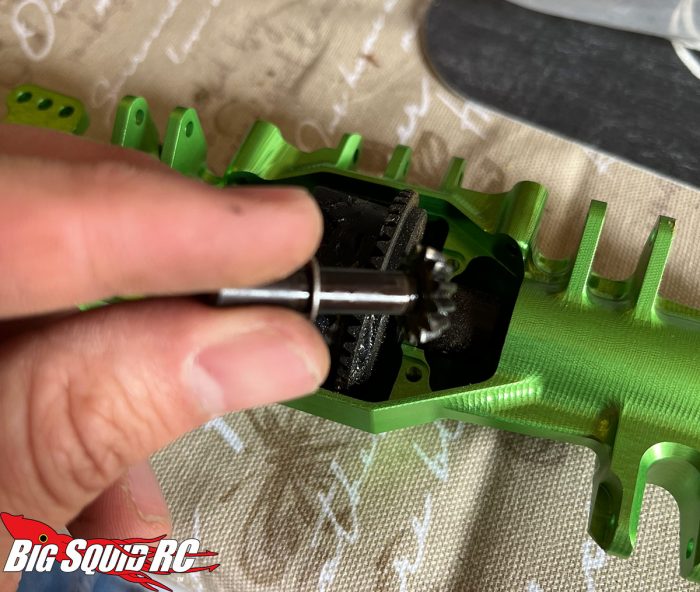 You get all new axle hardware which is an upgrade from the stock LMT stuff that likes to strip. As a PSA, reminder to use these small washers as shims for your ring & pinion! I forgot to do this and had to take the axle apart after putting it all together. You will also wanna use blue threadlocker on all your new metal-to-metal parts.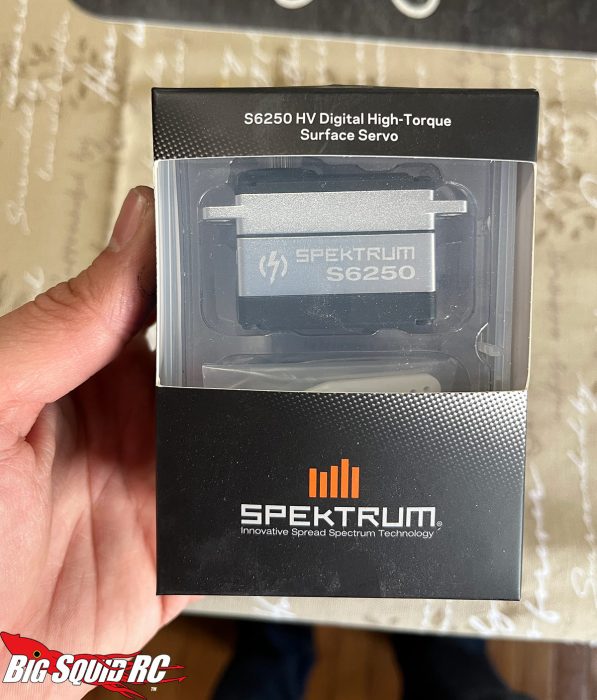 Given this truck's purpose is a competition vehicle, I finally got rid of the stock servo and installed a Spektrum S6250 w/ 382 ounces of torque. More on this later.
The rear axle goes together quicker, as you don't have futz around with a servo. Again- easy to install and very high quality.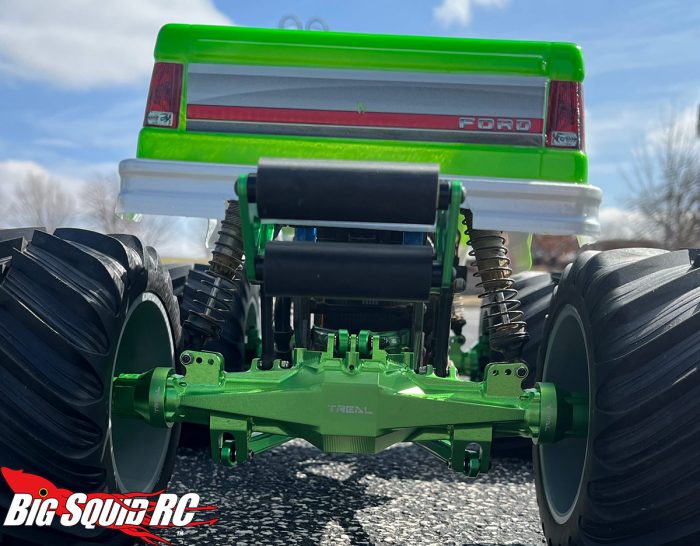 I used Treal's top and bottom link kit because while the LMT has very nice stock ones, I want it all green.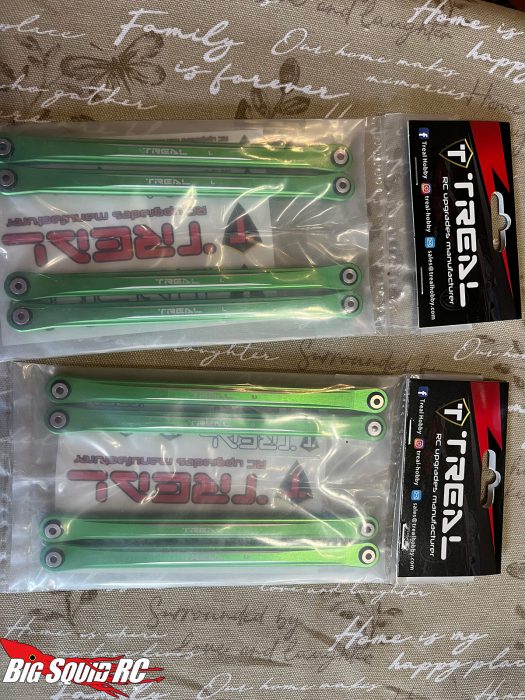 Here it is with the new axles and links installed.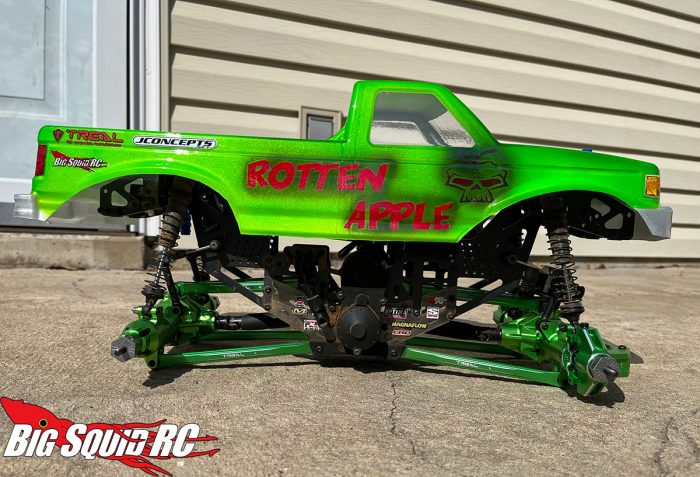 One last thing before tiring it up- time to get the new wheelie bar installed.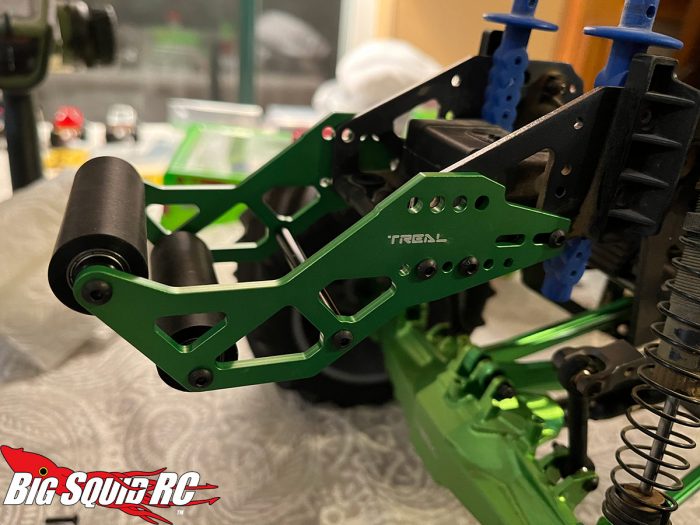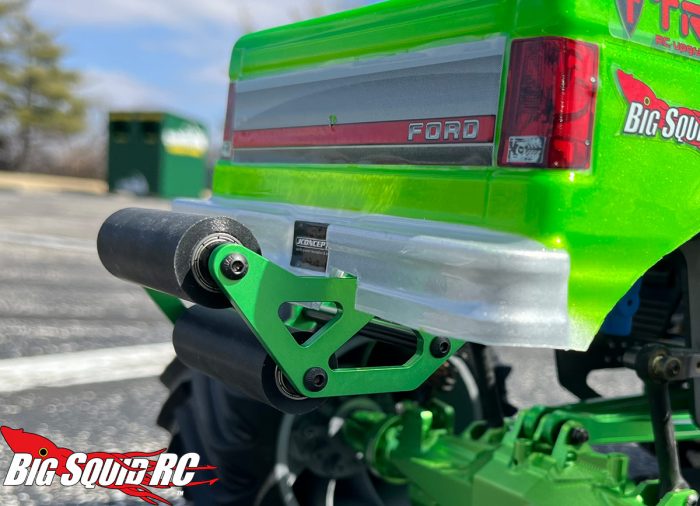 The Treal Adjustable Wheelie Bar kit is very burly and thanks to the variety of mounting holes, fits a bunch of different bodies. I notched some slots in my rear bumper so the bar would fit it snugly and give it the full scale look.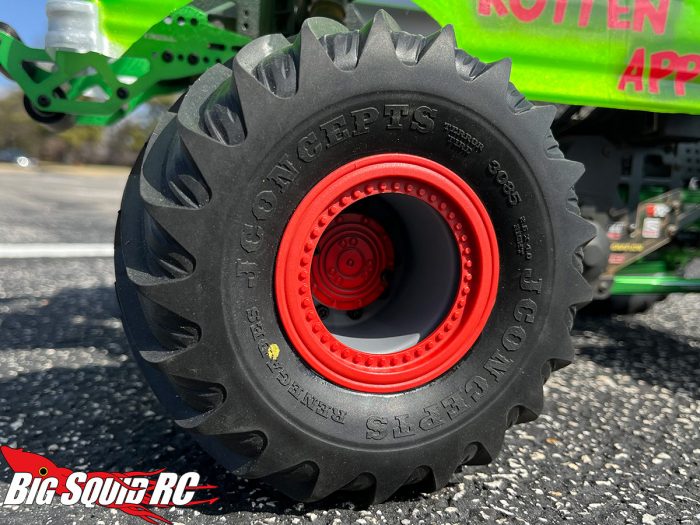 Last, time for tires and wheels. New JConcepts LMT Aggressor Wheels with yellow-compound Renegade tires. I used their standard bead-lock rings as they fit the Aggressors as well as Tributes. I used a smidge of shoe-goo for them. Side note- thank you JConcepts for pre-mounted tires and wheels! No gluing here! I finished it off by painting my planetary wheel cover caps red.
Time to tire it up.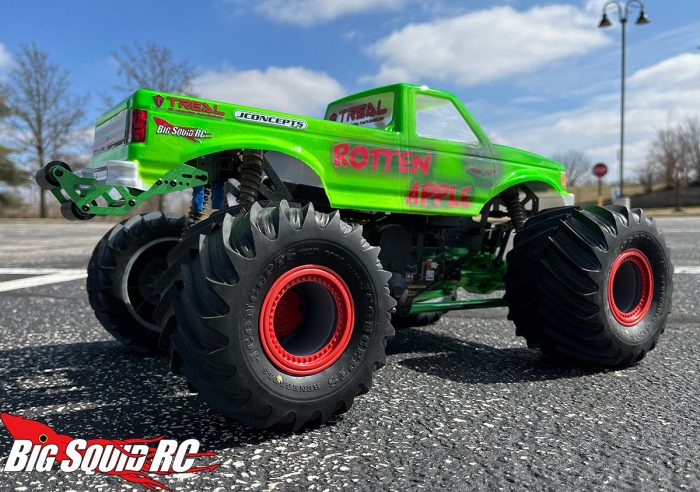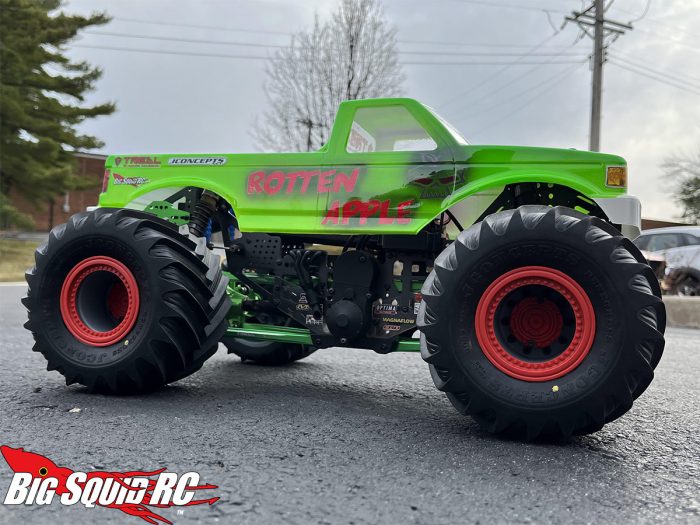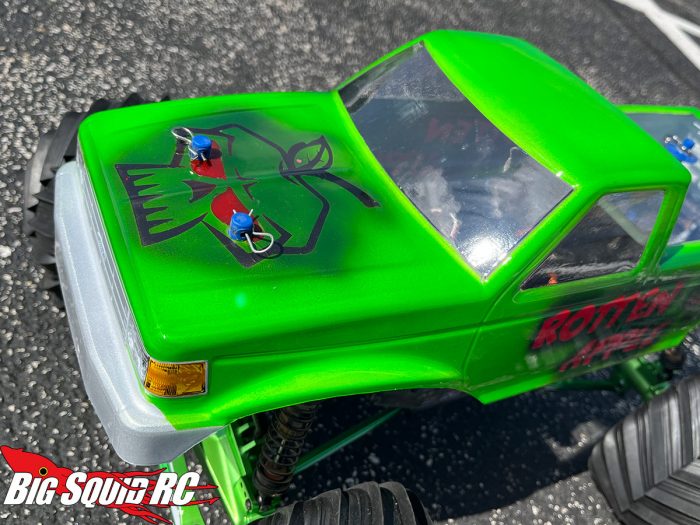 Oh yeah, that's the good stuff. Now this right here is a monster truck, folks. (Note – I didn't have time to dye the body posts black before pics were taken)
There are a couple things I've not done yet- I still have to add the Bowhouse LCG battery tray and electronics tray, as well as the Treal Outer Gearbox. I'll make those mods after I decide on a new motor/esc combo to install, but first I intend to race the vehicle as-is for a baseline.
I'll tell you this though, that Spektrum servo is a MASSIVE upgrade over stock. That, plus the added heft of the machined parts makes this truck feel planted on cement.
Look for a detailed post race report later this month, after the kick-off to the Trigger King R/C Summer Series.
Until then, keep it on all 4's!