Monster Truck Madness – Rotten Apple X
Boy howdy, it's been a fun few weeks bashing my new Traxxas X-Maxx 8S.
I probably should back up first, as I haven't even made a post here that I had gotten one. I am usually better about posting an unboxing, plans, blah blah.
In the case of the X-Maxx, ever since bashing one hardcore about a month ago, I knew I had to finally take the plunge. After procuring one along with two Traxxas 6700 4S batteries and a EZ Peak Dual Charger, I couldn't be troubled to do an unboxing or any of that stuff. I put it into immediate action just as soon as I got the "ding" that it was charged.
Frankly, I've enjoyed the hell out of it. So has the neighborhood. There are few r/c vehicles that have the crowd drawing power of the X-Maxx. Anytime I get it out, the kids from surrounding houses come a-runnin'. It's been a lot fun giving driving lessons to the neighbors.
Anyhow, I can't leave it stock for long. I really don't have many complaints mechanically at this point, but cosmetically it has to fall in line with my fleet. I am gonna keep rolling with the Rotten Apple theme, so Rotten Apple X it will be!
There aren't a lot of aftermarket bodies out there for the big rig, but the choices you do have are pretty well done. I went with a Pro-Line Racing 2019 Chevy Silverado Z71 Trail Boss, which luckily my local hobby shop had in stock. For color, I used Duratrax Gunmetal paint, which is my favorite shade. It's also what I painted my original Rotten Apple Axial SMT10. It's backed with Duratrax Black.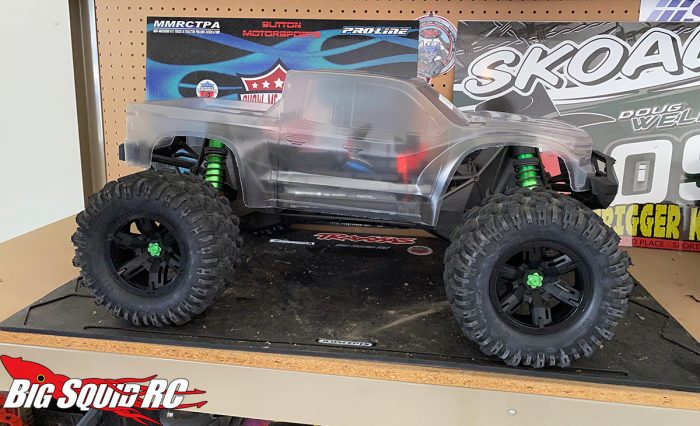 The Pro-Line body comes pre-cut which is really nice. You just need to wash it with soap and water, let it dry and use your window masks.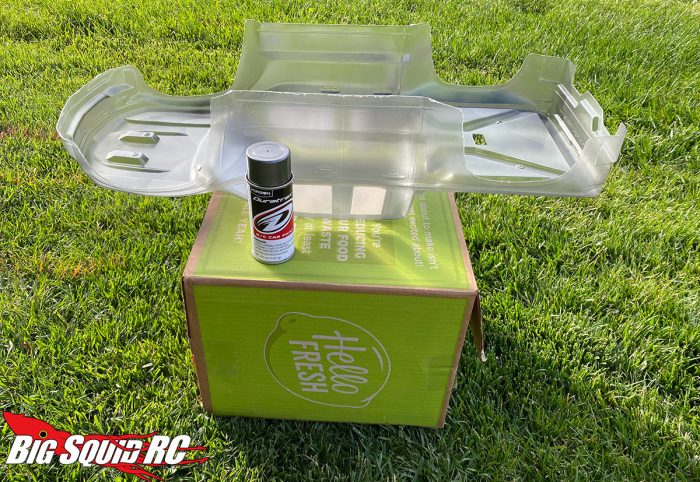 Now, I have a confession to make. I got in a hurry and didn't wash the body first. Due to my hastiness, some of the paint didn't go on very smooth. I really should know better. Luckily for me, those spots were small and can only be seen in certain light.
My dumb-ness aside, the body did turn out pretty awesome. Pro-Line did an awesome job on proportions of the big Chevy, and thanks to being predrilled, the cage/mounting system bolts up pretty effortlessly.
The small paint blems are going to be hidden by vinyl decals anyways, and the next time you see the rig it'll be in full Rotten Apple livery! More to come soon. Stay safe out there.