Monster Truck Madness – Scale Monster Jam-Style Obstacles
Hey gang, happy Thursday to you. This week in Monster Truck Madness I want to tackle an e-mail about scale monster jam style obstacles, as well as address a very funny gaffe.
My LHS received an order of the Losi LMT's last week and I am proud to finally join your ranks in wheeling a solid axle monster truck. While it's fun to just send it, I'm finding replicating the full sized trucks even more enjoyable. With that said roughly what size are you using the replicate the bumps and jumps of a Monster Jam arena? From your pictures, it looks like the rollers are about 3 inches tall, and probably 6-8 inches long. The bigger jumps look to be an inch or two taller than the tires. Am I in the ball park?

While I'm commenting on pictures, what's up with the guy undressing in the upper left of today's (4/22) monster truck madness?

-Eric Still
Welcome to the Losi LMT party, Eric. Glad you snagged one. For those of you who have wanted one but haven't been able to get one due to backorder status, a big shipment recently arrived in the states as I saw you could find them again at various retailers.
Yes, I agree with you- the Losi LMT is most enjoyable to me when I'm driving it in scale fashion. It seems to mimic a full-sized monster better than anything on the market.
And now you want to dabble in scale tracks. This is where the fun really begins.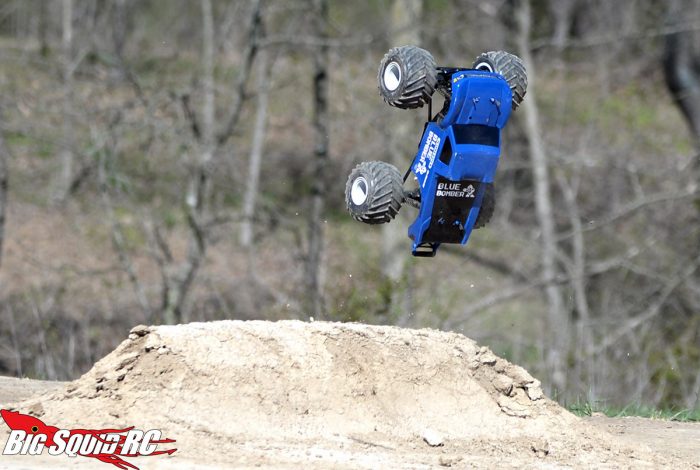 Yes, dimension wise you are pretty close to spot-on. Be aware that if you are talking about making rollers with wood (like the pic at the top of this article), they never really seem to work correctly like a dirt one does. Wood makes the vehicles pop-up (again, like the pic above).
The obstacles are the fun ones and you want to shoot for something a bit taller than the tires. Eyeballing a real Monster Jam stadium shows that's right about the scale size you want.
Something else to note though, in my experience you probably do want to go a smidge bigger, taller, and wider than what would be perfectly scale because otherwise you'll find it'll be hard to hit them correctly. I just find it more fun to have more ramp face to work with, given how small the vehicle is. Experiment with it!
Now as to your second question, I about died when I read this. I had no clue what you were talking about, and then I took a look at the pic and sure enough….someone was changing in the middle of the field. I have no explanation for this. I've no clue why he was doing it nor how it wound up in a photo (I didn't notice it when editing!). My apologies. It's absolutely hilarious though, so I'm leaving it up!
Thanks for reading!