Monster Truck Madness – Season's End
This past weekend, my monster truck club Trigger King R/C ended our 2020 outdoor season. We barely got it in, as the forecast was jumping around all week. The final race of the year was held in 45 degree weather with heavy cloud cover. Despite being a chilly day, it was a lot of fun!
I had the best racing day of the year in the Big Squid R/C Boss pro-mod, winning one of the 26 truck racing brackets. I also made it to the 32 truck Sport Mod class finals twice, once with Nuclear Banana and the other with Rotten Apple 2. Good times!
The first season at our new outdoor facility in Waterloo, IL was fantastic. After years of racing on concrete, it was amazing to have a full schedule of dirt racing. Big thanks to John @ JB Scale Graphics for providing us with a top notch facility. Big thanks to go to Bob, Chris, Danny, Josh, Jason, Lonny, Travis, Aaron, Mike- the list goes on and on, but to the entire Trigger King crew.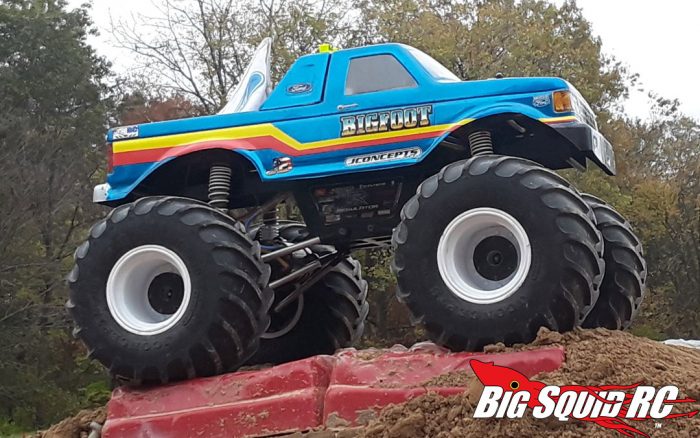 One of the coolest things to see on this day was the debut of my buddy Chris Tolbert's modified JConcepts Regulator that was NOT ran as a retro monster truck, but a four linked modern-style Sport Modified that used a 17t motor.
This truck, ran as one of the more modern interpretations of BIGFOOT #4 (though it actually looked like BIGFOOT #9, circa the early 90's!) actually handled really well!
The Regulator platform, despite not being designed for this kind of layout, proved to be pretty stable. The only real issue with the truck was the short 11″ wheel base made it a bit more unwieldy versus the standard 12.5″- 13.5″ that most of the other competing vehicles ran.
Given how that early era of four linked monster trucks is so beloved (arguably my favorite time period), I wouldn't be shocked to see people start doing this with their Regulators.
You can see Chris's modded Regulator on the left sitting next to a "standard" retro-styled one (owned by my buddy Josh Rhodes).
With the season now over, it turns to maintenance for me. I've got a fleet of monster trucks desperately needing teardowns. I look forward to covering that over the winter in this space.
Here's to 2021 being an even better season!