Monster Truck Madness – See Me This Weekend at BIGFOOT Open House!
Hey everyone!
I'm preparing the fleet for this weekend's BIGFOOT 4×4 Open House in Pacific, MO and I wanted to share the full details with you all!
For those that aren't familiar, the BIGFOOT team has been holding an Open House for over a decade now. What started as a fun experiment to see if people would dig it as has turned into a huge annual celebration of the team's heritage and all things monster trucks.
The entire shebang is free and takes place Saturday 9/25 and runs from 10am to 3pm at the BIGFOOT 4×4 shop in Pacific, MO. There will be several car crushes from the modern monster trucks, as well as various old school crushes from several classically built monsters (these are my favorite part of the event!). You can also get rides on a monster truck throughout the day (additional cost for this) and eat food from various food trucks (cost for this as well).
There'll be a variety of display pieces and you never know what is going to show up! One of the special vehicles that is going to be in attendance is the classic BIGFOOT Ranger, by way of someone who is currently restoring it.
BIGFOOT founder Bob Chandler recently turned 80 years old and I know there is something in store to celebrate the occasion. Monster Truck Hall of Famers Jim Kramer and Dan Runte will be on hand signing autographs and swapping road stories.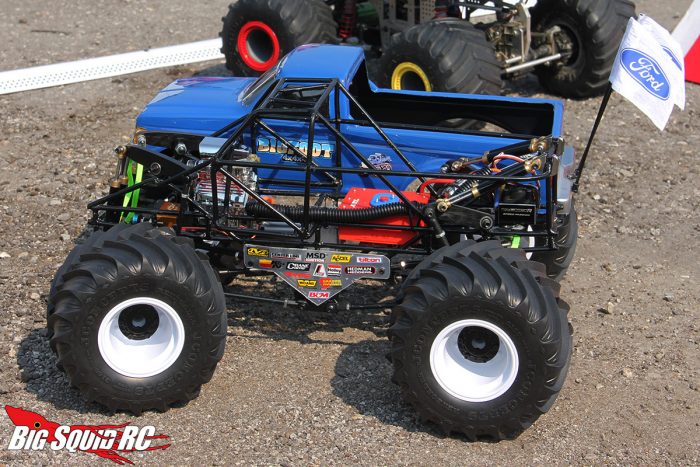 Oh yeah, so the r/c part! My club Trigger King has been holding a race at Open House since 2014. It's always the most fun event of the year on our schedule! If you've ever wanted to race your solid axle monster truck but were nervous about attending a hardcore race day, this is the event to come out for as it's much lighter fare (though you will be racing in front of a large crowd, which can make someone nervous in and of itself!) because the pace is quick.
We are offering 4 different classes. –
– Outlaw Retro Monster Truck
– Sport Modified Monster Truck
– Pro Modified Monster Truck
– Losi LMT
Full rules on TriggerKingRC.com.
Each class is a $10 entry (if you race all four, the fourth class is free) and awards will be provided. We are going to be doing a BIGFOOT Show-N-Shine before the event starts which will be open to entry from all vehicles that are BIGFOOT replicas. Judging will be done by all paid entries. JConcepts will be on hand with some cool giveaways and showing off their latest goodies.
R/C monster truck racers are advised to be there for drop off by around 8AM at the latest, as otherwise you will have to park in the normal event parking and walk your stuff to racing area. The reason for this as around that time, it gets very busy and attendees start to arrive.
I'll be behind the computer and on the mic most of the day…so if you do visit, please say hello!
Before I go, I just wanna say that I WILL be discussing the new HPI Savage next week. Just wanted to let you all know I'm not dodging it. It's a big news story in this segment of the hobby. Just a bit pre-occupied this week!
I hope to see many of you at BIGFOOT Open House! It's an event that is a BLAST. Any fan of monster truck racing should attend Open House at least once. If you enjoy r/c solid axle monster truck racing, that makes it even more attractive.
Until next time, keep it on all 4's!